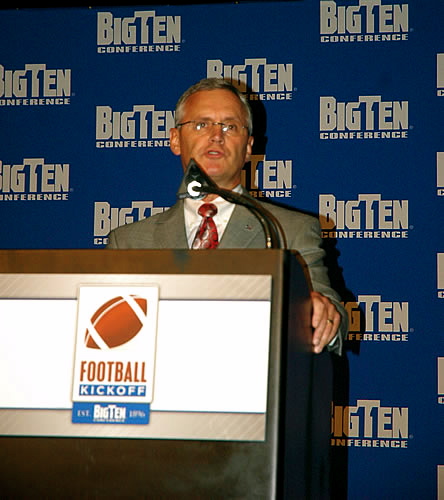 With Big Ten Media Days wrapped up and shut down it's time to take a look back at Jim Tressel's time in the Windy City with a little segment we would like to call "Translating Tressel".
If you have watched Ohio State football the last eight years you know by now that The Vest's long, well-spoken answers to the media's questions say a lot without saying anything at all, giving writers, reporters, and bloggers like us headaches when trying to figure out anything going on behind the scenes in Columbus. This prompted me to take a deeper look into Tressel's quotes from the Big Ten Media Days and attempt to "translate" Tressel-Speak, to help Buckeye Nation possibly get a glimpse of what is going on inside the walls of the Woody Hayes Athletic Center this summer as the 2009 season approaches.
So, without further twiddling of the thumbs, here is your translation from Tressel-Speak to English of The Senator's Big Ten Media Days quotes:
On Pryor
What Tress Said: "He has a real passion to do well. He wants to make sure he can do all that the team needs, and I thought for a freshman he was pretty careful with the football and grew to learn from every experience he had. There were some tough experiences along the way."
Translated: Terrelle Pryor came in here and had his eyes on the starting job from day one. I really wanted him to put the team first and go up the middle for the first down against Penn State, but other than that and the interception at the end of the game he pretty much played mistake free football for us. Hey he saved us from having to play USC in the Rose Bowl right? You see how valuable he can be to this team and the growing pains last year will be worth it this year as he is much wiser to go along with his freakish talent.
On Playing A Later Schedule In The Big Ten
What Tress Said: "As far as playing later and those kinds of things, you know, part of me is an old traditionalist that I always enjoyed Thanksgiving weekend because my dad was a football coach, and typically his season had just ended. We got to see him for the first time since the massive Ohio Conference media day that he would head out to, so that was a special time. I also have an affinity for the fact that our players who really train all year-round in our conference setup, they have a chance to be home for an extended Thanksgiving weekend, which really there's nothing more important in any of our lives than our family and having the chance to be with them."
Translated: This playing late stuff is absolutely stupid. Who thought moving the Michigan game to Thanksgiving Weekend was a good idea anyway? It just delays the beat down Rich Rod and the boys will be getting by another week and inconveniences the students and their plans to jump in Mirror Lake. On another note, playing later would also take us out of the running of being the first into the clubhouse like we were in 2007 when we backed into the National Championship Game while our foes choked. Oh, and I love family time too so it's nice to have that time as well.
On the Running Backs
What Tress said: "Well, it's difficult to replace a Beanie Wells. Beanie was an outstanding player, and he was the kind of guy that as the season went on or as the game went on, he got stronger and stronger. We used to talk about there was a cumulative effect when he carried the ball through the course of a game or through a season. So you can't replace exactly what he does or what he did."
Translated: I mean I like Herron and Saine, but WHY DID YOU HAVE TO LEAVE BEANIE? Arizona is not that great. Look how it's treated us our last two visits! You could be stiff-arming the likes of Navarro Bowman and Sean Lee and you opt to split carries with Tim Hightower? How am I going to give the ball 40 times to these guys I got coming back---especially with those two freshmen making trouble?
On The Inferiority Complex in the Big Ten
What Tress said: "I don't know that anyone in this conference has an inferiority complex. If you watch ball games, our guys will play toe to toe with anyone. If you watch the NFL draft, they'll get selected at the regularity of almost every conference."
Translated: Well 41-14, 38-24, and 35-3 were pretty darn bad. But, hey, how about the names of Ted Ginn, Anthony Gonzalez, Troy Smith, Roy Hall, Doug Datish, Jay Richardson, Antonio Pittman, Quinn Pitcock, Kirk Barton, Larry Grant, Vernon Gholston, Marcus Freeman, Donald Washington, Chris Wells, Brian Robiskie, Brian Hartline, James Laurinaitis, and Malcolm Jenkins? Take that Urban and Les! You may beat us but we provide a life after college!
On the coaching staff
What Tress said: "Yeah, I think if you can keep you staff together, it helps your efficiency in everything you do," he said. "Whether it's expectations of the players or expectations of the coaches or the recruiting relationships and the position coach relationships. Sometimes if you have a new position coach year after year you're just in the getting-to-know-you phase and that slows your growth."
Translated: Alright are you guys happy? Here is your answer about why I have kept Bollman on staff so long. He's a good recruiter and gets the linemen to come here and buy into what he's teaching. I can't fire him because players might not like a guy getting fired who recruited them. Take note Rich Rod, maybe you can keep some of those guys up North.