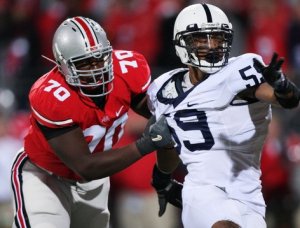 Next Saturday is huge. Not only do the common folk finally get a chance to see the young Buckeyes in action at the Spring Game, but there's also all of the grub and sodas to be had at the 11W Spring Game Social later that night. Oh, and there's the NFL draft, which could see your favorite team welcome a Buckeye to the fold.
Where the former Buckeyes may end up will come next week, but there are some other Big Ten teams and a few of them actually have some players that could hear their name called on Saturday.
In most mock drafts around the internets, the Big Ten should produce 5 first round picks, with 3 of them coming from Columbus. Of course, it's an absolute crap shoot when it comes to mock drafts, but they do provide a source of heated debates during the dreaded off-season.
Potential First Rounders
Aaron Maybin absolutely destroyed the Ohio State O-Line last season, on his way to first team All-Conference and perhaps the first Big Ten player taken in this year's draft. He is a little undersized for a DE, but might be a great fit for a 3-4 scheme.
Maybin has hovered around the top 10 the entire time, with the most popular picks being Green Bay, San Francisco and Buffalo at 9-11. He has a quick burst off the ball and at the age of 21, will continue to develop, but may not make an immediate impact. The tackles last year in the conference were young, his numbers at the combine were not that impressive for his group and he only played 2 seasons at Penn State. For me, this is a risky pick for a player who may not have a defined position yet, but the NFL coaching ego is powerful and potential is always the rage.
Vontae Davis of Illinois shot up the charts after he put up great numbers at the combine, arguably the best of the corner position. He lead all corners with 25 reps on the bench and tied for fourth with a 4.49 in the 40. With Malcolm posting some lower numbers, questions started surrounding him about his future position and Davis quickly became the favorite for the first corner drafted.
Now that most experts have come to their senses, Davis has dropped to the later half of the round, which is better for him. Don't get me wrong, I think he is a solid player and will make an immediate impact, but he shouldn't be drafted ahead of Malcolm based off better combine stats.
The early mocks had Davis going to the Saints at #14, but it looks like he will fall to a team like Minnesota or New England at 22 and 23 respectively, if they pass on him, he won't get past Tennessee or Pittsburgh.
Second and Third Rounders
The second round may be a long one for the other Big Ten schools, but I think their are some hidden gems that will slip in or hang around til the 3rd. Shonn Greene of Iowa ran for over 100 yards in each of his games this year and has a chance to slip into the late second, possibly at Arizona with the 63rd pick. Even though he is 24, there isn't much wear on his body and he would be a nice compliment to an established back. Derrick Williams of Penn State has been mentioned for a potential late 2nd rounder as well, after posting 44 catches for 485 yards and 4 touchdowns in his senior season. He caught 161 balls in his career and showed his versatility by returning kicks and rushing for 250 yards in 2008.
Two linemen, AQ Shipley and Gerald Cadogan of Penn State could also hear their name called on the first day. Shipley, the 2008 Remington Award winner has been the best center in the Big Ten over the last 2 seasons, while Cadogan earned All-Conference honors at the tackle position. For me, Shipley is going to be a steal for who ever drafts him, but don't be surprised to see Cadogan go first due to his position.
Luckily for Ohio State's offensive line, they didn't have to face Mitch King of Iowa over the last couple of seasons. Most drafts have him projected in the third round, but this kid is going to be a stud. Norm Parker has churned out some solid NFL D-Linemen over the last 6-7 years, including Jared Devries and Aaron Kampman. The B10 defensive lineman of the year will work his tail off to become better and as a Bears fan, I would love to see them snag him in the 3rd round, but something tells me he won't last that long.
Another hidden gem could be Travis Beckum of Wisconsin, a forgotten man with all of his injuries this past year. After posting back to back 900+ yard seasons on 136 catches, he slipped to just 23 catches for 264 yards and zero touchdowns. Most mock drafts have him going towards the end of the 3rd round.
Javon Ringer could slip into the first round, but I think he is a bit under sized. What do you think? Is there anyone else that could get a first day phone call? I know one thing, it is going to be interesting to see if Ohio State can have more players drafted on Saturday than the rest of the conference.