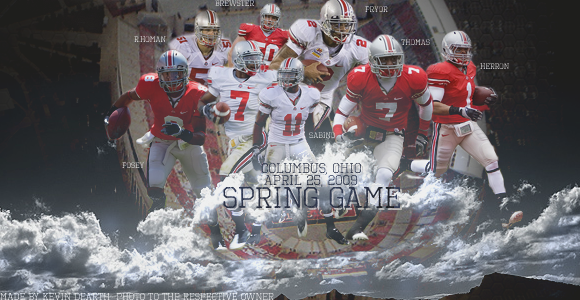 Whether you'll be one of the 80,000+ (our guess) attending or the many more watching or listening at home, the 2009 Ohio State Spring Game looks to feature more new faces at key positions than anytime in the last three years.
And while it's true, you can't glean too much from a controlled scrimmage -- especially one four months before the season kicks off -- there are some things worth paying attention to. Here's what I'll be looking out for:
Pryor's Growth: We know what he can do on his feet, but how has he grown as a passer? How improved is his accuracy and how will he do with his reads? He's on the same team as the two Jakes, so if there's ever a good time to start building a rapport ahead of the mythical usage of the tight end, Saturday is it.
Signs of Improvement on the Offensive Line: Everyone is raving about the defensive front, and for good reason. Despite the touch rule, the dozen sacks in the jersey scrimmage is still highly concerning for the simple fact that it still means pressure on the quarterback. If a guys is close enough to touch the quarterback, he's close enough to alter plans in the backfield. I'm sure we'll also keep a close eye on Boren, if nothing else, to see just how much more physical he is compared to the rest.
Thaddeus Maximus: Gibson was the first pick for last season's Spring Game and after fighting for playing time early, came on like a beast once Big Ten play began. He'll be hunting Pryor all afternoon and that's worth the price of admission alone. While we're on the subject, keep on eye on Gibson's apprentice, Solomon Thomas, as well.
Is That You, Brandon Saine? Saine is another guy that's earned good pub throughout the open practice sessions. He's been a bit of a disappointment in Columbus, so far, but he'll get a chance validate some of the camp chatter. Hey, some guys are just late-bloomers and if he's finally shaken the tentativeness that was a result of his early injuries, the team is only that much stronger.
New Faces: On both sides of the ball there will be guys getting serious minutes that we've never really seen play before. Take cornerback -- Amos and Torrence have been around for a while, but we haven't had a chance to see what they can do until now. Ditto for Flash Thomas and Taurian Washington at wide receiver. Others, like Orhian Johnson, Storm Klein, Nic DiLillo, James Jackson and Garrett Goebel will be getting their first crack at playing in front of a boisterous home crowd. New toys! New toys!
The South Stands: Students get in for free and the University is attempting to turn the South Stands into South Beach. We wholeheartedly endorse this. The bikini part of South Beach that is, not the house music. Oh and the chachis with popped collars can stay at home as well.
What about you? What will you be keying-in on?