Big news in Buckeyeland as the team held its senior-led draft ahead of Saturday's spring game. It wasn't a surprise to hear Pryor's name called first, but the rest of the afternoon left us hurt, confused and dazed after seeing Mike Adams and Etienne Sabino slide, slide, slide. But they were our next-gen alpha-dog city-eaters. How could this be?! To the rosters:
 
Scarlet
Gray
QB
Joe Bauserman, Justin Siems
Terrelle Pryor, Justin Siems
RB
Boom Herron, Joe Gantz, K.C. Christian*, Bo DeLande
Brandon Saine, Marcus Williams
FB
Jermil Martin*, James Georgiades
Adam Homan
OL
Jim Cordle, Bryant Browning, Andrew Miller, Mike Adams, J.B. Shugarts*, Connor Smith, Evan Blankenship
Justin Boren, Mike Brewster, Andrew Moses, Jack Mewhort, Josh Kerr, Scott Sika
TE
Nic DiLillo, Spencer Smith
Jake Ballard, Jake Stoneburner
WR
DeVier Posey, Dane Sanzenbacher*, Lamaar Thomas, James Jackson, Ryan Schuck, Ricky Crawford
Ray Small, Taurian Washington, Grant Schwartz, Garrett Hummel
 
DL
Doug Worthington, Dexter Larimore, Willie Mobley
Todd Denlinger, Garrett Goebel, Tom Ingham
DE
Thaddeus Gibson, Lawrence Wilson
Cameron Heyward, Rob Rose*, Nathan Williams*, Solomon Thomas, Keith Wells*
LB
Tyler Moeller, Austin Spitler, Andrew Sweat, Tony Jackson
Brian Rolle, Ross Homan, Etienne Sabino, Storm Klein, Zach Boren*
CB
Chimdi Chekwa, Andre Amos, C.J. Barnett, Donnie Evege
Devon Torrence, Travis Howard, Jamie Wood, Taylor Rice
S
Anderson Russell, Orhian Johnson, Nate Oliver*, Rocco Pentello
Kurt Coleman, Jermale Hines, Aaron Gant, Zach Dominocone
 
P
Jon Thoma, Ben Buchanan
Derek Erwin, Greg Eisenhardt
K
Ben Buchanan
Aaron Pettrey
* Injured; Full Scarlet Roster, Full Gray Roster
First, let's just to get this out of the way: Gray -1.5.
The game will feature four 12 minute quarters and as an added bonus, Pryor and Bauserman will both be live for two of the three quarters they play. This could be quite a show as Pryor is Pryor and Joe can sling the ball a little (and upgrades from Washington to Posey this year). After playing the first quarter in black jerseys, the two quarterbacks will be live for the rest of the scrimmage, though walk-on Justin Siems will fill-in for Bauserman in the second and Pryor in the third. All of this sets up what should be a lively fourth quarter pitting the gunslinger (and Boom!) against Vince Young++.
On paper -- to us at least -- it looks like Scarlet has the talent advantage. But Gray has solid interior offensive lineman, the supposedly resurgent Saine, a big edge at tight end, and solid receivers, defensive ends and safeties. And Gray will have the best player on the field, hence the slight edge in our eyes.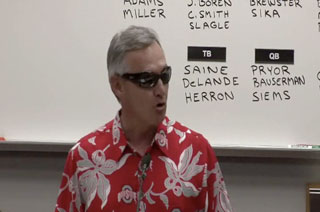 But back to Sabino and Adams slipping. Rolle, Moeller and somewhat surprisingly Sweat were all taken before Sabino heard his name called. Sabino had seen some time with the ones earlier in camp, but the fact that three other backers went ahead of him, including one less heralded from his own class, might be cause for concern. Kickoff against Navy is still four and a half months away, meaning he has plenty of time to make a move, but he appears to be struggling with the mental side of things right now.
Ditto for Adams. He came to Ohio State as perhaps the most hyped line recruit since Orlando Pace only to get dinged-up and see little action his freshman season. The table was seemingly set for him to step into Boone's vacant left tackle role and the coaches have given him every opportunity to do so this spring, but he hasn't been able to beat out converted tight end Andrew Miller for that spot. There were some whispers about his toughness, and those may have been confirmed when Miller was taken two picks ahead of him in the draft.
We're trying not to read into this too much as there was a certain amount of gamesmanship involved with line selection (see Browning going ahead of Boren), but again, some cause for concern.
What about you? Are you worried at all about Sabino and Adams going later than expected? Also, which squad do you like in this matchup?