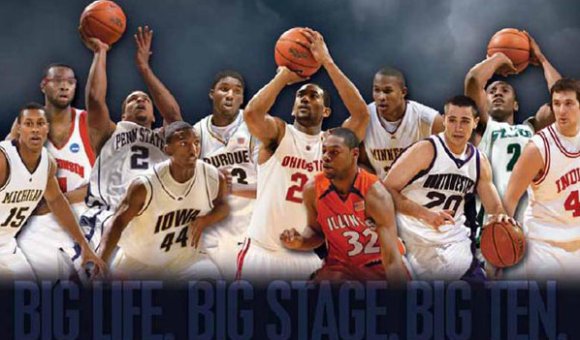 The Big Ten had a very successful year on the hardwood, matching powers like the Big East and ACC, by entering seven teams into this year's edition of March Madness. While the conference's teams range anywhere from a #2 seed (Michigan State) to a #12 seed (Wisconsin), anything can happen in this weekend's games, especially with the intriguing match-ups the Big Ten has drawn. In this segment we'll take a look into each of those seven games and share with you what we think the outcome of the Big Ten's first round match-ups will be.
#8 Ohio State vs. #9 Siena (Friday, 9:40 p.m.)
While I will let Corey give you the extended preview of Friday's game, we of course have to start with a look into the Buckeyes' first round draw. When the brackets first came out on Sunday, I was a bit disappointed that OSU drew an eight seed rather than a seven seed, but when the opponent was revealed, a smile came to my face. Of course, then I realized Louisville would be the next opponent if the Buckeyes win and that smirk seemed to shrink a little bit.
I shouldn't get too ahead of myself though, as Siena is no slouch.They were given a nine seed for a reason and their 26-7 record is not made up of all cupcakes. The MAAC Champion Saints defeated St. Joseph's on the road, tournament teams Northern Iowa and Cornell at home, and four of their seven losses included games against Tennessee (78-64), Pittsburgh (79-66), Oklahoma State (77-68), and a well-played game against Kansas on the road (91-84). They also have a little bit of tournament experience, as they upset Vanderbilt in the first round of last year's tournament as a #13 seed. This season they average 77 points per game, a number not commonly seen by the Buckeyes and have four players with scoring averages in double figures.
On the other hand, looking at the other 8-9 match-ups, I think the Buckeyes ended up fairing out pretty nicely. While Siena should give the Bucks plenty of trouble, this team is too talented to take a first round exit to a MAAC team. Either Mullen-dale or Hill-mons will have to step up if this team is going to make a run in the tournament, but the trio of Evan Turner, William Buford, and Jon Diebler should be enough to fend off the Saints and give the Buckeyes the victory. I'll take the good guys by a score of 67-58.
#2 Michigan State vs. #15 Robert Morris (Friday, 9:50 p.m.)
I'm not even going to waste too much breath on this one as two seeds have defeated fifteen seeds all but four times in the history of the tournament, and Sparty is certainly not going to choke against the Colonials out of the NEC.
Giving the 24-10 Colonials a little bit of credit, they did only lose to Miami by eight in Coral Gables, two of their other losses came against Big East teams Pittsburgh and Rutgers, and a fourth loss came at the hands of Xavier. That being said, they have no chance in this game and were lucky to even make the tournament, edging out Mt. Saint Mary's 48-46 on a last second bucket.
The Spartans win this game 82-57 and cruise one game closer to the Sweet 16 in a second round match-up against the winner of the Boston College vs. USC game, which should be a good one to watch.
#5 Purdue vs. #12 Northern Iowa (Thursday, 2:30 p.m.)
When this game came out, I had upset alert on my mind, but after seeing Purdue with a healthy Robbie Hummel the last couple of weeks, I quickly changed my mind.
The Big Ten Tournament Champions are playing their best basketball of the season, but should not take the 23-10 Panthers lightly. The MVC champs defeated bubble busted teams in Auburn and Creighton earlier in the season and three of their losses came to power conference teams in games against Marquette, Iowa State, and Iowa. There is not much fire power on the team though, as their high scorer, Adam Koch, only averages 12.3 points per game and their high rebounder, Jordan Eglseder , is only notching 6.5 boards per contest. Those numbers will certainly have to improve if they want to keep up with the Boilers who are very athletic and very deep.
While I originally thought this game could be trouble for the conference, I quickly have changed my mind after doing my research. I'll take Matt Painter's squad by a score of 76-61, as they move into a tougher second round match-up against either Washington or Mississippi State.
#5 Illinois vs. #12 Western Kentucky (Thursday, 9:55 p.m.)
While I have rethought my Upset Alert on Purdue, one still stays out for Bruce Weber's squad. Western Kentucky has a very tough team, and while the Fighting Illini have defeated the Bucks twice this year, I have never been too fond of their tournament prospects, especially with Chester Frazier out.
Looking at the Hilltoppers, they enter this game at 24-8 and winners of the Sun Belt Conference. They have a very impressive, fourteen point win over #1 seed Louisville on their resume and have also defeated Southern Illinois and Georgia. Two of their losses have come at the hands of tournament teams Florida State and Mississippi State, but they have also had some disappointing losses this season as well. They have four players in double figures and despite losing Courtney Lee to the NBA from last season's squad, have a couple of star players in guards Orlando Mendez-Valdez and A.J. Slaughter. WKU also has a little bit of tournament upset experience as a twelve seed, as they defeated five seed Drake and then thirteen seed San Diego en route to the Sweet 16 in last year's tournament.
While it is the common upset pick amongst analysts across the nation, I think the Hilltoppers will indeed pull off the 5-12 upset two years in a row and down Illinois 64-60. WKU will go on to face the winner of Gonzaga vs. Akron, and try to make it to the Sweet 16 for the second straight season.
#7 Clemson vs. #10 M*ch*g@n (Thursday, 7:10 p.m.)
I was sitting on my couch and praying that TSUN would get snubbed from the tournament and that Penn State would be the seventh Big Ten team to receive a bid, but I guess the powers above figured they would give Ann Arbor a break after all they have been through the last five years. Drawing the Tigers from the ACC is not necessarily a present, though, and UM will have to give all it's got to take this first round game.
Clemson rolls into this match-up currently at 23-8 and probably slid from a five or six seed to a seven seed after losing to Georgia Tech early in the ACC Tournament. Oliver Purnell's team is very solid though, defeating tournament teams Duke, Boston College, and Maryland in the conference, defeating tournament teams Illinois and Temple out of the conference, and also defeating power conference teams South Carolina and Alabama as well. The Tigers have been knocked in the past for playing a weak out of conference slate and having an inflated record, but this year, lead by Trevor Booker, K.C. Rivers, and Terrence Oglesby, they are a legitimate force to be reckoned with.
Michigan has had its fair share of big games this year as well, defeating UCLA and Duke, while playing UCONN close as well, which is why I think this game will be very close in the end. I really don't know who to pick here, but have a feeling the bad guys are going to come out on top by a score of 67-63, making the most of their first trip to the Big Dance in eleven years. A second round game against Oklahoma should not fair to well for whoever wins this game, so we won't have to hear the Maize and Poo fans cheer for too long if they do somehow pull this off.
#5 Florida State vs. #12 Wisconsin (Friday, 9:55 p.m.)
As I'm rattling off these previews, I can't help but love the Big Ten's match-ups in this tournament. Another ACC-Big Ten game and rematch of a bowl game will pair the Seminoles and Badgers up in the East Region on Friday. This is the first time the Seminoles will go dancing since 1998 and it is the eleventh straight year Bucky will make an appearance in the tournament.
The 'Noles are hot, coming off a run to the ACC title game where they lost to Duke, but did beat #1 North Carolina along the way. FSU has also taken down Florida, California, Western Kentucky, Maryland, and Clemson twice this season. Six of their nine losses have come from games against Pitt, UNC, Wake Forest, and Duke (three times), with the other three handed down from Northwestern, Miami, and Boston College. On the bright side, Toney Douglass might be the best scoring point guard in the country, averaging 21 points per game, but when he is stopped (as Duke showed Sunday) this team is very beatable.
The Badgers come in at 19-12, but that record doesn't truly portray how well this team has played the last month or two of the season. A six game losing streak set Bo Ryan's team back a little in January, but they were able to bounce back, winning seven of their last nine regular season conference games to claim fourth place in the Big Ten before the Bucks bounced them in the conference tournament. Of their twelve losses, ten are from tournament teams, including out of conference games against UCONN, Texas, and Marquette.
This game will come down to the wire, as all Wisconsin games do. I think the fact that Wisconsin has a lot of tournament experience will help them in the end, and their style of play should help to slow Toney Douglass down. There is always one, if not two or three 5-12 upsets in the tournament, and this time I am picking the Big Ten team to come out on top, as Wisconsin will win this game 58-54. Florida State, who has not been able to defeat Duke's tough defense in any of their three contests this season, will have trouble creating offense against Wisky's tough defensive schemes, ultimately resulting in the Badgers muscling this one out and taking on the winner of Xavier and Portland State in the second round.
#7 Texas vs. #10 Minnesota (Thursday, 7:10 p.m.)
In the final match-up on the table, the tournament committee has decided to put two hot-starters against each other. Both the Gophers and the Longhorns started off the season with a bang, but have faded down the stretch, leaving the bracket experts puzzled about who to pick in this game.
The Longhorns finished the season at 22-11 after losing to Baylor in the Big 12 Tournament, and are making their eleventh straight trip to the tournament. They have key wins over Texas A&M, Oregon, St. Joseph's, Villanova, UCLA, and Wisconsin this year, and we will also have to give them credit for beating Oklahoma even though Blake Griffin left the game with a concussion. Their key losses come against Arkansas, Michigan State, Notre Dame, Texas A&M, Oklahoma State, Kansas State, Kansas, and Missouri. One thing that is not questioned is their talent, as A.J. Abrams, Damion James, and Gary Johnson are studs, but will they be consistent enough to take this team on a run in this year's tournament?
The Gophers ended their year at 22-10, after falling to Michigan State in the Big Ten Tournament. It is the first time Minnesota is strapping on their dancing shoes since 2005, but they are hoping to make the most of this trip and Tubby Smith is no stranger to playing games in March. Key wins this year have come against Louisville, Wisconsin (twice), Ohio State, Illinois, and Virginia. Key losses have come against Michigan State (three times), Michigan (twice), Ohio State, and Purdue. Unlike the Longhorns who are top heavy in scoring, the Gophers like to spread out their points a little more, and that could come in handy in this match-up.
While I really liked the Gophers mid-season, they just did not finish strong enough warranting taking them in this game. Texas has not been too impressive down the back stretch of the season either, but their experience in March will help them prevail to a 74-66 victory on Thursday, and an eventual second round game against Duke.
---
Overall, the Big Ten seems to have very favorable match-ups in the first round of the tournament. While there is a chance for a couple of the games I selected to go the opposite way, I still think the conference will go 5-2 in round one of the tournament. The big game that could make or break the Big Ten's results in the first round is Michigan vs. Clemson, as that one could go either way. Upset Alert is out for Illinois as they take on Western Kentucky and the sure-fire pick to win is Michigan State over Robert Morris.
Which Big Ten squads do you see winning in round one of the Big Dance? Will the Buckeyes prevail? Which team is on Upset Alert and which lower seeded team has the chance to do some damage this year? What game (besides OSU) do you want to tune into most?