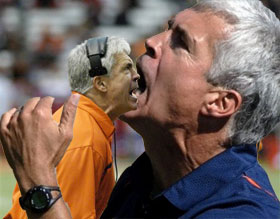 As you may have heard, our fine friends up north have found themselves a new defensive coordinator.
Greg Robinson, fresh off a nightmarish 10-37 run in four years at Syracuse, has filled Scott Shafer's funky shoes and will attempt to shore up a unit that surrendered the most points in program history.
MGoBlog took a hard look at Robinson when rumors first surfaced and pretty much did not want:
Maybe the abject failure at Syracuse was one of recruiting, motivation, and roster assembly, and not schemes, but since Rodriguez doesn't coach the defense at all he's really hiring someone to be head coach of half his team. In that context, Greg Robinson seems like a horrible choice. (Also in all other ones.)
Brian points out that Robinson was the beneficiary of working one year in the Longhorn system and defensive coordinators almost have no choice but to shine surrounded by that kind of talent. After all, it wasn't too long ago that folks were raving about Chizik's winning streak. He moved on to Iowa State and went 5-19 in Ames before somehow getting hired to replace coach Click-Clack at Auburn.
Taking the other side is ESPN's Adam Rittenberg, who points out Robinson's NFL experience (Super Bowls with Denver) and the fact that he's 8-0 in bowl games:
Michigan fans shouldn't worry about Robinson's 10-37 record at Syracuse. Robinson is back to doing what he does best, coaching defense, and the Wolverines will be the beneficiaries.
Maybe he's right. Some Most guys are are just better assistants than they are head coaches. There's Weis and Crennel benefiting from recent Pats success only to fare poorly, or in the case of Romeo, faring bad enough to find oneself unemployed in short order. Dick LeBeau is a friend of the program and we love him to death, but his stint as head coach of the Bengals is a stark contrast1 to the success he's had as defensive coordinator with the Steelers.
It's almost impossible for the Michigan defense to be any worse this season and Rodriguez Year Two will most certainly be a better product than we witnessed in 2008, but the real question is whether it will be good enough to buy the time to reveal whether the Robinson hire was a good call or not.
---
In other coaching news, Pete Carroll is finally over Mark Sanchez and has tabbed Jeremy Bates to replace Steve Sarkisian. Bates was most recently the offensive coordinator for the Broncos and was rumored to be on the radars of several NFL teams. He'll share playcalling duties with John Morton at SC and right about now would be a good time to start devouring Denver offensive film. September's closer than it appears.
1 To be fair, it's damn near impossible to have coaching success with the Bengals.