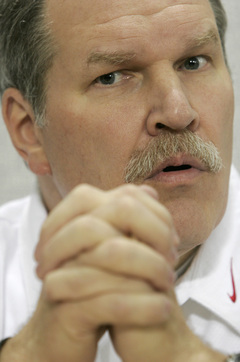 With much of the bye week talk focused squarely on an offense ranked 43rd in rushing, 106th in passing, and 95th in total offense, it's no secret most of the fan base is clamoring on radio, blogs and around the water cooler for Bollman to be sent packing.
Further, much of those same folks are also openly wishing for Tressel to give up play calling duties.
Personally, I'd be thrilled to see both occur but based on Tressel's comments earlier this year, that ain't gonna happen:
"I don't know, maybe my ego wouldn't let me. I'm not sure I could not help on either side of the ball. What am I going to do, go eat bonbons?"
And when discussing a prior time (2005) when voices were suggesting he give up play calling:
"I'm not sure that would interest me. I like being involved."
So, while we're all pining for names like Lane Kiffin to come and rescue the offense, we need to be realistic. What top flight, established Offensive Coordinator is gonna want to come to Ohio State for the job title Offensive Suggester?
Seriously, considering the documented fact that Bollman merely suggests two or three plays then Tressel picks one doesn't do much for my confidence in finding someone that could help. As a fan base, our only hope is that some older cat who has been there, done that but still has some juice (cue Walt Harris) would be willing to act as a co-offensive coordinator and be okay with not truly having the keys to the offense.
At this point, the bigger concern might be finding an offensive line coach capable of developing players so they actually improve over time versus regress. This season has proven that we can criticize the play calling all day long but if plays don't have time to develop it doesn't matter what what play is called.
Oh, and I'm not sure what the formula they use, but Rivals has Bollman as the 20th ranked OC. I guess it's safe to assume they don't look at Total Offense.
Before any assumptions are made, I want to be clear that I personally want Jim Tressel to be the head coach for years to come. I just think he needs to make a meaningful change at the end of the season to get some help on the offensive side of the ball. Bollman has not proven worthy of keeping his job so a change is necessary. It's no different than having a job in the real world. Produce, or at least show improvement. If not, move along.