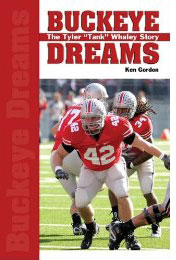 Ken Gordon of the Dispatch was nice enough to send us a copy of his book, Buckeye Dreams - The Tyler "Tank" Whaley Story, and I have to say, it's been a good pick-me-up while fighting through the Buckeye offensive blues.
I really like that for his first book, Gordon didn't take the easy route and write a recap of the season or a profile of a star player. Instead he chose to write a character story and thanks to him, Ohio State has its very own Rudy -- but much cooler, naturally, and with more winning.
I had only been familiar with the basics of Whaley's story. I knew he was a former walk-on that had earned a scholarship and that he got to finish his senior season celebrating a victory in Michigan's visitor locker rooms, but that was about it. Turns out, there's a lot more to the story.
The first part of the book focuses on both the Whaley family history and the story of their hometown, Ironton. The river town has a rich football culture and the local team, the Tanks (of course), were a regional powerhouse during the early years of the NFL. I really enjoyed reading about the region and their football heritage and was duly educated on those topics. Working 80 hours at the pig iron foundry and then tackling Jim Thorpe on the weekend will do wonders for the badasses-per-square-mile metric of any region and it certainly was no different for Ironton.
Tank's story was even more interesting. What started out as a friendly favor from Ironton native Mark Snyder when he put a word in for Whaley as a walk-on turned into the realization of a dream for a lifelong Buckeye fan with a lot of heart, but not a lot of size. Most balls: Tank even worked the stadium maintenance crew -- while a member of the football team -- and stated that he would exchange nods with his co-workers while he was on the sideline and they were waiting to hoist the field goal nets. Awesome.
The book is available in bookstores around Columbus as well as Amazon. If you're wondering what Tank is up to these days, you can tune in to his podcast on the official athletics site.