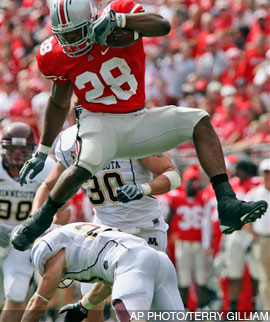 For everyone wanting to know how a Pryor/Wells backfield might perform, the Buckeyes' first series of their 34-21 win over the previously unbeaten Gophers was a good indicator.
After the two helped move the chains once to set up a 1st and 10 at their own 33, Beanie showed no indications of rust or injury as he made a couple of nice cuts to spring a 28 yard run. On the following play, Pryor took a high snap, looked briefly downfield before tucking the ball around the right end for a nifty 33 yard touchdown scamper that once again showcased his ability to look like he's hardly running while flying by defenders.
The scary thing is that the one-two combo of Pryor and Wells should only get better as the season goes with one learning more and more of the playbook and the other getting back up to speed from turf toe. And while some don't like what they see with the option, that play is going to be money with more practice and repetitions. How do you stop an offense that can run the I, shotgun/spread and the option?
Wells finished with 108 yards on 14 carries and looked a lot better than I thought he would, while Pryor chipped in with 97 -- just barely missing his first 100 yard game -- on 8 carries. The two accounted for 203 of the Buckeyes' 279 rushing yards on the day and if you're impressed with Beanie's average of 7.6 per tote, which you should be, Pryor's 12.1 is almost a full five yards more per attempt.
The defense, lead by Laurinaitis' 12 and Homan's 10 tackles turned in a solid effort and all things considered, this was easily the Buckeyes' best looking outing of this young season.
Offense
I was really hesitant to chalk up anything to do with the beat-down in LA with Beanie's absence in that game, but after seeing him play today, how can you not? I'm not saying he would have accounted for the full 32-point difference by himself, but perhaps I needed a reminder of just how awesome/valuable to this offense he is. Consider myself reminded.
His vision is uncanny. Boom will be a very good running back at Ohio State, but the way Wells can cut off of what he sees so quickly is what separates him from just about every running back in the country (Moreno appears to have similar tools, but not at Beanie's size). I'm really, really encouraged by the way he played and the fact that he got through the game without too much pain, or at least from what I could see. He'll catch some heat in film study for that fumble (and if you're keeping score at home, that's his 2nd fumble in a four carry stretch), but it was a good tune-up for the trip to Madison next weekend, where he'll undoubtedly be needed to do more.
Boom made the most of his chances, finishing with 51 yards on 10 attempts. He almost took two to the house and gets better by the week. If Beanie does go down again, I'll feel better about it than I did in week one.
After tossing four touchdowns in his debut last week, Pryor really showcased his feet against the Gophers. He had 75 rushing yards in the first half alone and a mixture of option keepers, bootlegs and called quarterback draws served him well on the afternoon. The bootlegs on the goal line are going to be a nightmare for opposing DCs, especially when you consider the inside stuff it will open later on, and the staff is putting in some of the Tebow stuff like a fake first step draw out of the shotgun that leads to a step back and a throw.
Between his ability to pump fake and get receivers open, keep plays alive with his feet in the backfield and deliver nice passes with touch, he's the best quarterback in the Big Ten right now after just two career starts. LeBron in Cleats, indeed.
Boeckman saw his first action of the day halfway through the 3rd quarter on Ohio State's 2nd drive of the second half. He threw the ball around a little bit and though he did cause some stress with the throw to Hartline into quadruple-thousand coverage, he's earned these snaps. Besides, he more than made up for it with that amazing toss to Robo for six.
It was nice to see some of the young receivers getting early snaps. Posey had a magnificent block on Pryor's first touchdown run and a nice catch a little later in traffic for an 11-yard pickup. Flash actually finished 2nd on the team in receptions with though, though they went for just four yards combined. On one screen in particular, he did a nice job of plucking a Pryor throw off the turf.
More importantly, the play of the freshmen seemed to light a spark under Robiskie. He turned in his best game of the season, finishing with 8 receptions for 90 yards and two touchdowns on more than a few tough catches. The first score was a textbook fade and a beautifully thrown ball by Pryor. The second was an even prettier throw -- and catch -- with Boeckman hitting him on a 31-yard bomb that Robo hauled in from his finger tips. Welcome back, Robo.
There was an injury in that group when tight end Rory Nicol went down with an ankle injury after it was rolled while he was run-blocking. He was seen in a boot and on crutches in the 2nd half, though Tressel did say that the injury did not appear to be a season-ender.
The line may have turned its finest performance of the season after a little bit of Tressel practice love to get them going earlier in the week. The Gophers did produce two sacks, but overall I thought the protection was excellent on the afternoon. The 279 rushing yards speak volumes to how they fared in the other department, though Beanie does have a knack for turning one yard into five (and four into 28). They are clearly benefiting from the halo effect generated by both Pryor and Wells and I'd expect them to continue to look better as the season continues.
Defense
The defense did its part in limiting a high-powered offense to six points really. The Gophers put some on late during garbage time, but Heacock's crew set the tone from the first series with an afternoon of solid tackling and good penetration. They registered one sack (Freeman), five TFLs a forced fumble that led to a recovery and an interception on the way to harassing Adam Weber into his worst outing this year.
They kept Eric Decker out of the endzone and limited him to half his average production and held Weber 10 points under his completion percentage coming in. Most importantly, they stood strong when needed. After Beanie turned the ball over on the Buckeyes' second possession, basically gift-wrapping a red-zone series for Minnesota, they forced the field goal.
Despite the overall level of good play out of the defense, I must admit to having a little defensive tackle envy early in the game. Regardless the interior of the Buckeye line helped limit Eskridge to 79 and more importantly, no touchdowns or impact plays.
Homan's 10 tackles is a career-high for him, but Russell may have been the defensive star on the day. His seven tackles (including a nice five solos) was good for third on the team and he's in the books with two forced fumbles. (I do have to admit that if the strip he got on the gang tackle had happened against Ohio State, I would have gone bonkers. But Brewster did get a payback on the facemask on Wilson in the 3rd quarter.)
I really thought Thad Gibson made the most of his first start at end. He didn't record a sack, but did finish with four tackles and seemed to be in Weber's face quite a bit.
15 of the Gophers points came late, mixed in were a two-point conversion and an onside kick, which I have no problem with. Brewster has to do what's best for his team and whether that means more snaps for the offense, a more respectable-looking score he can take into his next annual review or whatever, that's fine. It's also good practice for those types of plays and when you can get it, you should take it.
Special Teams
Once again the special teams were a mixed-bag. Trapasso absolutely rocked the ball again, averaging 54.5 on his two punts, but Pretorius missed another field goal and the return game was only meh again. I have absolutely no problem with a kicker at this level missing one from the low-to-mid 40s now and then, but every week? It's frustrating to see a guy rock a 44-yarder home early on only to follow it up my shanking a 43-yarder. Leg strength isn't something you can easily work on. Accuracy is. Also, is it me or does Saine look for tacklers to cut into on kickoff returns?
Notes
Mo Wells was held out of the game because of a sore back... Georgia fan to go ballistic if ESPN shows the Wells hurdle highlight... The Buckeyes have won their last four conference openers by a combined score of 151-40... Minnesota has only been able to muster a combined 28 points in their last three tilts with the Buckeyes... For the second week in a row, Pryor took the opening drive and put up six -- this is good... Pryor's 97 rushing yards set a Buckeye record for rushing yards in a game out of a true freshman quarterback, topping Schlichter's 77 set in 1978 against SMU... Boom's 26-yarder was a career long.