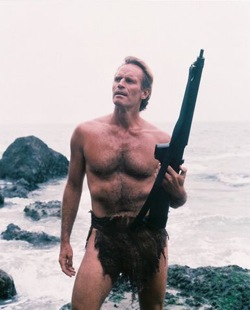 Jimmy Crum came to me in a dream last night and told me that Small will finally get that first signature play as a Buckeye by taking an Ohio punt back. He said it would be for 63 yards and that he was pleased to see the return of plaid shorts.
Unfortunately, that's all I have in the way of predictions, but here's what else to watch out for in week two:
Northwestern will be looking to exact some revenge upon Duke for last year's embarrassing upset. This is one of the games I said the conference needed to start to rebuild its reputation. The Big Ten went 0-3 last weekend in those games, but I have a feeling the Wildcats roll in Durham.
#18 Penn State takes welcomes Oregon State to town in another one of those games. I'm a little worried about this one considering the suspensions at Penn State and the fact that Oregon State will likely be pretty hungry after somewhat dominating Stanford before ultimately losing last week.
Exactly one week after the Nick Sheridan era opened -- and closed -- in Ann Arbor, the Steven Threet era begins against Miami (the Abercrombie commercial one, not the thug one). Vegas is giving the RedHawks (the only camel case team name on Earth, to my knowledge) 14 points and if I were the gambling type, that would be mighty tempting.
Outside of the Big Ten, the Bearcats travel to Oklahoma (keep it close, boys), Miami takes on the Gators (remember when this game used to be good?) and West Virginia is heading into a potential upset at ECU.
If you're looking to kill time before the early kickoff, reader Ted sent in this list of the top 50 hawtest student bodies. Sure it's completely unscientific and Ohio State (with 25k+ women) only checks-in at #24, but they come in ahead of the Wolverines and anyone that takes the time to assemble such a list with photos deserves our gratitude.
Any fearless predictions of your own?