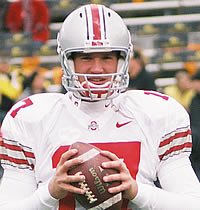 The plot is starting to become painfully familiar to Buckeye fans: start hot, perhaps a kick return or a long run for a score or a three-and-out on defense followed-up by a methodical drive and then all hell breaks loose. It's always the same -- mistakes in the form of penalties, missed blocks, turnovers and poor special teams play.
Saturday night it was no different as the top-ranked Trojans took the Buckeyes out behind the woodshed in administering a 35-3 beat-down in front of a national television audience and 92,000+ in the Coliseum. The decisive victory left little doubt that one, USC is the best team in the nation and two, the Buckeyes and the Big Ten by extension, are definitely down.
After the debacle against Florida two years ago and even the loss to a stacked LSU team in January, most Buckeye fans were ready with a handful of excuses. The supposed brawl in the locker room prior to taking on the Gators and Ginn's early injury, the fact that it was a rebuilding team squaring off against LSU -- both of those losses could be explained away. After last night, not so much.
Yes, the Buckeyes were without their emotional leader and team MVP for the tilt, but Beanie alone cannot account for the 32 point gap and overall level of embarrassing play put forth. Ohio State was dominated on both sides of the line and endured their worst defeat since 1994 -- and this on a team that was loaded with 5th-year seniors and future NFL talent. Twenty returning starters from a 10-2 team, for goodness sake. How does this happen?
Offense
After receiving the opening kickoff and going three-and-out, the Buckeyes got the ball back after the defense forced a three-and-out out of the Trojans and promptly drove the ball down the field via creative playcalling and a mix of Boeckman and Pryor at quarterback. After obtaining a first and goal at the five, Pryor and Boeckman were each brought down for four yard losses on back-to-back plays to setup a third and goal from the USC 13. After a false start penalty (the first of many costly calls on the night) backed OSU up to the USC 18, Boom Herron ran for a six yard pickup, centering the spot for a Pretorius 29-yard field goal. It was 3-0 Buckeyes, and despite the absence of Wells, things were looking good early -- Boeckman was even 4/4 on the drive and the line was holding up.
That was to be one of only two times Ohio State made any kind of noise deep in Trojan territory. The other came late in the second period with USC holding on to a 14-3 lead. On 2nd and 12 from Southern Cal's 21 yard line, Boeckman hit Robo on the left sideline for a touchdown, but it was negated on a costly holding penalty.
Still down 14-3 in the first half, the team mounted another promising drive, but Boeckman locked onto Hartline and Rey Maualuga stepped in front of his throw and took it 48 yards to the house to put the Trojans up 21-3 with a little over two minutes remaining before halftime. And that was effectively all she wrote as the Buckeyes would only muster 30 yards of offense in the second half.
USC has an incredible defense -- easily the best unit the Buckeyes will face all season, but for an "experienced" signal caller and veteran line, the output was completely unacceptable. I can't decide who is more to blame between Bollman, Boeckman and the "talented" and "veteran" offensive line that was carved up to the tune of 5 sacks and 11 tackles for loss.
The only time the offense seemed to be in any type of rhythm was when Pryor was in the game at quarterback and unfortunately, those times were too few and too far between. Trying to search for any type of good to come out of this from an offensive standpoint, the team may have itself a legitimate quarterback controversy. This blog has gone to lengths to defend Boeckman at times, even going after the wide receivers for their failure to get open, but there needs to be a change at quarterback and that change must happen Monday.
While we're on the subject of change, the entire offensive line should be worried about their jobs. The talent is there behind them, though green, but if Tressel can take anything away from this pounding, it's that green lines can step up as displayed by the young Trojan line. I know he has a fondness for seniors and is incredibly loyal to them, but for a supposed all-American candidate, Alex Boone sure was abused. Ditto for the two guards, Person and Rehring. Sure glad all that summer running seemed to pay off, fellas.
The running game looked good at times and Boom somewhat emerged, averaging nearly five yards per carry on that defense (11 for 51), but because of the quick-strike nature of the USC offense, the rushing attack was effectively bagged early.
Defense
The performance of the defense is a mixed bag. Boeckman's three turnovers didn't help the cause much (though one of them lead directly to a pick-six, thus not directly involving the defense) and the failure to move the ball on offense gave the Trojans nice starting positions for their drives, but how does a unit with three (or more) potential NFL first round selections give up 28 points like that? They looked completely lost on Sanchez's first three touchdown passes (I'm willing to forgive the pick play as that should have been a penalty) and the 2nd touchdown toss, to tight end Blake Ayles, was nearly identical to the play LSU ran on the Buckeyes in the MNC back in January.
It did appear as if the defense attempted to blitz more and mixed in some man-to-man coverage, but the play up the middle was atrocious. Starting with the interior of the defensive line to the middle linebacker that gets more pub than he deserves and through to the safeties. Anderson Russell, in particular, played about as poorly as he has played at Ohio State.
The green Trojan offensive line dominated on the evening, giving Sanchez time to throw and McKnight and Gable nice holes to run through. The Buckeyes only registered one sack (in the 4th quarter when the game was well out of hand) and a mere three TFLs on the night. The key was to get pressure on Sanchez and that simply didn't happen.
Chimdi Chekwa was chosen as the team's MVP by the broadcrast crew. His numbers on the night: one tackle and one interception. That pretty much says it all.
What's most discouraging is that this is the fourth straight game against what you could consider marquee or elite competition (I'm throwing Illinois, 2007 in there, though it can be disputed as to whether they were indeed elite) that saw a veteran Buckeye defense completely eviscerated by the opposing offense. At what point in time do you start to think beyond Jim Heacock? I'm sure he's a hell of a nice guy, but these coaches aren't paid based on how nice they are. They're paid handsomely (and with state money, no less) for getting their men into position to execute and perform on the field. He is not getting it done and expect the chorus to grow loud for a change this week.
Special Teams
Special teams, Tressel's bread and butter, did nothing to set themselves apart on the evening. There were several muffed kickoffs (though thankfully none lead to turnovers) and Pretorius missed a 46-yard field goal that would have been huge at the time, closing the Trojan lead to 14-6. That's pretty far out and is no gimme, but don't hit a meaningless 50-yarder against YSU only to miss one on the road from closer in two weeks later. His miss evoked memories of the blocked field goal against LSU months earlier when the team had what it thought to be a touchdown (also to Robo) snatched away and left the field with zero points for their efforts.
Small had one punt return for zero yards, while Trapasso did average almost 42 yards on his 7 punts, so if you're looking for a special teams MVP, you'd have to consider that. The kick return game was pretty anemic, averaging just 15.3 yards a return on the night -- and the tone was set early when Boom was stuffed at the 12 on the opening kickoff.
Special teams didn't quite lay the egg that the offense and defense did, but it didn't exactly light the California night up either. So, basically, that's all three areas of the game the Buckeyes will need to focus on before taking on a very dangerous Troy team this weekend.
Notes
Jim Tressel is now 4-4 in road openers at Ohio State... The Buckeyes had a streak of 141-consecutive games scoring at least one touchdown snapped (Michigan, 1996)... On six second-half possessions, the Buckeyes punted five times and were intercepted once... I'm still sick to my stomach.