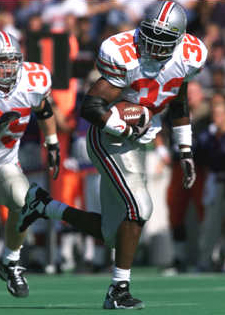 To help take the sting away from the Crapper in the Coliseum last night, let's take a look at former Buckeyes in the NFL and hope they can restore a small sense of pride back into Buckeye Country. For a complete list NFler's, you can go here.
There were some strong defensive performances in week one, lead by the Carolina tandem of Chris Gamble and Na'il Diggs. Gamble recorded 5 tackles and returned a fumble to paydirt, while Diggs had 8 tackles and a sack, as Carolina defeated San Diego on the last play of the game.
Not to be outdone, AJ Hawk recorded 10 tackles on Monday night, as he helped lead Aaron Rodgers and the Packers past Minnesota on the night that Brett Farve's jersey was supposed to be retired.
Ashton Youboty lead Buffalo in tackles with 10 and Donte Whitner chipped in with 6, as the Bills defeated Seattle 34-10 at home. Youboty was listed as the third corner coming into the season and it looks as if he has secured the nickel spot. Whitner in his third season, has started every game except his first one as a pro.
Today, Gamble and Diggs will go against Da' Bears at home, Hawk will be on the road to face the Lions and Buffalo travels to Jacksonville. All three games get under way at 1pm.
Another key matchup is in Minneapolis, where Anthony Gonzalez (5 catches for 48 yards last week) and the Colts take on Antoine Winfield and the Vikings. As you may know, 'Toine is an 11W all-time favorite, but should be matched up against Reggie Wayne or Marvin Harrison. Dallas Clark was limited in practice all week, so Anthony is going to see plenty of action.
The late kickoffs feature the game between New England and the Jets. Mike Vrabel had a typical game for him last week, recording 6 tackles and 2 sacks, but the Patriots will be playing their first game without Tom Brady. We all know Brett Farve came to save New York, but he can't do it without his center, Nick Mangold. The Gun Show will be looking to register his first NFL tackle after being shutout against Miami in week one.
News and Notes: Rob Sims was the starting right guard for Seattle, but will miss the rest of the season after suffering a torn pectoral muscle, leaving only ONE offensive line starter in the NFL, from the Jim Bollman era... Mike Nugent of the Jets also was hurt last week on a field goal attempt, putting him on the shelf for a few month or so... Kirk Barton was cut by the Bears mid-week, but Miami was quick to pick him off of waivers...