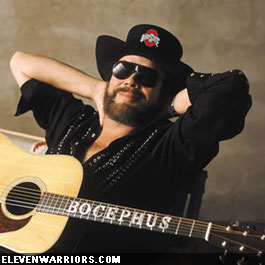 Ah, kickoff. And the OBC to start off the season, no less. I'm trying to figure out how much I'd pay to get a live feed from his mic for the game -- in Imaginationland they offer this on PPV -- and I'm thinking I'd gladly shell out $5 for such a service. Lord, I can't stand the guy. But he's funny as hell.
Spurrier taking on Butch Davis Tom O'Brien will certainly whet the appetite and if you're into rooting against guys that beat Ohio State, Harbaugh and Stanford welcome Oregon State at 9:00 on the Deuce. But based on what we know about you guys, a certain hot little sideline reporter will prevent the channel change to ESPN2.
Fowler, James and the Bachelor have the battle of the Carolinas while Ron Franklin and Ed Cunningham will do the Oregon State/Stanford game. I'm not an announcer wonk, but Franklin gets his share of love from those that are.
---
The Buckeyes won't be the only marquee attraction on the gridiron this weekend as Herbie's prep football classic returns for it's fourth year. Saturday features four pretty nice matchups in both Canton and Cincinnati and though the games in Cincinnati look better on paper, Johnny Simon of Mooney will be taking on Covington Catholic at 5:00 PM in Canton.
The other Buckeye recruit that will see action is Duron Carter when his #4 St. Thomas Aquinas squares off against Elder. It will be a tough game for Elder, but the home-cooking should help. After all, it was good enough to help snap Charlotte Independence's 109-game winning streak last year.
Saturday's headliner in Cincinnati features #9 St. X facing #26 Prattville (AL). Here's the full schedule.
Dylan Horowitz from Dottingthei.com was selected as a semi-finalist for the 2008 Gillette Rookie Reporter Showdown. The winner gets a chance to be a reporter at the 2008 World Series and although he'll be squaring off against 47 other candidates, we can do our part to swing the vote. To do so, head here and get your democracy-on. His audition video is quite good (not many of us have been introduced by Erin Pageviews before) and you're eligible to vote once per day.
---
The guys at Waiting For Next Year were kind enough to have me over for a podcast in which we discussed the impact players on each side of the ball, the strength of the Big Ten and the difficulty teams faced after playing the Badgers (they love your work, BrotherBuck). I pop on around the 10:10 mark and managed to drop the expression "super bonus", whatever the hell that means.
If you're a fan of Cleveland sports, WFNY should definitely be in your browser speed dial.