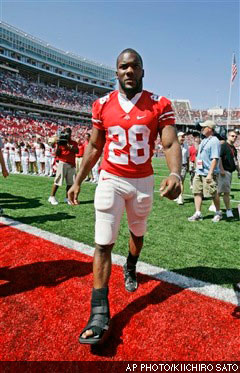 The Buckeyes turned in an excellent afternoon, especially on defense, and the prized young recruit showed people that he is every bit as talented as most of us thought he'd be in routing Youngstown State 43-0, but the Beanie Wells injury dominated all game talk from the 3rd quarter on and that's all I can think about as I write this.
The way he went down without being touched no doubt lead to much brick sthittage in and around the Columbus area, most notably in the stadium itself that had gone from party-on mode to suicidal thoughts. Achilles? Broken foot -- arrg!! Byars?!! No, no, not the cart!
Still, signs are encouraging. He made his way back on to the field with the help of a boot and based on Tressel's post-game body language and what he actually said, this may not be the great catastrophe we first envisioned when he crumpled to the ground inside the five.
I've harped on this enough, so I really hate revisiting this, but this is the 2nd-straight season the Buckeyes have played an FCS opponent and a starter has gone down to serious injury. Wilson was eliminated for the season last year, while we wait on word about Wells. I think the football gods are trying to say something.
At any rate, figure to get about 500 Beanie updates over the next two weeks all saying something along the lines of "Beanie still a game-day decision for USC".
Offense
Excluding the aforementioned injury to the team's Heisman Trophy candidate and granting that it was Youngstown State, Pryor certainly looks to be the real deal. And it's funny hearing people say that because whenever you watch any of his highlight videos or look at his performance in the Army All-American game, he literally dominated games the way that LeBron did as a prep. The only thing that can derail this kid is going to be himself and by all accounts, he's humble and eager to improve. So in the short-term at least, the rest of the Big Ten is on notice.
It was Pryor, not the listed #2 Bauserman, that came on first in relief of Boeckman for the third series with the team holding a 10-0 lead. He looked fluid in marching the team down to the Youngstown State goal line, completing a pass to fellow rook Lamar Thomas on his first play and executing the option effectively with Brandon Saine. The drive would eventually stall on a sack that proved he is somewhat mortal (but still absorbing his reads) and the team settled for another field goal out of Pretorius.
He wouldn't see the field again until the last play of the 3rd quarter, but his 18-yard touchdown run, the first score of his Buckeye career, had the effect of providing a little CPR to the faithful in the Shoe. Pryor would finish as the team's second-leading rusher on the day with 52 yards on nine carries -- good enough for 5.8 a pop.
As great as he looked and as much fun as I had watching him take snaps, was I the only one slightly surprised to see him in there with three minutes to play? I get the whole experience angle, but considering what happened to Beanie, I thought that may have been a little risky. That does pose a good question: who is the team's mop-up duty quarterback after this game?
Before I get too carried away with Pryor, the starter had himself a good game as well. Boeckman finished 14/19 for 187 yards and two touchdowns, but he did earn some boos for the turf-duster he threw to Brandon Smith on the team's last possession of the first half. Tressel brilliantly followed the play up by calling a slant, which is Boeckman's bread-and-butter. A few plays later and Todd hit Robo on a beautiful throw and catch for 31 yards and six more points.
Boeckman hooked up with Hartline on a nicely thrown bomb in the first quarter and did a really good job of spreading the ball around, but the liberal subbing at quarterback may prevent us from getting a good handle on how much he's progressed. I do know he finished interception free and not once tossed a ball into double-coverage, so you have to like that. Further, his hookup for a score with Robo seemed to serve as a more-touchdowns, less-field goals catalyst.
The running game churned out a respectable 251 yards on the day, averaging nearly 6 yards per carry, but that number is skewed a little bit by Beanie's 8.5 YPC and Pryor's own 5.8. Mo Wells looked good when he got his chances, while outside of a couple of option plays, neither Saine nor Boom looked particularly crisp. Saine still looks tentative when hitting the inside. On the option, he's money, but I'm not convinced he's such a good inside option, especially until he heals. With Boom, it could be a case of him seeing the first real action of his career and then not getting enough touches to make something happen.
The much discussed pistol formation finally made an appearance in the 4th quarter and with Pryor running it, it looks damn near impossible to stop. I can only imagine how effective that formation would be with both Beanie and Pryor back there, but for the now at least, we'll have to wait on that.
Something else that I really liked was the fact that on the day Beanie had half as many receptions as he had all of last season before he was injured. I love using the backs out of the backfield as receivers. Especially that back.
Moving to the receivers, and I hate love to say I told you so, but Posey looked great and may be on pace for that 400+ prediction. His touchdown was a glimpse of the shifts and speed he has and though he did get dinged-up taking his first real college hit, he could become a major factor for this team as a freshman. That and it was the first good thing that happened after the Wells injury and fans needed the boost. The kid with all of the pub coming out of camp, Dane Sanzenbacher, had one catch on the day: a four-yard sacrifice, compliments of Boeckman, who hung him out to dry.
The bonus in this is that it appears Ray Small won't give up that 3rd look role without a fight. Considering the circumstances, his three catches for 35 yards seemed to signal bigger things this season than what he's put up thus far. His running offsides on that 3rd and four was pretty funny (credit to him for making up for it by picking up the first down on the next play), but all-in-all, a good offensive game out of the Ghost.
There were times early on when it did appear as if the receivers, including Hartline and Robo, were having trouble getting open, and that scares me a little, considering I think that was a major problem in the past two MNC games. Robiskie also looked like he tweaked his injured shoulder on his touchdown grab, and that could be a thorn in his side for the quite some time.
The line played pretty well and it's always great to get backup units on to the field on the third series. All three of the prize youngsters saw action, some earlier than others, but at one point in the fourth quarter the future was on display with Adams, Shugarts and Brewster all on the field together. Sure Brewster got Bauserman crunched by deciding to block neither of the two guys running past him on one play, but it's better to learn this against YSU than Michigan.
Overall, you have to be pleased with the performance of the offense. Nearly 500 yards and 43 points is about what you want to see against a team like Youngstown State. The red zone impotency is frustrating, but it's the first game of the season and offenses, especially diverse offenses like the one we saw today, need time to gel.
Defense
All camp we've been hearing how much the defense has been dominating and it showed today. Youngstown State was held to just 74 total yards, including -11 rushing. And much of that came at the end. At halftime, the Penguins had managed just 9 yards rushing and 19 yards passing. They had achieved only one first down -- and that came by way of penalty. They won the turnover battle, registered a couple of sacks and hit with a fierceness all afternoon. No complaints.
The player that stood out to me the most was Jermale Hines. You expect the stars like Laurinaitis and Freeman to do their thing, but for a first-time starter that had come in as converted linebacker, Hines filled Coleman's strong safety position brilliantly. His bone-crushing hit on the sidelines on Youngstown State's first possession broke up a possible 3rd down conversion and that was just the start. He did have one pass interference penalty (the lone YSU first down in the first half), but he was everywhere on the day and it looks like he loves to hit. One TFL and a fumble recovery is a great first impression and if I were Kurt Coleman, I'd be trying to get back onto the field as soon as possible.
Speaking of hits, Malcolm Jenkins had a couple of big pops, including one to break up a first down completion. Fellow defensive back Shaun Lane (anyone know who his dad is?) watched a pick-six bounce out of his hands, but somewhat made up for it by blowing up a bubble screen on the next play and then delivering a fine hit of his own on the play after that.
Thad Gibson earned the first sack on the season (thanks to pressure from Larimore) and Lawrence Wilson notched a sack of his own, good for 18 yards, forcing a Penguin punt in the 3rd quarter. His sack had come immediately after he stayed at home to blow-up a double reverse.
Seven team TFLs and two sacks is a good start, but again, it's hard to evaluate against the Youngstown State's of the world. What I did like was the way that the defense responded after Beanie went down. Three near-safeties and an out later, the offense had the ball right back. In fact, Youngstown State's second half offensive possessions consisted five-straight punts and then a drive that the clock expired on. And hey, a shutout is a shutout.
Freshman Solomon Thomas and Etienne Sabino both earned their first official scoresheet notations with a tackle each.
Special Teams
Though the field goals in lieu of touchdowns is mildly irritating, Tressel will sleep well tonight knowing that two of his kickers connected on field goals of 50+. Pretorius' 51-yarder was nice, but Pettery's 54-yarder was even nicer. This team has a ton of weapons.
Coverage was nice on the day and the return game showed some signs of life. They only received one kickoff, but the punt crew, in particular Small, had a couple that almost went. The next time he's in a position like he was on his 2nd quarter return, he'll finish it.
Notes
Ohio State scored on all six possessions in the first half and on 9 of 11 possessions overall.. The Buckeyes notched victory number 799 with Ohio University on deck for number 800... With Virginia Tech's earlier loss to East Carolina, Tressel moved into a tie with Frank Beamer for third-most victories among all active FBS coaches... Ohio State's consecutive game streak of scoring at least one touchdown is now at 140... Former linebacker Andy Katzenmoyer was named honorary captain for the game... The attendance was listed at 105,011 making it the 42nd straight home game the Buckeyes have played in front of 100,000 fans.