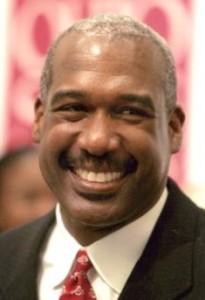 Ever since Kevin White left his post as the AD at Notre Dame for greener pastures in Durham last week, talk of OSU's Gene Smith possibly leaving Columbus to take over at his alma mater had been on an uptick.
All that can be put to bed as Smith announced earlier today he has no plans to leave Ohio State.
Last night, I got the impression both Herbie and Spielman thought it was a foregone conclusion as they discussed Smith's resume and strong ties to Notre Dame.
No doubt, Smith has the ND pedigree considering he won a national championship in South Bend both as a player ('73) and a coach ('77) in addition to being the only candidate with AD experience at four different schools (EMich, ISU, ASU).
Of course, the list of candidates includes a slew of others with strong ties to the school, most notably the man who brought Thad Matta to Xavier and current X AD Mike Bobinski and current interim AD, Missy Conboy but none are on Smith's level from a resume standpoint.
Just for discussion's sake, would you have been upset if Smith left? More importantly, do you feel it would have been a blow to the athletic department?
While I think Smith has done a fine job, I also think he's really just had to do the gardening around the House that Andy Geiger Built. I know there are some Geiger haters out there especially as it pertains to the handling of #13 but when you consider the coaching hires and the facility upgrades he presided over, I must give the man his due.
Can I say the same for Smith? I give him credit for being a strong fund-raiser and he has an awesome presence representing the university in a way Archie can appreciate, and I'm glad he's staying, but I'm not convinced it would've been a knee-buckling loss.
Would you leave in the same situation? When I look at how White was pissed on when the new regime at ND fired Willingham without White's backing I'm not sure that's the best spot for me if I'm Smith. Additionally, while ND has the history, their recent history smells like Alex Boone's taint after a humid August two-a-day (or so I assume).
As the WWL notes, the Irish have employed four head football coaches since '97 and and four AD's since '87 though they needed just six AD's to get through the previous 73 years.
On the field, Calorie Weis and company have continued to disappoint though they somehow manage to bring in a top five recruiting class every year. Stepping in to that situation as a new AD doesn't sound like fun if Weis' excuses continue to 'outweigh' his results.
Maybe they'll bring back George O'Leary. I hear his resume lists 40 years of Athletic Director experience.