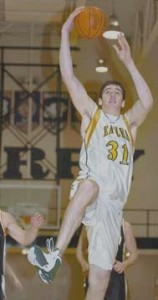 I think it's safe to say Jack Greynolds Jr, Kosta Koufos' head coach at Canton GlenOak High School, is not a huge fan of Thad Matta.
In today's Canton Repository, Greynolds called Matta "clueless" based on his thoughts that Matta was to blame for the rumored poor relationship between the slow to develop big man and the OSU coach and further insinuated Matta purposely misused Koufos in an effort to keep on campus for at least one more year. The quote speaks for itself:
Listen, if you can't get along with a kid like Kosta, then you're clueless," Greynolds said. "If you're making $2 million season and can't figure out how to use a 7-foot-1 kid, you're clueless. If you can't get along with a kid who comes early, stays late and gets good grades, you're clueless, and you've got the problem.
Is someone backdoor lobbying for new Koufos-funded uniforms and ball rack or is Greynolds just a classless loose lip? I always assumed he was solid considering he's the son of a high school coaching legend in those parts. And maybe he is, but those comments are out of line if you ask me.
I can get with sticking up for your (former) players but I'd hardly recommend a high school coach verbally piss all over the head coach at a major university, specifically charging the coach with purposely holding a kid back. Are you kidding me?
Matta should drive up there and remind him all he did was try and toughen up the amazingly timid and soft seven footer Greynolds sent to Columbus with the express purpose of making the kid a better player longterm.