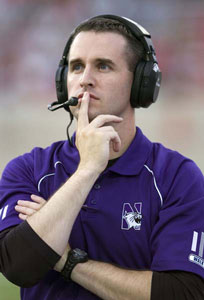 If you didn't catch it in the feed earlier, LTP has compiled the conference bloggers' picks for various awards and other things deemed important enough to be voted upon. While several of the categories were no-brainers I'm baffled that people still consider the prospect of a Utah victory at the Big House an upset.
The Wolverines have to replace the best tackle in America and a skill group that ranks among the best ever put together in Ann Arbor. The Utes, on the other hand, are a potential BCS bowl candidate. I'm not saying Utah is a lock -- the home atmosphere should be electric, but don't call it a potential upset.
Pat Fitzgerald got our vote for the coach of the year. If the Wildcats catch some breaks, a top four finish is not out of the question. Naturally, we think Tress would be an ideal selection, but he most have too much talent or something to be eligible. Despite an unbeaten championship season and four first-place finishes, the Vest has never won the league's coach of the year honor. Baffling.
---
Quarterbacks coach Joe Daniels is probably close to collecting rent in Pennsylvania. The point-man for Tressel's recruiting efforts in the state has scored several high-profile victories over Penn State in recent years. The Gateway tandem and Pryor are a long way from what we enjoyed during the 90s. Cooper was an incredible recruiter, but Ki-Jana Carter and Curtis PEnis clearly illustrate how different it used to be.
---
Always excellent Georgia blog Get the Picture raises an interesting question: why does Oklahoma get more of a pass from people these days than Ohio State? While I think any fan or blogger that actually studies the game realizes that Stoops has been pretty craptacular in big games, he's definitely correct in that the Buckeyes are the team Joe fan loves to mock.
And that's what I don't get. At least when Ohio State laid a postseason egg, it was against teams that won national championships. Oklahoma lost to the WAC champ and a team that dropped its previous game to a Pittsburgh squad with a losing record. Yet mention Ohio State to a typical college football fan, and there's a visceral, negative reaction to the Buckeyes' chances for playing in the BCS title game this year, one that I don't sense the Sooners generate.
To expand on this a little, why isn't the mention of Michigan met with the same guffaws reserved for the Buckeyes? Is not losing twice in national championship games better than getting blitzed by USC, losing a home opener to Appalachian State and then suffering your worst loss in 40 years back-to-back-to-back? I realize there's the whole "OSU is the SEC's bitch" angle and that's hard to argue, but people are quick to forget that Ohio State lost to two pretty damn good teams the last two years.