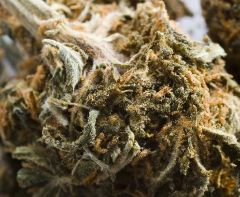 That 2008 Buckeye defense we've all been daydreaming about just took a bit of a hit. The rumors from earlier in the day proved to be correct and Donald Washington, Jamario O'Neal and Eugene Clifford are in a bit of trouble.
The three have allegedly been caught with weed-flavored urine and are facing suspensions or outright dismissals from the team. All three were held out of spring practice and were seen conditioning while the rest of the squad participated in pads.
The coaching staff and athletic department officials aren't saying anything, but the following quote from Hartline seemed to give away the offense:
"And I know the kind of guys they are, and they're great guys. But it just like dumbfounds you, because I hang out with them all the time but I never see it happen, so it's like, `When?'. . .
The buzz is that Clifford is gone, Washington may be and O'Neal will probably stick around -- but on thin ice.
The loss of Clifford would be no real surprise, considering he was suspended for the MNC game for likely the same offense. A tremendous talent, we were hoping a move to safety would be the fresh start he needed to get his groove-on. His loss would suck, but it's not like he's Beanie, you know.
Washington's loss, on the other hand, would be a tremendous blow to the team. A junior with a ton of quality starts under his belt at corner, his future was bright. All of the snaps that Chekwa received last year are huge all of a sudden.
O'Neal had always been more hype than ability. He is a senior backing up a junior, after all, but you never like to see anything like this happen in a guy's final year.
If things unfold as expected, the current secondary features Jenkins, Chekwa, Coleman and Russell. Three returning starters and the nickel guy from last season. The team should still be in incredible shape back there, but if that group gets hit with injuries, things could get delicate.
What a week -- the entire Brew Crew is on the shelf and now this. Any chance these guys can get the Manningham treatment and see the field before USC?
---
(On a side note, props to Dotting the "I" for breaking this before everybody. And I mean everybody. Blogs, FTW!)