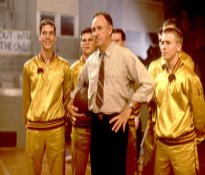 Opponent: Ohio State faced a daunting task against the top ranked Tar Heels this past Wednesday, but tonight's visit to historic Hinkle Fieldhouse might provide a stiffer test. Butler is fresh off a title at the Great Alaskan Shootout, taking down Michigan (79-65), Virginia Tech (84-78 OT) and Texas Tech (81-71), earning national team of the week. Forget the mid-major BS, Butler is good and they have 6 of their top 7 players returning from last year's Sweet 16 team, when they became another victim of the Gator's march to the National Title.
The Bulldogs come in averaging 73.5 points a contest and most of those are from behind the arc, leading the nation in three pointers making an astounding 12.8 per game. Butler doesn't need to heave them up at a rapid rate, because they shoot 47 percent from 3land, ranking 4th in the nation.
As expected, Butler takes care of the ball, committing less than 10 turnovers a game, but their lack of height is apparent in their negative 2 rebounding margin, as they only grab 26.7 a game. Then again, a team is not going to have many rebounds when they can stroke it like Butler, connecting on 49% from the field and 78% from the stripe.
Key Players: Butler starts five seniors and are lead by A.J. Graves (#4 6'1"), Mike Green (#10 6'1") and Pete Campbell (#34 6'7"). All three were named to the all-tournament team in Alaska, are the only players in double figures and all shoot over 50 percent from downtown. Graves scores 18.5 a game and has made 29 of 56 (51%) three pointers, including 6 of 8 against Texas Tech. Graves was voted as the preseason POY in the Horizon League and he enters this game having started 96 of 102 games.
Mike Green helps Graves form one of the best back courts in the country, coming in averaging 15.5 a game and leading the team in assists at 5 per victory. He does not look to shoot the three as much, hitting 8-14 (57%), acting as the floor general he is coming off a tournament performance that earned him National Player of the Week honors from the Sporting News.
Campbell is a dynamic shooter, scoring 15.2 a game and hitting 26 of 49 (53%) threes. He is the single season record holder for 3 point accuracy at 52 percent last year and won't do much besides shoot from beyond the arc, attempting only 2 free throws and dishing out only 5 assists this year.
These three are joined in the starting lineup by Julian Betko (#1 6'5") and Drew Streicher (#32 6'7"), neither player seems to be a scoring threat, but will hound Ohio State's scorers on the defensive side. Betko is a Slovakian and has played in 75 straight games, but comes in only scoring 5.5 points a game and shooting a putrid 37 percent from the floor. Streicher is a former walk on done good and his coming off a 10 point, 3 assists game against Texas Tech. He is only pouring in 5.2 a game and surprisingly is not a rebounding threat, grabbing only 14 all year.
Butler will have 2 significant players coming in off the bench, Matt Howard (#54 6'7" Fr.) and Zach Hahn (#3 6'0" Fr.), but Willie Veasley (#21 6'3" So.) is coming off a knee injury and may see more time tonight. Howard scores 8.8 a game and is second on the team with 4.7 boards a game. He has scored double digits in 2 of Butler's games thus far, getting 12 against Michigan and 11 against Bobby Knight's team. Hahn probably won't see too many minutes tonight and hasn't scored in the last two games. Veasley gets a special shout out, as he is from my high school in Freeport, Illinois, home of the Pretzels, yes that is right, the high school mascot is a pretzel. He played in 35 games as a freshman last year and averaged 8 minutes over the last two games.
Notes: Butler set a Great Alaskan Shootout record by hitting 47 three pointers in three games... Head coach, Brad Stevens, is in his first year at the age of 31... Butler is 2-3 against Ohio State in the last five, including a 69-79 overtime loss two years ago.
Buckeye Breakdown: A wise man once told me that the rim is 10 feet off the floor and the free throw line is 15 feet away from the basket at Hinkle Filedhouse and unfortunately Ohio State has had trouble gauging those dimensions lately. Thad's team is capping off a run of 5 games in 11 days, playing against 4 ranked teams and in 3 historic venues. After their trip to Hinkle, Ohio State will get some needed time off, playing only twice in the next two weeks.
Ohio State has continued to stick with a zone defense and will probably continue that trend until they have time to practice over the next couple of weeks. I have been impressed with the level of intensity on the defensive side lately and this young team will need to cover the perimeter even more tonight. The Buckeyes should be able to pound the ball inside and get their scoring in the paint back on track after the UNC game.
Thad's boys are still struggling from the floor, shooting only 42 percent, while averaging 72 points a game. Ohio State relied too much on the threeball Wednesday night and while they are making over 7 per game, they are shooting only 33 percent from that range. With the dismal rebounding effort against North Carolina, Ohio State enters this game with a slight negative rebounding margin (-.5) and will have an excellent chance of turning that back around tonight. Ohio State has taken good care of the ball this year, turning it over only 11.2 times a game.
Key Players: I am not down on this team one bit, I knew this would be a tough stretch of games for this young team and they will continue to improve, but Ohio State needs more than just Jamar Butler showing up every game. Kosta Koufos had his second disappointing game this year against UNC, scoring only 4 points and grabbing 3 boards in 27 minutes. His average is down to 16.2 points per game, but still leads the team with 7.7 boards. He will have a huge advantage inside tonight and I will be shocked if he doesn't take at least 15 shots tonight.
Butler continues to play at an All Conference level, scoring 15.8 a game, while leading the Bucks in assists (29), 3 pointers made (21), free throw percentage (10-10) and assists to TO margin (29-8). He put this team on his back Wednesday night, taking a career high 22 shots and I know he will continue to be the leader this young talent needs.
John Diebler and Othello Hunter will look to build off their performances against UNC. Diebler broke out of his season long slump by hitting 5 threes and leading Ohio State with 19 points, while Hunter took on Tyler Hansbrough and finished with 10 rebounds and a career high 6 blocks.
David Lighty is still averaging in double digits with 10 a game and also leads the team in steals, but he continues to shoot poorly and needs to make a few more layups per contest. Evan Turner will be key tonight, as he turned in a goose egg against the Tar Heels. His length on defense needs to cause problems for Butler and his size should allow him to score at least a point.
Notes: Thad Matta is returning home to his Alma Mater, playing for Butler from 1988-1990 and coaching as an assistant and head coach from 1998-2001... Ohio State is playing 4 ranked teams over a 5 game stretch in the regular season for the first time since 1993... Ohio State has held their opponents under 70 points in 36 of their last 44 games.