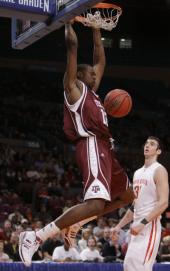 At least LSU lost...
The Basketball Buckeyes went into last night's game looking to make a statement that would vault them into the national rankings but amazingly poor shooting and a lackluster defensive effort against a well balanced A&M squad resulted in a 70-47 sucker punch in the NIT Season Tip-Off in Madison Square Garden.
Thad Matta's group was actually lucky to trail just 31-25 at intermission after shooting a shaky 31% while surrendering no less than 8 layups/dunks as Othello Hunter and Kosta Koufos and the rest of OSU's front line had no answer for the Aggies down low. With both Hunter and Koufos picking up fouls in the first 90 seconds, Jamar Butler was forced to carry the offensive load and he responded with 15 first half points but the 22-12 rebound disadvantage and FG% were just a sign of things to come.
The Buckeyes started the second half missing 18 of 19 shots while A&M ran an offensive clinic resulting in a 23-5 run giving them a 54-30 lead with 9 minutes to play. The putrid offensive display continued as OSU managed to shoot just 18% in the second half (5/28) and it seemed to effect how the Buckeyes played defense, which was more depressing from my perspective.
Seriously, Texas A&M is a very good team but they looked like the Globetrotters in their heyday passing the ball all over a Buckeye defense that was more than a step slow and totally outmanned in the paint. I can understand Koufos getting abused a little inside considering his youth but it was highly disappointing to see Hunter and The Wiggler give virtually nothing on interior defense. Wiggler's 15 minute performance resulted in 0 points, 0 rebounds and 1 tongue lashing from Matta for getting beat down the floor on consecutive trips. Nice work, senior.
Hunter did lead OSU with 7 rebounds but he, Koufos and the rest of the D struggled to contain post ups and slashes to the basket contributing to 64% shooting on 2 point FG's by the Aggies.
Of course, playing defense like the Pistons' Bad Boys squads of the late 80's wouldn't have made a difference on this night as starters not named Jamar Butler combined to shoot 5/39 (12%) with David Lighty (0/5), Hunter (1/9) and John Diebler (0/9) combining to shoot a staggering 1/23.
Lighty was an absolute no-show in NYC with just 6 points in 2 games on 1/10 shooting and 6 turnovers in 56 combined minutes. If neither he or Hunter plan on being a consistent third scoring option behind Butler and Koufos, there are going to be a few more of these blowouts to watch but this is still a tournament team provided they realize you can always play defense.
On the bright side, the Buckeyes committed just 5 turnovers and host VMI Sunday night in St. John's. They'll need a bounce back victory to get some confidence before taking on the Tar Heels Wednesday night in the Schott.