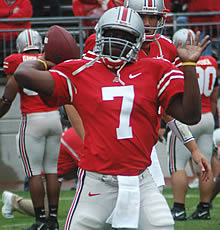 As first reported by Q-FM 96 and then relayed by reader "HAL3", redshirt freshman quarterback Antonio Henton was arrested for soliciting a prostitute late last night.
So long for the long quiet period of Buckeyes staying out of trouble with the law. And never mind the point that he's a freakin' football player at a large school and lives in an era of unlimited internet porn, but Henton just had to go and pay for some booty. Nice work.
What's most discouraging is that Henton was just now starting to make a run on Robbie for the #2 quarterback spot on the depth chart. If a DUI is a one-game suspension, what's this?
UPDATE: Henton has been suspended from the team indefinitely and will not be traveling to Minnesota this weekend. The Dispatch has the full text of the presiding judge's remarks after setting bond at $2500:
"Mr. Henton: I have to tell you sir that I and many fans and graduates of Ohio State University are very disappointed to see you here today in my courtroom. Considering, sir, the fact that you are an ambassador of Ohio State University; your visibility in the community, you need to keep that in mind, sir.

As well as the fact that you need to show up at court and henceforth you need to conduct yourself and comport your actions according to your status in the community, sir.

I can tell sir your head is hung down and you're looking extremely sad. I know you do not wish to disappoint your team members either sir. I will give you a $2,500 cash or surety bond or appearance bond. Gook luck sir both off and on the field. Thank You."