Lake the Posts, the fine Northwestern blog, was gracious enough to host this week's Big Ten Blogger's roundtable. This is no small feat considering his freshest memories of college football action are dominated by a 58-7 pasting at the hands of your Buckeyes. Without any further taunting, on to the questions and answers.
1. Michigan turned to Russell Crowe (successfully). ND went with Regis (unsuccessfully). Imagine your team is in desperate need of a pregame pep talk (no imagination needed at NU). You can bring in anyone in the world. Who do you turn to and why?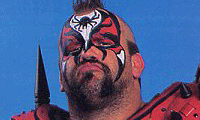 Before last week's game, this would have been a tough decision. Do you want a speech from a former player, such as Chris Spielman, Eddie George or Jack Tatum? Do you go a leadership route and bring in Bill Clinton, Barack Obama or Howard Dean (think screaming speech -- Ted Stevens even)? Or do you go for straight comedic ramblings and bring in George Bush? However, after watching player introductions during the Northwestern game, Joe "The Animal" Laurinitas would be the ultimate choice for this honor. The real Papa Joe donned the old wrestling make-up and proceeded to give Buckeye fans a legendary delivery of starters. His intensity and emotion helped lead the way to a 58-7 triumph and made me want to run through my TV.
2. What perception about your program is perpetuated to the point where it is your pet peeve? Why does it bother you so much (no, the answer does not have to be an alliteration)?
Ohio State's on-field performance and perception recently has given Buckeye Nation an extra spring to their step. However, perception off the field has out-weighed Tressel's 26-3 record from 2005-2007. Maurice Clarett's antics started things off a few years ago and Troy Smith followed a year later. Antonio Henton recently decided to join the ranks of players who have been in trouble under Tressel. National perception may have been set after the BCS title game debacle and up until the Henton incident, the jailarity front had been quiet. Missing from the news though, is Ohio State leading the Big Ten's all-academic team 5 years running. Naming 23 to that honor in 2006, to go along with 54 players achieving a GPA of 3.00 or greater over the academic year.
3. It is only week 5 of the season, but you've been asked to create your team's highlight reel for the season. You get to choose one song. What is it and why?
Although my musical taste is limited, Tom Petty's "Running Down a Dream" seems to be fitting. This team has answered some early questions and seems to have one goal in mind, capturing the dream that alluded them last year. The Silver Bullet defense is rated 2nd in the nation and might be the hardest hitting team in recent years. Teams are going to be hard pressed to score points this year and if the offense can continue to produce, that dream may be realized in New Orleans.