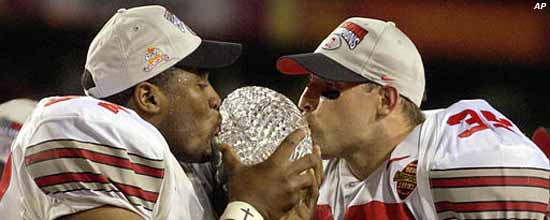 ESPN's Bruce Feldman breaks down the top 5 games he's seen in person ($) and he appears to like watching Ohio State win. That and we're fortunate to have been fans during the past decade as two Buckeye classics, both victories, make his top four. The 2002 Fiesta Bowl earned the #2 spot behind the 2006 Rose Bowl epic between Texas and USC:
2. Ohio State-Miami, 2003: The Canes were a big favorite against a scrappy 13-0 Buckeyes team when they met to decide the 2002 national championship. While the 2003 Fiesta Bowl had as much drama as the UT-USC game, the quality of the play in the first half wasn't the same caliber. However, the tension mounted as Miami rallied in the second half. Roscoe Parrish's late punt return set up a Todd Sievers 40-yard field goal to send the game into overtime. UM scored first in overtime and appeared to have won another national title after CB Glenn Sharpe broke up a pass in the end zone. Fireworks went off. UM players ran onto the field. Only there was a late flag. OSU got another shot and scored, snatching away momentum. This time, UM couldn't answer, failing to convert on a first-and-goal at the 2.
While the 1997 Rose Bowl victory over Arizona State checked in at #4 (ah.. memories of the two-headed quarterback featuring Joe G and the Q-Dawg):
4. Ohio State-Arizona State, 1997: This Rose Bowl matchup pitted a second-ranked ASU team that was in the hunt for the national title against No. 4 OSU. The Sun Devils, led by Jake Plummer, already had pulled off three last-minute wins during the year and it looked like they had snatched their fourth after Plummer scored with under two minutes remaining to give his team a 17-13 lead. But Joe Germaine answered, leading OSU to the game-winning TD with just 19 seconds left.
Feldman's complete top 5:
1. Texas-USC, 2006
2. Ohio State-Miami, 2003
3. USC-ND, 2005
4. Ohio State-Arizona State, 1997
5. Cal-USC, 2004
I think if anything else, it's a real testament to how awesome the 1997 Rose Bowl was as there's a trend towards recency when evaluating greatness. Just check the results of any ESPN poll asking voters to compare contemporary athletes with all-time greats. It's also probably fair to say that Bruce wasn't at the 2007 Fiesta Bowl because that Boise State victory was pretty sick and easily cracks my top 5 games that I never saw in person list.