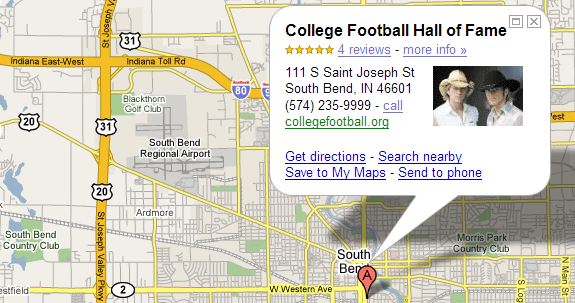 As I was starting to research a post about Buckeye legend Rex Kern's election to the College Football Hall of Fame, I stumbled upon this on Google Maps.
The G-brain is trying to link pictures from pages in its index to this location and selected this lovely photo from exploresouthbend.org to display. The photo was from a press release last year promoting country duo "Blue Country" singing at the 2006 induction ceremonies. That's great, but every time I see two cowboys now, I think Ledger & Gyllenhaal. Can't help it.
Former master recruiter and small game coach John Cooper failed to make the cut, but Bob Hunter of the Dispatch had his back. Cooper certainly has the numbers, but whether he likes it or not, he's going to be remembered as the guy that couldn't win the important ones and that will hurt his chances.
Former greats Jim Otis and Chris Spielman also failed in their bids, but somehow the immensely overhyped Chris Zorich got in. Must be that ND-proximity rule..