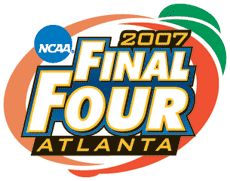 Sporting no Cinderella but instead four legit hoops powerhouses, this year's Final Four figures to be one of the best in ages and has certainly captured the attention of the assembled media. The main websites have more stories than Mike Vick in an airport. In the spirit of lazy blogging, here's a collection of today's best stuff:
The Sports Guy breaks down this year's tournament including this eye-popping note:
This year's quartet features a future No. 1 pick and franchise center (Oden), six future lottery picks (Oden, Conley, Noah, Horford, Brewer, Green and Hibbert), two more potential first rounders (Afflalo and Collison),
For good measure, Simmons correctly asserts that Conley is one of the 10 best players in college today.
Stewart Mandel of SI chimes in with a great piece on the implications of a Florida - OSU rematch considering the recent history between the programs.
If you want to scout the Hoyas before the official 11W preview appears on Friday, cbs.sportline presents The Edge.
On the lighter side of the news, Matt Turdwiggler made the satirical site The Phat Phree's "Sweet 16 Annoying White Guy Team". Speaking of Da Turd, do 11W readers think Matt's earned his real last name back considering his key contributions (5 pts, 3 reb) during the Tennessee comeback?