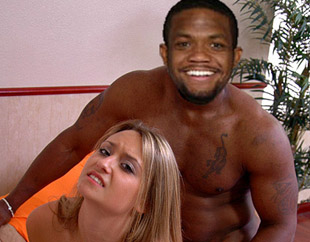 I'm posting this pretty late in the month but hope you have enough time to get out to the news stand to pick up the February issue of Columbus Monthly magazine. Unfortunately, they don't post their articles online (nor did they accept my art submission), but if you do happen to pick up a copy, you're in for a treat.
In an article entitled "Maurice Clarett's Lost Year", author Eric Lyttle explores Mo's California days and the time leading up to his second arrest, including this fantastically absurd nugget:
An adult movie company in California contacted [Mahoning Valley Hitmen owner Jim] Terry, offering to pay $50,000 -- the amount of the bail -- if Clarett would agree to appear in a porno film, he says; "They even had a title Buckeye Booty."
Then there are the marketing plans hatched up for Terry's indoor football team that Clarett was to play for:
Terry now says the two of them discussed a number of marketing schemes to play up Clarett's bad-boy image, including one that compared Clarett to a cannibal: He'd make his entrance for games in an ambulance, wearing a leather mask a la Hannibal Lecter in The Silence of the Lambs.
And:
"We talked about putting his SUV, with the flat tires from the police stop-sticks on eBay. We talked about making a voice mail [greeting] that we'd sell, saying something like, 'Hi. It's Maurice Clarett. Hopefully you're doing better than me. Leave a message.'"
Or Mo's entrepreneurial spirit:
[Clarett's attorney] Hoague says [Israeli gangster] Waknine had taken to tutoring Clarett about making money in business and real estate. He says one of Waknine's many investments was in a Hollywood-area laser clinic that removes blemishes, tattoos and the like. "He was telling Maurice, 'It's easy. Once you equip it, it's fairly automated. You just sit back and collect the checks. To raise money, you buy this, you lease that, you leverage this.' Maurice was actually looking into opening one of these clinics in the Polaris area before he was arrested," says Hoague.
So there you have it. If the Goose, guns and Kevlar hadn't have gotten in the way, there's a good chance that you'd be checking your Mo Clarett voice mail, while waiting to have that uber hip tribal arm band tattoo removed from the Clarett Laser Surgery Center. That is, unless you were too busy watching Buckeye Booty.