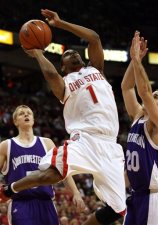 Mike Conley Jr. put on another clinic in point guard play leading OSU with 17 points, 10 assists and 4 steals against just 1 turnover in a game that was never close. OSU jumped out to a 34-15 halftime edge and started the second half with a 13-3 spurt. The run gave OSU a 47-18 cushion that was almost as impressive as the stampede of "fans" who fled the Schott with 10 minutes still left in the game.
The Buckeyes came out in man but quickly switched to a 2-3 zone forcing Northwestern to take 24 of their 48 shots from behind the arc, hitting just seven (28%). As a result, Northwestern managed just two free throw attempts as OSU finished with only 5 team fouls. The defense forced 16 turnovers (9 steals) and blocked 8 shots - Oden with 5.
Offensively, Jamar Butler bounced back from a 2 point, 4 turnover performance against Tennessee with 16 points on 5-6 shooting, including 4-5 from downtown. Othello Hunter was the only other Buckeye to reach double figures with 10 points including 6-6 free throws. For the game, OSU shot 14-15 (93%) from the charity stripe and have hit 32 of 35 in the past two games. Daequan Cook continued his cold shooting with a 4-11 performance (9 points) and Ron Lewis was just 2-8 for 9 points.