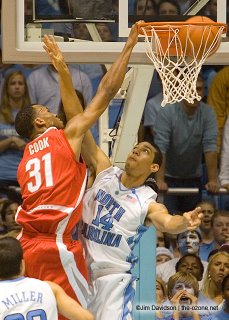 I'm not one to get excited about a loss, but I just can't help but feel damn near orgasmic about last night's 98-89 defeat at North Carolina. I mean, just look at this picture of freshman Daequan poster-izing 6'5" sophomore Danny Green. The way the Bucks hung in an battled on the road while being undermanned down low is a true testament to Bad Thad and his team.
As usual, Matta was his classy self in defeat and Roy Williams made some strong remarks regarding his unhappiness with the UNC faithful chanting "overrated" at OSU during pre-game as reported by John Porentas at The Ozone in the "Game Notes and Quotes" section.
Around the country, the Big Ten Wonk writes Mike Conley is already the best point guard in the Big11Ten and noted how effective OSU was in the first half before Conley picked up his 2nd foul. Finally, Ken Davis over at MSNBC needs to be called out. Today, he writes that OSU made a major statement a day after his pregame article guaranteed that OSU was "toast". My beef isn't that he predicted we'd be destroyed, it's that the article in question appears to have disappeared from the site only to be replaced today's piece that makes no mention of his previous prediction of a UNC rout. Weak.