2015 was another really solid year for us – thanks in large part to an amazingly great community and an Ohio State fanbase that is legion.
We'll check in slightly under 130 million pageviews for the year, which is a 50% increase from what we recorded for the previous year (if you own a local business and want to advertise, let's talk).
We take pride in the amazing deep cuts like Ramzy's Amir Williams retrospective, Tim's Tyquan Lewis profile, and Eric's attempt to decipher the enigma that is Braxton Miller, among many others.
Our recruiting coverage is outstanding, from Jeremy's Hurry Ups, Community Interviews and Inked series to Vico's Better Know a Buckeyes.
We do satire, hit the film for study sessions, publish killer photos, explore the key moments of games, and generally do our best to own the beat.
All of this, we're proud of. However, when it comes to popular posts—breaking big news, videos, uniforms and hammering trolls rule the day.
The following are our 25 most popular pots of 2015.
---
This 26-minute masterpiece highlighting Ohio State's run to the 2014 College Football Playoff title emerged in early February and was the perfect tonic for the "I haven't had a chance to celebrate something epic for nearly a month" doldrums plaguing Buckeye fans.
Exactly four seconds after Urban Meyer announced that he would suspend J.T. Barrett for one game following the quarterback's OVI arrest, the Meyer Doesn't Discipline His Players chorus found its groove on Twitter and elsewhere.
Looking at similar episodes at other major programs, we found out, that yeah, one-game is pretty much the standard punishment for this kind of thing.
When Chris Ash left to become the head coach at Rutgers, Urban Meyer wasted little time making a splash with his replacement, hiring former Rutgers and Tampa Bay Buccaneers head coach Greg Schiano.
"Greg Schiano is an excellent coach," Meyer said in a statement. "He is someone I have known for quite some time now and someone who is going to align with our staff extremely well. I think he will be outstanding as a coach and mentor in our program and I am pleased to have him on our staff."
Nearly a year before Schiano was hired, Meyer was tasked with replacing another coordinator when he tabbed former Nebraska offensive coordinator Tim Beck to take Tom Herman's position on staff.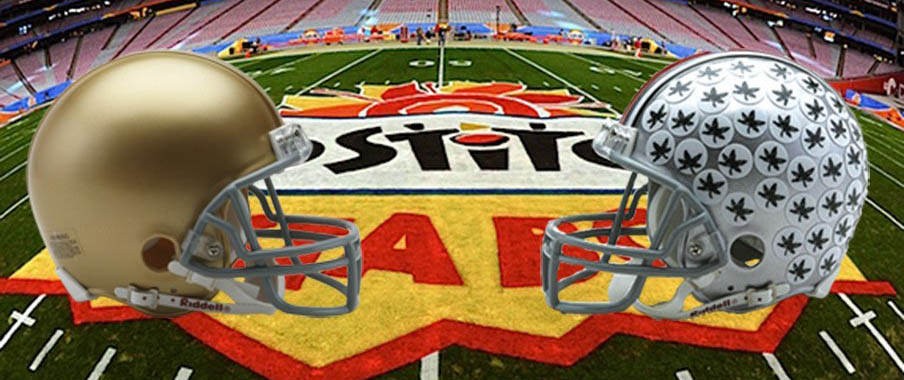 Ohio State didn't win its conference – or even its division, for that matter – but earning a matchup with the easy to despise Fighting Irish is always good for hate-clicks.
@CJ12_ stop tweeting Rhonda rousey and start playing football you dumb fuck!

— Joshua Talarcek (@jtalarcek) October 3, 2015
Cardale Jones threw for 245 yards and a touchdown in a road win against an undefeated Indiana on Oct. 3rd.
Unfortunately, this performance was deemed unacceptable by many Buckeye "fans," who took to Twitter to lambaste the college student putting his body on the line for our entertainment.
Yes, you folks love your Buckeye jerseys. Especially black Buckeye jerseys.
Way back in July, Jim Harbaugh appeared on Colin Cowherd's radio show (then on ESPN). It was a spectacular disaster.
The two would later make up – kind of – but Ohio State fans (and Michigan State fans, and Notre Dame fans, and many others) soaked it up.
September 15, 2015
One week after Braxton Miller lit up the football world with his Blacksburg Spin, his fellow backfield mate Carlos Hyde paid homage to the move with his very own spin-six in his rookie debut as a 49er.
Hyde would finish the night with 168 yards and two touchdowns.
The funny thing about the 13-hour road trip from Columbus to New Orleans is that your route takes you through Tuscaloosa, Ala., home of Ohio State's opponent in Thursday night's Sugar Bowl.
There isn't a whole lot to do in Tuscaloosa, but there are two statues that make for great photos opps if you happen to have an extra foam finger for Nick Saban or want to create a killer O–H–I–O pose with Bear Bryant.
Thanks to a tweet and some well-placed sources, we were able to mock up the black jerseys Ohio State would wear against Penn State more than a week before they were unveiled.
If Britain's greatest gift to the world is America, then America's greatest gift to the world is The Ohio State University Marching Band.
The Best Damn Band in the World performed in London for the NFL's Jacksonville Jaguars–Buffalo Bills game and Wembley was not disappointed.
Our own Grant Edgell's amazing mockup of a blacked-out Ohio Stadium surely had nothing at all to do with the popularity of this one. Nope. None.
Three SEC coaches went out of their way early in the season to trash Ohio State's schedule. You'll never guess what happened next.
It was a normal Monday for Curtis Samuel, Parris Campbell, Tyquan Lewis, Damon Webb, Raekwon McMillan and Cardale Jones at the Woody Hayes Athletic Center.
They were all minding their own business inside the hallowed walls of the football program's workout facility, but little did they know that on this day, they would get completely spooked by an intern.
Ohio State had Cie Grant sing Carmen Ohio – as only he knows how – to wish the Buckeyes luck ahead of their National Championship clash against Oregon.
Grant, for you youngsters, famously sang Carmen Ohio at the celebration to honor the 2002 National Champion Ohio State team on January 18, 2003. Which was fitting, because it was Grant's blitz off the edge that clinched the championship for the Buckeyes.
Did we mention the people like black jerseys?
David Trichel and the Ohio State football video team work magic on the regular, but this one may have been their best.
Coach Meyer hit that #Dab tho!! #WhatsBetterThanThis pic.twitter.com/p26UW7pQ6O

— Zach Smith #Zone6 (@CoachZachSmith) November 28, 2015
A day after Migos endorsed Michigan, Urban Meyer hit them back by dabbing in the postgame locker room after his Buckeyes had thumped Michigan, 42-13.
Perfect.
This black cloud of a rumor that seemed to haunt Ohio State fans all summer finally dropped on July 30th.
Ahead of the final set of College Football Playoff rankings, Ohio State wide receiver Michael Thomas hit the lobbying stick, wondering why Alabama was ranked No. 2, given the Tide had a collection of wins over unranked teams, much like his Buckeyes.
We were tipped off to the fact that Joey Galloway would be inheriting most of Mark May's game day duties on ESPN, so we had time to prepare this epic farewell to Ohio State's most notorious troll and publish it within minutes of the announcement making it official.
Enjoy.
"Everything that has a beginning must come to an end," warns the official trailer of the 2015 title game. And so it did.
"I think I do deserve more than 11 carries. I think I really do," Elliott said. "I mean, honestly, I can't speak for the play calling. I don't know what was going on. I don't know what they were seeing."
After netting just two touches in the second half of the loss, Elliott had strong words about the scheme, but his biggest bomb was his declaration for the NFL draft.
"Honestly, this is my last game here this year. There's no chance of me coming back next year," Elliott said. "I just want to thank Buckeye Nation for making this place so special. I'm sorry about tonight."
They say bad news travels at the speed of light, so it's little surprise that this piece of bad news – which we broke – was our most visited post of 2015. It was the largest story of the football season and dominated the news for weeks.
The result: nearly 700,000 pageviews for this post alone, which would have been a great year for us not too long ago.