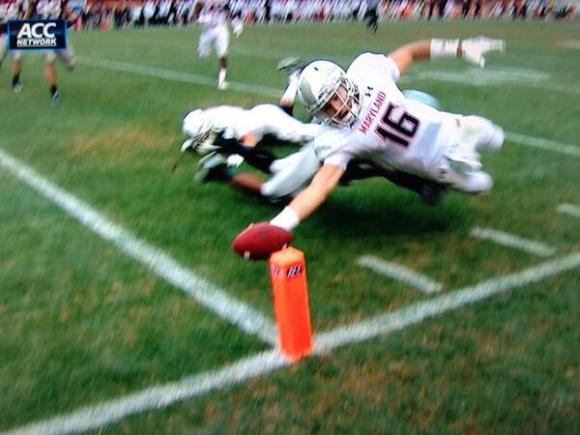 Big Ten fans are familiar with narrative in all its good and bad forms, so here's an easy analogy for where the conference stands as of Week Twelve: falling action. Following the midseason's peak confusion and drama, the division races are winding down and bowl teams have nearly all been determined. The Big Ten Championship Game serves as the dénouement, as does the bowl season. Come to think of it, wouldn't bowls be part of the exposition for next season? This literary stuff is cyclical, after all.
#14 Michigan State (9-1, 6-0) 41, Nebraska (7-3, 4-2) 28
The main plot being told in 2013 is the collision course between Michigan State and Ohio State in the Big Ten Championship Game. Jeremy Langford's 151 yards and three touchdowns allowed Michigan State to earn a key victory in Lincoln and clinch a share of the Legends division.
Nebraska's offense did its defense no favors on the day. Three first quarter turnovers put the Blackshirts in an early hole, and though the defense held up a muffed punt enabled an RJ Shelton touchdown run to put Michigan State up 10-0. Tommy Armstrong Jr. struggled through the first half, and his fumble late in the second quarter let Jeremy Langford bruise his way to the end zone to give Michigan State a 20-7 halftime lead.
In the second half, Imani Cross had a thunderous 51-yard touchdown run and Armstrong Jr. threw a 38-yard touchdown pass to Kenny Bell to make it 27-21. The Cornhuskers were positioned for a go-ahead score after intercepting Connor Cook at the MSU 30, but replay officials overturned the interception. An exchange of punts later, Michigan State went on a lengthy drive sustained by a fake field goal and capped by Keith Mumphery's 27-yard touchdown pass to seal the win.
Langford's 37-yard touchdown run served as window dressing before a touchdown pass from Ron Kellogg III in the final minute brought the score closer.
Nebraska's offense did far better than one would expect. 392 yards of offense, 19 first downs and 28 points is a fine day against the stingiest defense in the country, and if Nebraska could have avoided five giveaways, the game was there for the taking. Its division hopes dashed, Nebraska can now return to the matter of contriving a reason to fire its able coach. A loss at Penn State next week might do the trick.
The decision to make Connor Cook the quarterback and stick with him has paid off well for Michigan State. The Spartans earned the program's first ever victory against Nebraska, pushing the series record to 1-7. Michigan State has nearly clinched a Big Ten Championship Game berth; the only way it can lose the division is if it loses next week at Northwestern, Minnesota beats Wisconsin, and Minnesota beats Michigan State in the season finale.
Michigan (7-3, 4-3) 27, Northwestern (4-6, 0-6) 19, 3OT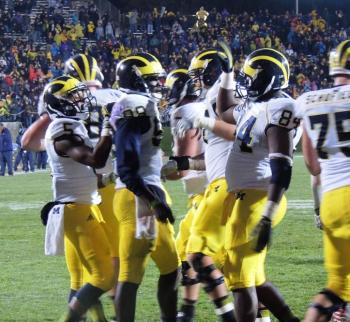 Michigan made an improbable field goal at the end of regulation and Devin Gardner dominated three overtimes to win an amazing, terrible fiasco of a game for Michigan and punch yet another hole in the hearts of Northwestern fans.
Everyone expected pathetic offense in this game, and Northwestern and Michigan lived down to expectations. Neither team could generate a push on offense, resulting in many slow, ponderous drives in regulation. Michigan began with one of these and converted it into a field goal, and Northwestern reciprocated on the following drive. Northwestern's Jeff Budzien kicked a 22-yard field goal to make it 6-3 at the half and another to make it 9-3 in the third quarter. When Michigan couldn't do anything to help itself, NU punter Brandon Williams did it for them with a seven yard shank from his own end zone, giving Michigan a bizarre first and goal at the 10 as starting field position and leading to a Michigan field goal.
In spite of a failed fourth down conversion deep in Northwestern territory with five minutes to go, the Wolverines had one last opportunity to tie the game with a two minute drill. Michigan faced a 3rd and 23 at the NU 43 with 18 seconds left, and Gardner threw a pass caught inbounds. With a running clock, Michigan was somehow able to race the offense off the field, race the field goal team on the field, get set (not really) and kick a game-tying 44-yard field goal all in ten seconds. Michigan and Northwestern traded touchdowns in the first overtime and field goals in the second; it appeared that Northwestern recovered a fumble to end the game in the second overtime, but Michigan came out of a pile of Wildcat defenders with the ball to stay alive. In the final overtime Northwestern couldn't match Gardner's touchdown or two-point conversion scrambles, and suffered its sixth agonizing loss of 2013.
Here it is, the most brutal loss yet for Northwestern. This loss is even worse than the previous five, since Michigan beat Northwestern last year with a similarly crazy finish and overtime and the Wildcats should have had this game won several times. This is the kind of loss that bothers a person for decades, and being the best six loss team in the country is no solace for Northwestern. Now it's do-or-die: beat #14 Michigan State next week, or guarantee a losing record.
Hey, rushing for positive yardage is fun! Subtracting sacks, Michigan's offense rushed for an unimpressive 3.9 yards per carry, reason to party after two weeks of negative rushing yards. Sarcasm aside, the offense was an ugly, disgusting, compelling grab bag that did just well enough to survive against an undersized opponent suffering from the worst luck in America. Flush with success, Michigan looks for another exhilarating win at Iowa next week.
#17 Wisconsin (8-2, 5-1) 51, Indiana (4-6, 2-4) 3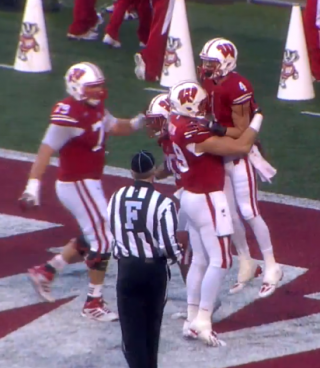 Indiana came to Camp Randall Stadium hoping to end Wisconsin's streak of blowout wins. 554 rushing yards later, the Hoosiers left Madison broken and battered.
The demolishment began with Wisconsin's first play from scrimmage, a 93-yard touchdown run by James White. Melvin Gordon added another touchdown less than two minutes later, and the rout was on. Jared Abbrederis, a wide receiver, he had three carries for 86 yards and two touchdowns. Corey Clement, a fourth-string tailback, had two rushing touchdowns. Indiana mustered a 23-yard Mitch Ewald field goal in the third quarter, and that was it for the scoring. Judging by the fog and lightning warning during the game, even the forces of nature were powerless to stop Wisconsin's offense.
When Indiana hired Kevin Wilson in 2010, he was supposed to reproduce Oklahoma's high-octane offense. He has had mixed success at that, while three years of defensive regression has put him on the hot seat. Fresh from the bludgeoning in Madison, Indiana travels to Columbus to face #3 Ohio State next week. Out of the frying pan and into the fire.
White and Gordon had 296 combined yards at halftime; if Gary Andersen wanted to run up the score, he could have broken the NCAA record for combined yardage of two teammates (504). In spite of the Arizona State screwjob, Wisconsin is in fine position for an at-large BCS bid if it wins out. Wisconsin plays for Paul Bunyan's Axe at #25 Minnesota next week.
Penn State (6-4, 3-3) 45, Purdue (1-9, 0-6) 21
Zach Zwinak rushed for three touchdowns and Allen Robinson had his school record 78th pass reception of the year as Penn State overwhelmed Purdue to ensure a second straight bowl caliber season under sanctions.
Penn State penetrated Purdue's porous defense repeatedly, scoring touchdowns on four of the first five possessions. But a 100-yard kickoff return by Raheem Mostert made the score 28-14 at halftime, and Danny Etling's 11-yard touchdown run made it a dangerous 28-21 game in the third quarter. That's when Zwinak took over, scoring his third touchdown of the day and allowing Penn State to grind down Purdue's defense with 17 unanswered points to finish the game.
Purdue should feel good about staying in this game so long. Penn State is no world beater, and playing two relatively close games gives Purdue hope for its final two conference games. Next week is the matchup we've all been waiting for all season: winless Purdue hosting winless Illinois, also known as the Bile Bowl.
Penn State came into the game struggling on red zone offense and came away with seven scores on seven red zone attempts, six of them being touchdowns. Penn State has benefited from backloaded schedule so far, which catches up next week when the Nittany Lions host Nebraska.
Cincinnati 52, Rutgers (5-4, 2-3) 17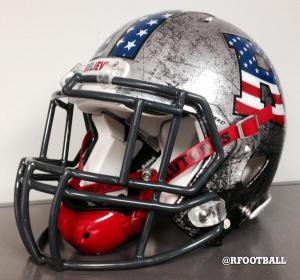 Rutgers gave up any pretense of being a good team this week, giving up 405 passing yards to Brendon Kay in a home annihilation by Cincinnati.
Cincinnati blitzed Rutgers in the first quarter and never let up. After Gary Nova threw a 16-yard touchdown pass to cut Cincinnati's lead to 10-7, the Bearcats scored 42 straight points to put the game away. It was 24-7 after the first quarter and 38-7 at the half; only Savon Huggins' touchdown run with 4:53 remaining and a field goal in the final seconds flattered the final score for the Scarlet Knights.
Rutgers' inability to stop passing offenses is beyond vexing and now an outright embarrassment. Coming into the game, it was 121st in the country in passing defense, and it'll only get worse now. On offense, Gary Nova's inconsistency is even stranger. Who besides Nova alternates 390-yard, 5 TD games with 18-of-38, 170-yard games? Rutgers has little time to prepare for a game at #15 Central Florida on Thursday night. In all likelihood, Blake Bortles will throw for 600 yards.
Maryland (6-4, 2-4) 27, Virginia Tech 24, OT
Maryland held Virginia Tech to just 264 yards of total offense, and CJ Brown's 3-yard touchdown run in overtime beat Virginia Tech and sent the Terrapins to a bowl game.
Though Virginia Tech scored first, the defense held the Hokies through the rest of the first half. William Likely returned a punt 62 yards for a touchdown, and Brown led Maryland on a 5 play, 56 yard drive in just 35 seconds to put Maryland up 14-7 at the half. A touchdown pass from Brown made it 21-7 until Logan Thomas's touchdown passes in the third quarter and in the fourth quarter tied it at 21. In overtime, Brown made a questionable pass interference on Virginia Tech's possession moot with the winning run, completing the road upset.
Nobody would have expected a depleted Maryland squad to recover from its midseason swoon by taking down a division frontrunner, but that's exactly what happened. Injuries played a factor in this game; for example, Virginia Tech was without its top two cornerbacks. Maryland got the right person back at the right time to propel them to victory. The Terrapins have shown tremendous resiliency passing through the worst of their schedule, and now they can play their way into a better bowl by beating Boston College next week.
And there you have it for Week Twelve. Week Thirteen has at least four pseudo bowl game attractions: the Newcomer Bowl (Penn State/Nebraska), the Actually Competitive For A Change Bowl (Wisconsin/Minnesota), the Pointsplosion Bowl (Ohio State/Indiana) and the Bile Bowl (Illinois/Purdue). I think we all know which game has the greatest ironic value.