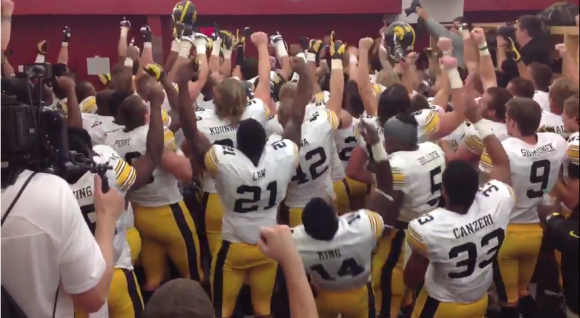 In absolute terms, Week 3 was devastating for the Big Ten's claim to being one of the top conferences. But viewed through the prism of sweet relativism, it didn't go as poorly as expected.
For example, from a power conference you'd expect a winning record against other major teams, but in the Big Ten's six games against major schools the conference went 2-4. For a conference that has its reputation regularly burnished, that plus a couple of poor showings against mid-majors would be a disappointing result.
But for a conference with an advanced inferiority complex like the Big Ten, that's not so bad, much like it's better to be pecked in the face than the groin.
Well, enough of the quiet depression and Midwestern stoicism, except in Wisconsin, where people are still screaming. Onto the recap.
Arizona State 32, #20 Wisconsin 30 (2-1*)
This is a game Wisconsin absolutely should not have won. They won it anyway, and then the referees stole it from them.
Wisconsin held ASU to field goals, prevented two point conversions, and scrapped for points to take a slim lead into the fourth quarter. Worn out, on the brink of collapse all night long, Wisconsin finally succumbed to Arizona State's high-octane offense, giving up a 32-24 lead.
But Wisconsin scored a touchdown, the capper in Melvin Gordon's fantastic night, and though they missed the two point conversion, the Badgers got the ball back with enough time for a final drive. Joel Stave got them into range, and then this happened:
The referees somehow missed a delay of game, failed to stop the clock while they dithered, and stopped Wisconsin from spiking the ball. If there's an occasion in which referee error had a more definite effect on the outcome of a game, it eludes me.
After such a cruel loss, surely no one would be mean-spirited enough to suggest that Wisconsin deserved to lose that way, would they?
September 15, 2013
There are no words.
Iowa 27 (2-1), Iowa State 21
Iowa's depressing season brightened in a big way by winning the Cy-Hawk trophy for the first time since 2010.
Iowa secured a 13-0 halftime lead and extended it to 27-7 before two last gasp touchdown throws closed the gap. Iowa recovered an onside kick and killed the clock from there.
Mark Weisman is a workhorse; he had 35 carries a week after having 30 carries. If the last three weeks are any indication, he may be Iowa's version of Le'Veon Bell, a running back forced to carry his team beyond all reasonable expectations. This may be tempting fate, but could Weisman be the one to break the hex on beleaguered Iowa running backs?
Iowa plays Western Michigan next week, and either finishes its non-conference schedule on a promising note or validates every negative feeling about the Hawkeyes' coaching staff.
#11 Michigan 28 (3-0), Akron 24
The courageous underdogs from Michigan laughed in the face of danger. "37 point favorites?" they said. "Those stat-loving geeks in Las Vegas don't know how tough those Akron Zips are." Indeed, the scrappers from Ann Arbor ignored the laughable point spread and handed those Akron bullies a devastating four point defeat.
The fireworks began after Michigan took a 7-3 lead into halftime. Feeling sorry for those Akron scamps, Devin Gardner courteously allowed the Zips to take the lead with an interception sidearmed right to the defender. Michigan's generosity knew no bounds: two more picks and one fumble kept Akron in the game as the teams traded leads.
When Fitzgerald Touissant gave Michigan its final lead with 2:49 remaining, it even allowed Akron to taste near-victory. But winners can only be so kind, and on the final play from the Michigan 4 the Wolverines buckled down and forced an incompletion through the end zone.
Though observers may no longer view Michigan as the class of the Big Ten with Gardner's penchant for costly turnovers, the Michigan Man has no need for garish victory, not when he has finally gotten even with Jim Tressel after a decade of boorishness.
The gentlemen scholars from Michigan enjoy their not-at-all-there-by-default top 10 slot next week against Connecticut.
Central Florida 34, Penn State 31 (2-1)
Blake Bortles threw for 288 yards and three touchdowns as an impressive Central Florida team survived a comeback from Penn State.
Central Florida steamrolled a previously stingy Penn State defense en route to a 28-10 halftime lead. Christian Hackenberg and Allen Robinson played well to help the Nittany Lions cut the lead to three with 2:57 left, but the Knights ran out the clock.
The credit should go to Central Florida for the win rather than to Penn State for losing; the balance and consistency of UCF's offense and the way it systematically took Beaver Stadium out of the game make UCF the top contender to Louisville in the American Athletic Conference.
Penn State regroups next week against Kent State.
#19 Washington 34, Illinois 24 (2-1)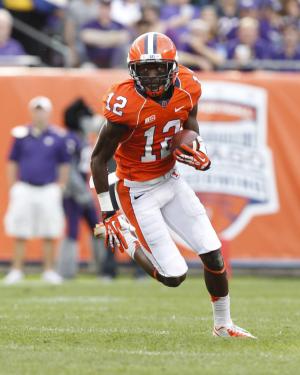 In part two of the Big Ten/Pac-12 extravaganza, Washington clawed past Illinois at Soldier Field.
Though Illinois was outgained nearly 2:1 on the game, numerous Washington penalties helped the Illini to trail by only a touchdown before three third quarter touchdowns by the Huskies put the game out of reach.
Concerning for Illinois was its inability to stop the run: 273 yards rushing for Washington at six yards per carry. Scheelhaase showed flashes of his younger erratic self, and Illinois could not generate much by rushing.
The question after Illinois's two opening wins was whether they could prove themselves against a quality opponent. Though the underlying numbers were unsatisfying, staying within ten points against Washington shows that Illinois is much further along than last year. 4-8 or 5-7 would be reasonable expectations now.
Illinois has the Big Ten's first bye next week before facing Miami of Ohio on September 28th.
Michigan State (3-0) 55, Youngstown State 17
Off...ense? Two weeks of ineptitude came to an end as Michigan State's offense broke free for 547 yards against Youngstown State.
The Spartans exploded in the first quarter for three offensive touchdowns, one more than they had scored after two weeks. And four passing touchdowns from Connor Cook earned Mark Dantonio's approval as the starting quarterback. And it only took Michigan State until mid-September to decide. Next time, couldn't they string it out into October?
With its quarterbacking issues settled, Michigan State plays at Notre Dame next week in the conference's toughest game.
Minnesota (3-0) 29, Western Illinois 12
No matter how he manages his health, Jerry Kill has suffered seizures in each of his first three seasons at Minnesota. And though he's reassured his team as to his health, at some point his health will prevent him from coaching a major program.
Jerry Kill was stretchered off the field following halftime with the Golden Gophers trailing 12-7. Minnesota rallied after that thanks to two touchdown runs by David Cobb and Rodrick William's second touchdown run.
Minnesota still doesn't look good, even against two of the worst FBS teams and an FCS team. Nevertheless, it's halfway to bowl eligibility for the second straight season. They will try to improve to 4-0 next week against San Jose State.
Indiana (2-1) 42, Bowling Green 10
Nate Sudfield threw for 335 yards and Cody Latimer had a career record 137 receiving yards as Indiana looked solid in a bounceback game. After Bowling Green took an early lead on a blocked field goal return and its own field goal, the Hoosiers responded with 35 unanswered points.
Indiana fans should take this game positively. The Hoosiers kept Bowling Green to 4.7 yards per play and no offensive touchdowns after being gashed by an inferior Navy team last week.
Indiana plays Missouri next week in what is sadly one of the conference's spotlight games.
#16 UCLA 41, #23 Nebraska 21 (2-1)
After getting out to a 21-3 lead, Nebraska melted down as UCLA scored the last 38 points of the game. Though its defense started out strong, Nebraska ended up allowing over 500 yards and forcing only one turnover against UCLA and Brett Hundley.
The ever-efficient Taylor Martinez was the best part of the game for Nebraska, going 21-35 for 203 yards and three touchdowns, but this game is a huge disappointment for Nebraska. Fans won't be happy with the offense either, as dissension could lead to offensive coordinator Tim Beck's head being on the chopping block.
After shaming the conference with its collapse, the Cornhuskers will attempt to redeem themselves against San Diego State next week.
#21 Notre Dame 31, Purdue (1-2) 24
Teams can react to high profile losses in two ways: they can play angry or play disinterested. Notre Dame chose the latter, and it almost cost them against Purdue.
Purdue led for most of the game until Notre Dame broke the game open in the early fourth quarter. Notre Dame's DaVaris Daniels caught touchdown passes of 9 and 81 and Bennett Jackson returned an interception 34 yards to give the Irish an insurmountable 31-17 lead. Purdue's Rob Henry threw for a touchdown pass to make the game closer, but Notre Dame ran out the clock after that.
Purdue looked like the Big Ten's worst team before this performance, but at least they've shown signs that they will give a fight. The schedule doesn't get any better for Purdue as they must travel to Wisconsin next week. After the Arizona State game, the Badgers will be the angriest team in the country.
#17 Northwestern 38 (3-0), Western Michigan 17
On Trayvon Green's and Kain Colter's legs, Northwestern powered to a win over Western Michigan.
After a stultifying first quarter, Northwestern's 24 point second quarter was more than enough to coast on. Green had 158 yards rushing and Colter had 106 while Trevor Siemian added 99 yards passing to lead the Wildcats. The defense smothered any threat, limiting Western Michigan to a pedestrian 4.4 yards per play.
Northwestern's offense was one-dimensional, but besides Ohio State it's the only Big Ten team to not be in jeopardy at any point in its first three games. Northwestern will finish its perfect non-conference schedule against Maine next week.
Though they're not part of the Big Ten proper, in the interest of making Maryland and Rutgers fans feel at home we'll cover their games.
Maryland 32 (3-0), Connecticut 21
Though Maryland outgained Connecticut, it was the defense that would put the game away with an interception return and safety to put the Terrapins up 29-21 in the fourth quarter.
Stefon Diggs had five catches for 110 yards and a touchdown in a win over Connecticut. Randy Edsall would take Maryland to 4-0 with a win against West Virginia next week.
Rutgers (2-1) 28, Eastern Michigan 10
Though Eastern Michigan outplayed and outgained Rutgers, the Scarlet Knights took advantage of big plays to beat the Eagles. A 99 yard kick return by Quron Pratt gave Rutgers a 14-3 lead, and Paul James' second and third touchdown runs in the fourth quarter salted the game away.
Eric LeGrand, who was paralyzed playing for Rutgers in 2010, was in attendance as his #52 was retired at halftime. Considering what he's done for Rutgers then and since, there's nobody more deserving for the first retired number in the program's 144 year history.
Rutgers hosts Arkansas next week in its toughest non-conference game.
As you can see, next week's schedule is a snoozefest across the country. If you're looking for close and/or good games, I recommend Michigan State at Notre Dame, Indiana against Missouri, and Rutgers against Arkansas. May I also suggest your annual fall cleaning?