G'mornin.
As you well recall, this Wednesday was the day that Ohio State football finalized its 2013 recruiting class. However, Ohio State was obviously not alone and the day itself provided much to discuss. National Letter of Intent Day always elicits a slew of interesting stories across college football that are just too interesting to pass up.
In this Saturday Skull Session, we'll go over a few of those stories, leaving aside the Alex Collins' saga discussed in Friday's Skull Session.
WHO DIDN'T DECOMMIT FROM USC? By any measure, USC got the most bang for its buck on National Letter of Intent Day. Using Rivals.com's measures, USC signed five 5-star recruits on Wednesday, the most in the country.
Its "average star rating" for its class was 4.42, which is easily better than even the talent-laden efforts of other programs like Alabama, Notre Dame, Mississippi, and Ohio State. Forgetting for the moment that an "average star rating" is an inappropriate measure of central tendency for a discrete variable, USC nonetheless signed some studs in its recruiting class.
USC's problem is that it signed only seven other players in its 2013 recruiting class. In Year 2 of the scholarship reductions as a fallout of the Reggie Bush scandal of yore, USC is maxed at 15 new additions to the roster for this year and the next year. This actually had side effects that directly affected this year's recruiting class.
Kylie Fitts, a defensive end from Redlands, California, committed to USC after visiting USC for its spring game in the spring of 2012. He also made plans immediately thereafter to enroll at USC in January so that he could get a head start on his collegiate career. However, USC informed him in December that they no longer had room for him to enroll in January, denying him early entry just weeks before he was slated to arrive. Kiffin tried to minimize the damage, but it led Fitts to reopen his commitment. He settled on UCLA on Wednesday. Kiffin and Orgeron lost a national top ten defensive end to their in-city rivals.
Eddie Vanderdoes, a five-star defensive tackle from Auburn, California, had committed to USC in July of 2012, but also made the decision late in the game to reopen the recruiting process. He flipped to Notre Dame on Wednesday, actually having taken an official visit to Notre Dame with Kylie Fitts while both were soft verbals for USC. Like Fitts, Vanderdoes will get to play against USC every year as one of the Trojans' main rivals.
As National Letter of Intent Day approached, USC suffered even more casualties as a few other players decided to stay closer to home. Jalen Ramsey, a cornerback from Memphis, Tennessee, flipped to Florida State. Further, Jason Hatcher, a defensive end from Louisville, Kentucky, flipped to the in-state Kentucky Wildcats. Funny thing: Hatcher actually threw UK under the bus when he originally committed to USC.
The only good news came in the form of Quinton Powell, an outside linebacker from Daytona Beach, Florida, that turned down offers from local schools like Clemson, Miami, and Florida and signed with the Trojans on Wednesday.
All told, USC still has a lot of quality in its recruiting class, more than any other program in the country. However, it's very low on the important dimension of quantity, which plays a role in aggregated recruiting class rankings. It only suffered down the stretch. It's why USC tumbled from a top five finish to a top 15 finish within a month.
I'M SURE ESPN WILL DO A 30 FOR 30 ON OLE MISS' RECRUITING CLASS. The "winner" of 2013 recruiting among college football programs is some pick of Alabama, Florida, or Ohio State, depending on your assessments. However, no one made more noise on National Letter of Intent Day than Ole Miss. How much of an impact did Ole Miss make? Well, apparently Ole Miss' accomplishments on Wednesday were locker room fodder for the Miami Heat, which is now our metric of what is officially "buzzworthy". For some reason.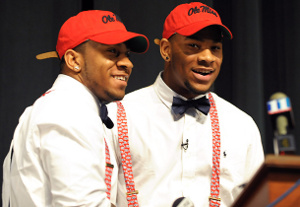 Ole Miss started the day by adding the signature of Robert Nkemdiche, probably the best overall player among graduating high school seniors. Nkemdiche was the subject of quite the recruiting battle in the Southeast. Clemson hosted him and a bunch of his high school teammates from Loganville, Georgia, in an effort to leverage their scholarship offers against him. He committed on the spot, though this infuriated his mother, who is a politician in Nigeria.
Nkemdiche ultimately backed away from that verbal commitment, though Clemson retained two verbal commitments among his high school teammates. He was also courted very heavily by Les Miles and Louisiana State, leading Nkemdiche to be one of only two non-family members Miles "followed" on his Twitter account. Ultimately, Nkemdiche swung the way of Ole Miss, where his brother, Denzel, plays.
Later in the day, Ole Miss added the signature of Laremy Tunsil, a big-time offensive tackle from Lake City, Florida. Tunsil is the #2 player in Florida and the top offensive tackle prospect in the country. He chose Ole Miss over Alabama, Florida State, and Georgia, which is no small feat for Hugh Freeze in his second year in the grove.
The only bad news on the day regards Elijah Daniel, who spurned Ole Miss at the eleventh hour to sign with Auburn. Daniel was the #2 player from Indiana, after Notre Dame-bound Jaylon Smith, the little brother of Ohio State tailback Rod Smith.
So Ole Miss, of all programs, was the one that made out like bandits on Wednesday. It signed the #1 overall player in the country (Robert Nkemdiche), the #1 offensive tackle in the country (Laremy Tunsil), and the #1 wide receiver in the country (Laquon Treadwell). Be it The Blind Side, or that problematic mess of a 30 for 30, Ole Miss' standing with recruits has improved very recently.
If you have an issue with the benefits that Hugh Freeze is reaping, he has a place for you to direct it.
URBAN MEYER DOESN'T WANT IT TO BE EASY, B1G TEN. Finally, here is the news item that will probably continue to have ripple effects regionally for the new few months. When pressed for comment on 97.1 The Fan about how the rest of the conference did with respect to recruiting, Urban Meyer conveyed considerable disappointment.
In fact, Meyer was so disappointed that he said he intends to raise the issue of poor recruiting at the next B1G TEN coaches meeting. Yes, Urban Meyer will complain to the rest of the conference's head coaches, to their face, that they are making it too easy for him. Meyer was that guy that used the Game Genie on his SNES to make playing Battletoads even more difficult.
By the way, that coaches meeting will probably end with Bo Pelini trying to punch someone's lights out with a pair of brass knuckles. Granted, that's how most B1G TEN coaches meeting end.
To be sure, no such comment could be directed Brady Hoke's way. The Wolvereenies finished with a stellar haul themselves, putting them in the top five among all programs. However, Meyer's complaint is probably one of depth. The #4 recruiting class in the Southeastern Conference is Ole Miss' class, which finished 7th nationally, using Rivals.com's index. The #4 recruiting class in the B1G TEN belongs to Michigan State, which is 38th nationally.
The list of programs that fared better than the 4th best B1G TEN program include heavyweights like Oregon State (37th), Rich Rodriguez' Arizona program (36th), hapless Pittsburgh (33rd), friggin' Maryland (31st), Baylor (29th), Kentucky (28th), and Virginia (27th), among many others. Remember Oregon, the program whose abrupt departure of Chip Kelly helped us poach arguably their top recruit (Dontre Wilson)? Oregon rebounded for 21st nationally, just four spots behind the B1G TEN's third best finish (Nebraska, #17).
There are other ways we can see the B1G TEN falling flat in recruiting, excusing Penn State's performance for obvious reasons. Even then, Penn State did well for its circumstances. The top two players from Indiana signed with Notre Dame (understandable) and Auburn. The top three players from Illinois signed with Mississippi, USC, and Louisiana State, in that order. Only Ohio State, Wisconsin, and Nebraska signed the top players from their respective states. For Nebraska, that's not saying a whole lot either.
Here are some other measures I found interesting. Illinois got its tail kicked in-state, signing only three of the state's top 20 players. Minnesota, which is a deceptively good state for football (in that its top player can play for any program in the country, and almost always does), signed only one player from the state's top 10.
Lost in the quality debate is the issue of quantity. Oversigning is an important normative debate, but not pushing the limit of 85 handicaps programs that, under these conditions, can't afford recruiting "misses". Four B1G TEN teams, excluding Penn State, signed fewer than 20 recruits on Wednesday.
To that extent, it is important for the rest of the conference to heed the call to do more for the sake of the brand, unless we're all kind of content being a basketball conference. Will that message get internalized? We'll see. Will Bo Pelini probably end up trying to punch Tim Beckman by that end of that coaches meeting? Probably. But that's just Bo being Bo.
MISCELLANY. I know I wouldn't want to be around Bert, but Alex Collins' father has no issue with his son being around him... If the coach don't fit, you must decommit... As part of their ploy to get Eddie Vanderdoes to sign with them, USC and Alabama apparently offered a basketball scholarship to Eddie Vanderdoes' sister. She's 13. Why don't you have a seat over there, USC and Alabama... This is so Bert.