Good morning chilly Columbus, Ohio, and to all other places Buckeyes may reside.
This is my first winter living in a state north of the Mason-Dixon line and I've got to say that I'm not very impressed with the weather so far.
It's 11 degrees right now in Chicago (and 13 in Columbus), but that really is not as bad as everyone makes it out to be. So, toughen up people!
Anyway, enough about the weather – let's get to some sports.
B1G BUZZSAW. The Buckeyes managed to avoid the B1G buzzsaw last night against Iowa, winning a largely forgettable game, 72-63.
A fairly comfortable looking final score belies a near collapse in the final minutes as the Buckeyes had a 24-point lead shortened to just four points.
Deshaun was his usual scoring self with 16 before getting knocked out of the game with a cut above his eye. Craft, Smith, and Ravenel all made the double-digit club, chipping in 12, 12, and 11, respectively.
Iowa's atypically atrocious free-throw shooting percentage – 13/26 – went a long way in the Buckeye win.
Aaron Craft also broke Ohio State's record for career steals, but was humble and worried about his six turnovers after the game:
"That's unacceptable," Craft said. "I had a couple turnovers down the stretch that you just can't have when you want to close out games. Before you know it, you have to find ways to make plays at the end.
In other basketball news, Michigan State can't seem to win a game in any sport by more than 3 points, this time escaping from Wisconsin, 49-47.
At least Michigan State and the Buckeyes avoided the big upsets of the night, as both NC State and Louisville were toppled by Wake Forest and Villanova, respectively. Kentucky continues to be completely unimpressive, this time losing to Alabama.
It doesn't look like there are any truly dominant teams this year in college basketball, but Duke will take the top spot once again.
START MAKING THOSE BRACKETS. CBS Sports' Tiernan has analyzed the last 12 NCAA tournament winners and found that the last 12 have all shared eight characteristics, including earning a one, two, or three seed, coming from a "power" conference, averaging >73 points and allowing < 73 points per game, and playing a schedule that is among the 75 strongest.
There's not really any theory per se about what makes numbers like "73 points" special, but possessing all of these statistics does seem to be a good sign for a team. His results for this year:
The 10 teams on the champ list are Duke, Michigan, Kansas, Syracuse, Louisville, Indiana, Florida, Minnesota, Ohio State and North Carolina State. Some notable omissions include Arizona, Butler, Gonzaga and Michigan State.
Alright! Go B1G! Ohio State, TSUN, Indiana, and Minnesota (!) all make the cut. Unfortunately,
When you evaluate the AP top 20 on these two KenPom rankings, four of our potential champs don't make the grade:

Michigan drops off because they rank 39th on defense.
Minnesota misses out on defense too -- just barely -- ranking 26th
Ohio State's offense isn't efficient enough (20th)
Well, that's kind of deflating. His only real locks are Indiana, Duke, and Syracuse.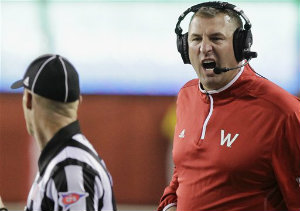 NEVER CHANGE, BRET. I'll be honest – ever since Bret Bielema left Wisconsin, I've become a huge fan of him, mainly because the SEC is stuck with him now and because he absolutely tears up Twitter.
You'd think his actual account was a parody based on his tendency to get a little snarky with fans:
One user mocks Bielema for thinking he can compete in the SEC after failing to win Big Ten games. Bielema responded by telling the user to "Check stats, and go back to sleep."... He told another Twitter user to think before "you tweet stupid things," referred to one person as having a weak mind and told someone to "Enjoy life alone."
Jeez Bret, like Sarah said yesterday, it's not all of us can marry girls we met in Vegas casinos. Luckily, Bucky's 5th Quarter has some advice for Bret (that is actually serious anti-trolling knowledge) so he gets it right in the future.
In case you need lessons on how to use Twitter, Mr. Bielema, let De'Anthony Thomas be your guide:
#THOMAS EDISON instagr.am/p/Q_HmpHIVIc/

— DE'ANTHONY THOMAS (@1STCLASSMOMBA) October 20, 2012
This is Twitter done right, folks.
IS IT SEPTEMBER YET? Were you looking for another way-too-early top 25 poll? No? Well here's one anyway.
Alabama, Texas A&M, Stanford, Oregon, and Ohio State are Andy Staples' top 5 right now. As for the Buckeyes:
Why this ranking could be too low: If the teams on the schedule aren't better than expected, the Buckeyes may buzzsaw the competition and voters may blindly move them up the polls without considering schedule strength.

Why this ranking could be too high: If an inexperienced defensive line falters, the Buckeyes could struggle against Wisconsin and Michigan. Also, a visit to Northwestern on Oct. 5 could prove tricky.
It's true the defensive line will be fairly inexperienced, but at least it will be populated by former blue-chip recruits.
LINKING THE DAY AWAY. Ain't that the truth, Re: commitments... New fancy Houston helmets... Craft soars... Super Bowl players as recruits... Recruits are finally wising up to Kiffin... Not Haden, though... Urban goes fishing... Rise up has a sad... Seriously, Marshall and OSU put the same number of players in the Super Bowl this year. Obviously... I'm putting Aurora, Chestnut, and Juniper on my puppy fantasy team... I feel bad for John Simon... MWC all grown up.