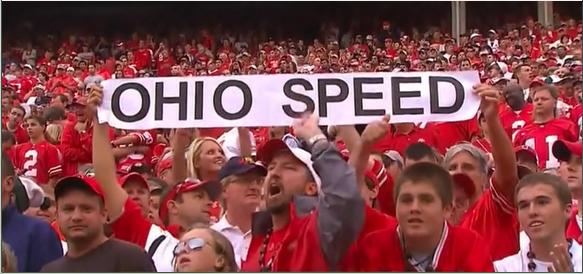 Saturday's tilt with Miami in the Horseshoe brought about the result many of us were hoping for, even if the script didn't exactly follow what we had anticipated. In the end, you can't help but be satisfied with a solid win over a very a talented Hurricane squad. If you're keeping score at home, Ohio State now has wins over four top 15 teams -- with just one of the games being what you'd consider close -- in their last six outings.
Bend, Don't Break, Then Counterpunch
The prevent zone the team went with in the second half was frustrating from the perspective of the fan, but Jim Tressel was playing with Jim Tressel's money and it's his prerogative to bet however he sees fit. Manning up and pressing has its draw, but also its downside. During the Cooper/Pagac era, we heard a lot of talk about putting Ohio State's fine corners (Springs, Winfield, etc.) "on an island", with the assumption the front seven would get to the quarterback first. Most of the time it worked, but all it takes is a slip on a pass to Tai Streets to ruin a great season. Saturday, the Buckeyes sat back, tried to confuse Jacory Harris with stunts and blitzes, and reaped the dividends to the tune of four interceptions.
The highlight, of course, was the rumbling, stumbling -- wait, he actually showed some moves for a big guy -- 80 yard interception return by Cameron Heyward at the start of the third quarter. Trailing 26-17, Miami marched 70 yards on the opening series of the second half before running into a 3rd-and-goal from the OSU nine yard line. The defensive call was a zone blitz, and Heyward dropped eight yards into coverage before coming up with the pick and a scamper that would have made Ironhead proud. Pryor would score two plays later, essentially putting the game away via a 33-16 lead. From a momentum standpoint, it's hard to overstate how important Cam's play was. Miami went from a potential two point deficit to 16 down in a little over a minute. Beyond the interception, Heyward wreaked havoc rushing Harris all afternoon. There were at least three holds that could have been called on Miami's line as they attempted to slow Heyward down.
Safety C.J. Barnett, a Northmont product like Kurt Coleman before him, had one hell of a game before suffering a knee injury in the second half. His coverage was instrumental in Nathan Williams' first quarter pick and he brought the wood all afternoon. His blast on Cane wide receiver Leonard Hankerson early in the game set the tone for the entire defense in what would be a day of hearty hits. Here's to hoping he can get back on the field soon, but if the rumors are true, and it's season-ending, he will qualify for a redshirt.
Chekwa's two second quarter interceptions (just six minutes apart), were equally huge and for one game, at least, he appears to have inherited Kurt Coleman's ball magnetism powers. The pick on Travis Benjamin's bad route was routine, but the theft that took place on the other one was a beauty to watch. He, Torrence and the rest of the secondary did a fine job against what should be the best receiving corps the team sees this year. Williams' interception was touched on above, but it's worth pointing out how versatile this team really is when their two most potent pass rushers both record interceptions on the day.
Other highlights from the defense included John Simon getting good push for most of the day and the fact that so many youngsters, from Solomon Thomas, to Travis Howard and He Ate Me Hankins, seeing quality playing time. On one fourth quarter play, Hankins drove Miami's center Tyler Horn five yards into the pocket, forcing Harris into an incompletion.
The bottom line is this is a very, very good Ohio State defense that has surrendered just one touchdown in two games -- one coming against what should be one of the top offenses in the nation. And even that touchdown was a mere inches from Brian Rolle's fingers.
Is "Not So Special Teams" Too Easy?
If this team doesn't address their kick coverage issues soon, it will come back to haunt the Buckeyes. They will be in a dogfight with Wisconsin or Iowa, or some other team playing OSU closer than expected and they will be handing out field position like it's free. The coverage problems first popped up against Iowa last season, and then continued in the Rose Bowl against Oregon. Saturday, Miami had the burners to make the Buckeyes pay. I realize OSU doesn't have a dedicated special teams coach and that's probably not an option with Tressel insisting several coaches contribute, but perhaps he might consider putting more starters in to cover in big games. While some starters do play on the units (Rolle and Homan to name two), we're also getting a heavy dose of second and third-teamers, and even walk-ons (Ebner). There's an injury risk there, sure, but it might be a tradeoff worth making.
One thing that would help is getting a little more leg on Ohio State's kickoffs. Basil is young and might develop into a strong kickoff man, but I don't understand how he can be the 50+ guy on the team, yet consistently fail to get his kickoffs past the 10 yard line. If he's not up to the task, surely one of the 50,000+ students at OSU can hammer kickoffs, right?
As bad as kick coverage was at times -- and it truly was bad -- there were some bright spots. Barclay's five field goal afternoon tied a school record, Torrence's field goal block was huge and for the first time since the departure of Ted Ginn Jr., the Buckeyes have legitimate return threats. Both Berry and Hall were inches away from taking returns to the house and I'm really excited about the possibilities moving forward with those two.
Despite Red Zone Blues, Offense Had Its Moments
Much like concerns with the coverage game, the lack of finishing move fatalities in the red zone is a cause for concern. I doubt the team faces a defensive line/cornerback combination as talented as Miami's the rest of the season, but settling for five field goals inside the Cane's 15 -- four inside the 10 -- is a tough pill to swallow. Pryor just missed on a couple of plays, one being to Stoneburner on 3rd-and-goal from the four with just over a minute to play in the first half, and the other being a slant to Philly Brown later on that might have converted, so it's not completely broken, but you have to wonder if a guy like Tyrone Williams can help out here. It looks like the staff wants to redshirt him, but if these problems persist, don't be surprised to see his name called.
Overall, I thought Pryor played a good game. The key number from his stat line was the zero turnovers, but the 113 yards rushing against a stout and fast Miami front seven is very impressive. The 44% completion percentage is a little cringe-worthy, but he had his share of throws on the money. The bomb to Posey was a work of art, followed up by perhaps and even better toss to Saine for an 18-yard touchdown to tie the score at 10 early in the second quarter. As I said earlier, I doubt he'll see another DL/CB package as talented as Miami's and the fact that he has that sick, sick scamper to fall back on when other aspects of the offense aren't clicking is a godsend. He bailed us out time and again with his feet.
While Saine had a rough outing on the ground (12 carries for 7 yards) outside of the spectacular touchdown catch (and two others), Boom stepped things up finishing with 66 yards on 14 attempts to go along with a nice 47-yard reception (via shovel) of his own and a nifty juke to score on a four yard run in the second quarter. He also had a touchdown wiped off the board on OSU's second possession due to a close holding call on Posey (it was holding, but Boom just for a second). The line had troubles run-blocking on first down, forcing the offense into two many 2nd and 10+ situations, but also opened up some huge holes on the afternoon, particularly in the second half. Bottom line, it's nice having depth in the backfield. Some unfortunate team is going to see Boom and Zoom go off on them in the same game soon and it's not going to be pretty for them.
Scheme-wise, I loved the playcalling and think Tressel and Bollman did a heck of a job mixing things up and keeping Miami honest. I love the way they attacked deep to Posey when the Canes were getting confident with their early press coverage and the shovel pass to Boom setup by the earlier option plays was just brilliant.
Most Importantly, Eat Too, Brutus is 1-0
The tailgate was a smashing success and it was great to meet and talk football with so many of you. We're looking to make this an annual event and currently eyeing the Penn State game in 2011 for the second edition (because of the new expanded schedule, they visit Columbus two years in a row). I apologize for not having anything in the way of photos or video for you, but poor planning on my part on Friday night led to too many beers and a mostly dead cell phone battery on Saturday morning. Ah, it's almost better that way as you have to really see the event for yourself.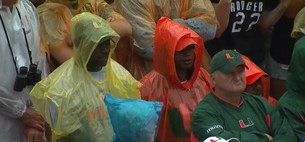 Frankly, I was surprised to see so many Miami fans up for the game. If it's true that the Hurricanes only have 2,458 fans, all of them were in town. A few stopped by the tailgate and it was sad how true to stereotype most of them were with their green and orange Nikes and black socks pulled up to their knees. Of the three Canes that did stop by to hang out before the game, one had Donnie Evege hair (not that there's anything wrong with that), while the other had the "U" carved into the back of his head. They invented swagger sure enough, but to be fair, I must give some credit to them for (most of them) sticking around to the very end of the game instead of filing out early. Also, the Miami section of the Shoe chanting "U" everytime the north end of the stadium was doing the "I" in the "O-H-I-O" cheer was good for a chuckle.
We passed Wally Szerbiak on the way into the game and spotted Brandon Schnittker and Ben Person sitting a few rows in front of us. The Horseshoe was loud for most of the afternoon, and the rain that passed through was tolerable in the sense that it was sporadic, allowing the sun to return late, but the NBA-ification of Ohio Stadium is disappointing. I didn't like seeing Rascal Flatts sing the national anthem, but can live with it (grudgingly) because they are the biggest name in a town full of country fans. The t-shirt cannon and the guy going around the stadium with a microphone trying to stage noise contests -- all shown on the scoreboard -- have to stop, however.
How Good Is Miami?
Despite the four picks, I'm still pretty high on Jacory Harris. Sure, he's likely out of the Heisman race, but the kid throws a nice ball with good touch and accuracy. He's a great distributor, too, completing passes to nine different Hurricanes. I really do believe when it's all said and done, Miami will be a top eight team or so and could potentially find their way into a BCS bowl at season's end. The Hurricane front four is deep and talented, the secondary, particularly, Brandon Harris, is the real deal, and their receivers are physical, deep and quick.
The Hurricane offensive line did a fairly good job of keeping Buckeyes out of the backfield (thanks to a bit of opportune holding) and running back Damien Berry ran with quickness and determination. He'll do some real damage in the ACC this season. Oh, and those special teams? Wow. Lamar Miller will be racing down the sideline of another highlight soon, you can bet on that.
A play here and there and we're talking about a blowout of a pretty darn good Miami team. It was an impressive win no matter how you cut it, though, and went a ways towards boosting Ohio State's and Terrelle Pryor's reputation nationally, despite what some of us more critical fans took away from the performance.