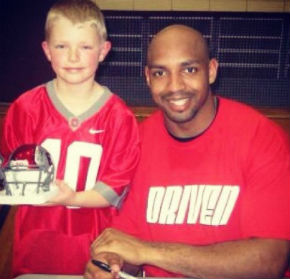 It's getting closer, folks. College football season is inching ever nearer. The next time our Eleven Dubcast is posted (next month) we'll be back to weekly audio coverage of all things Buckeye.
But to look ahead would be to shortchange this outstanding entertainment we have for you today! Johnny and I look back fondly at the World Cup, which kept us nicely distracted during this off-season of 2014. We chat it up about Aaron Craft, LaQuinton Ross and the NBA Summer League, and we touch on the upcoming Friday Night Lights at Ohio State.
And if that wasn't enough, none other than former Ohio State wide receiver Roy Hall joins us as our special guest. The president and founder of the Driven Foundation, Roy was gracious enough to take time out of his schedule to talk to us about playing wide receiver at Ohio State, accidentally injuring Ted Ginn Jr. after the opening kickoff of the 2007 National Championship Game, the NFL, and his charity work. He also told us the best Jim Tressel story ever.
And of course we answer your questions in our popular "Ask Us Anything" segment. Remember, you can ask us about anything, and it doesn't have to even be a sports query. Feel free to seek out our guidance on love, food, entertainment, or any other number of topics you'd care to have us weigh in on. Simply write us at elevendubcast@gmail.com.
Here's how it shook out…
0:27- Johnny and I touch on the World Cup, NBA Summer League and Friday Night Lights, plus a subtle A-Team reference.
14:50- Roy Hall jumps in to tell us the greatest Tressel story of all time, plus his experiences at Ohio State and the NFL and his outstanding work in the community.
33:23- Our superpowers of choice, underrated comedies, and introducing Ohio State football to none other than Jesus Christ, Elvis Presley and George Washington in our Ask Us Anything segment.
49:03- Me and Johnny as FNL cast members.
That's all for now! Our Dubcast tuneage this time out consists of "Fall Down" by Toad the Wet Sprocket, "16 Shells from a Thirty-Ought Six" by Tom Waits, and "Driving Home" by Imminent Sonic Destruction. Feel free to click the links and add them to your music collection because you profit and so do we (a little).
See you in August (the month the season finally starts)!