Welcome to the Game Day Skully, officially titled the "Peach Bowl Skull Session."
Before we dive into the article, I want to address the elephant in the room. You may have noticed there is no "Get Dumped, Then _____" in the title or lead of today's article. That is intentional.
Earlier this year, many readers informed me that D.J. Byrnes (a.k.a. Proton Don) created the phrase a while back. Some claimed it may have even started around or before Ohio State's historic run to a national championship in the 2014 season. That phrase has history, but today I am afraid it must end – at least for now. Let's say "Get Dumped Then" is on hold.
The idea behind the phrase's temporary pause (or retirement, I don't know yet) is straightforward. First, many loved "Get Dumped Then," but there were also many that didn't, and that's OK. Everyone is entitled to their own opinion. Second, and perhaps more importantly, the Buckeyes weren't the ones who were dumped on Nov. 26 in The Game, and they aren't expected to do the dumping at 8 p.m. on Saturday.
For those reasons, this Skull Session's secondary title is "Time to Shock the World," as that is precisely what Ohio State will do if and when it beats the top-seeded Georgia Bulldogs in their own backyard.
"With every chapter comes a new opportunity, a new lease on life," Kamryn Babb said in Ohio State's Peach Bowl trailer. "We know you don't want us here. We know you don't think we deserve this opportunity. But that's just how we want it. We have fought to get this shot – a shot at telling our story of the Ohio State football team. All we needed was an opportunity at this one game, this one moment. And now, we have our opportunity. One game that can change our legacy forever."
Bring on the Bulldogs.
Ohio Against the World.
 ON THE FAST TRACK. When Urban Meyer took over as Ohio State's head coach before the 2012 season after a decorated tenure at Florida, where he won two national championships, and a brief stint as a broadcaster at ESPN, his primary focus was to transform the program into one that could compete with the almighty SEC and its untouchable titans like Alabama, LSU and Auburn, among others.
Ohio State found immediate success under Meyer and his new philosophy. He made the Buckeyes athletic, with athleticism that was unmatched by other teams in the Big Ten. As time went on, Meyer's teams continued to pace the league and the nation with their speed and quickness, which was maximized by a spread offense and up-tempo play. With top-five recruiting classes and multiple 12+ win seasons, Ohio State entered the "elite" conversation with Alabama and Clemson.
When Meyer retired in 2018, he handed over the program – the keys to his well-maintained Ferrari – to his quarterbacks coach and co-offensive coordinator, Ryan Day. At the time, Day had never been a head coach in college football, yet Meyer felt confident he would do well behind the wheel of one of the sport's blue blood programs.
"Don't crash" was likely the message Meyer left with Day as he exited the Woody Hayes Athletic Center for the final time.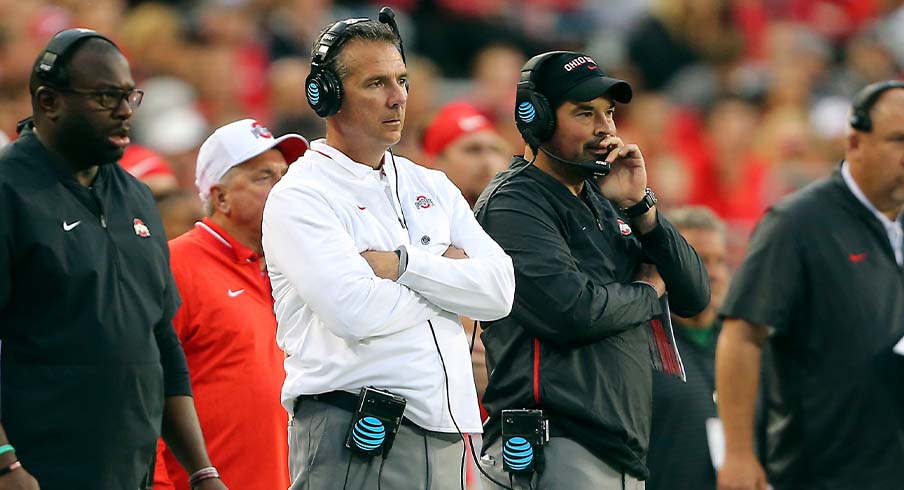 Good news: Day didn't crash the supercar. He kept it safe and may have even made a few upgrades. Ohio State reached the CFP immediately in 2019, again in 2020 – which included a trip to the national championship – and is back for a third time in 2022. The Buckeyes reached this point because of that same athleticism and skill that made Meyer's teams great. In many ways, that style of play has become the program's identity, which makes this year's Peach Bowl game played indoors on a fast track a match made in heaven for the Buckeyes.
In Mercedes-Benz Stadium (a conveniently named stadium for my car analogy), Day can drive his well-tuned Ferrari that has been covered in the garage since October as the dome-covered venue allows for the perfect conditions to drive a supercar.
Day needs to test the limits of his Ferrari as he races against Kirby Smart, who is behind the wheel of his own supercar – a Lamborghini, probably – in the Peach Bowl. He can't be comfortable or complacent. He can't waste this opportunity. And I don't think he will.
Call me crazy, but I'm pickin' the Buckeyes. Are you with me?
 TODAY'S MENU. I've been on the record claiming New Year's Eve is the worst holiday ever. I never want to go anywhere on New Year's Eve, but I also feel like a bum if I don't. Even when I go places, it usually ends up pretty meh.
That sucks. Bad holiday.
But I digress.
The menu for today is small, but it's a really, really good menu. Today, you can watch Nick Saban in a non-important bowl game, follow that up with watching Jim Harbaugh and Michigan lose to TCU and follow that up with an Ohio State win. How fun!
| Matchup | Time (ET) | TV |
| --- | --- | --- |
| 5 Alabama vs. 9 Kansas State (in New Orleans, LA) | 12:00 pm | ESPN |
| Iowa vs. Kentucky (in Nashville, TN) | 12:00 pm | ABC |
| 3 TCU vs. 2 Michigan (in Glendale, AZ) | 4:00 pm | ESPN |
| 4 Ohio State vs. 1 Georgia (in Atlanta, GA) | 8:00 pm | ESPN |
 MY CFP PICKS. I have a different variation of My Picks for today's Skull Session. Rather than only bet the spread, I'll pick who wins and predict the final score. How does that sound?
TCU (+7.5) vs. Michigan: TCU has won games in many ways. I like that. A common theme is that big plays make or break the Horned Frogs. Whether it's Max Duggan to Quentin Johnston or running back Kendre Miller taking one to the house, TCU will live or die by the home run. Michigan will play well on both ends, but the Horned Frogs will hit one too many homers for the Wolverines to handle. TCU 31 - UM 28
Ohio State (+6.5) vs. Georgia: Folks, I've made my stance on this one clear. Bring on the Bulldogs. Ohio Against the World. It's time to shock the world. I could insert a thousand more sayings to explain that the Buckeyes are winning this one. I believe. OSU 34 - UGA 28
 CAN I GET AN ENCORE? Rapper Jay-Z and alternative rock band Linkin Park once combined to create a song called "Numb / Encore" in 2003. The song slaps so incredibly hard. Like, it really didn't have to slap that hard, but it did, and good for them.
Here it is if you want to listen:
Anyway, I included this song in the Skully because of these lyrics: 
"Can I get an encore? Do you want more?"
Those lyrics were stuck in my head when watching these highlights of C.J. Stroud from last year's Rose Bowl. Why? Because I need an encore of this performance but in the Peach Bowl tonight.
37/46
573 yards
6 TD

Felt like revisiting C.J. Strouds ridiculous 2022 Rose Bowl performance. pic.twitter.com/VwyllUs6Nb

— Ohio State on BTN (@OhioStateOnBTN) December 29, 2022
Let's make it happen, C.J.
 SONG OF THE DAY. "Hell's Bells" by AC/DC.
 CUT TO THE CHASE. Real snowbird in Southern California? Snowy owl to be exact...  Birders flock to Kentucky to see rare pink-footed goose... New smoking ban starts at Miami Beach parks and beaches...  Southwest flight cancellations meltdown may not be the last for any airline... Pennsylvania couple mark their 80th wedding anniversary.