In some ways the 2013-14 Ohio State men's hockey season turned out exactly as expected. The Buckeyes were expected to finished fourth in the inaugural run of the Big Ten. Goaltending was expected to be a story. Ryan Dzingel was deemed a Player to Watch.
All of those predictions came good. The Bucks did indeed finish fourth in the B1G, earning points against each of their Big Ten brethren. Six of their nine conference losses were essentially decided by a single goal. Overall the team won 18 games, their highest win total since 2008-09. They made a serious run at the Big Ten tournament, but fell just a little short.
What was rather unexpected was the team's offensive explosion. Last season Ohio State had the nation's 45th ranked offense. They scored an average of 2.38 goals per game. This season they rocketed up the charts, ranking 15th and scoring 3.19 goals per game.
| 2013-14 | Buckeye Leaders |
| --- | --- |
| Points | Ryan Dzingel (46) |
| Goals | Ryan Dzingel (22) |
| Assists | Dzingel, McCormick, Fritz (24) |
| GWG | Ryan Dzingel (5) |
| PPG | Ryan Dzingel (8) |
| SHG | Ryan Dzingel (2) |
The numbers are probably a little skewed by a weaker non-conference schedule, but anyone who saw the Buckeyes play this season will tell you the offense looked better this season than last. They will particularly say this about the power play which jumped from a 38th ranked 15.2% success rate to a 14th ranked 20.4%.
Of course Ryan Dzingel was a huge part of Ohio State's dangerous offense. The junior had a career year, recording 22 goals and 24 assists. He tied for B1G lead in points (27), goals (14), and power play goals (6). He also cracked the top ten in the nation in points (46) and goals (22).
Along the way Dzingel passed 100 career points. In addition to his offensive prowess, he was also a force to be reckoned with on the penalty kill. His outstanding season didn't go unnoticed. He's one of ten finalists for this season's Hobey Baker Award. (Speaking of which, have you voted yet today?)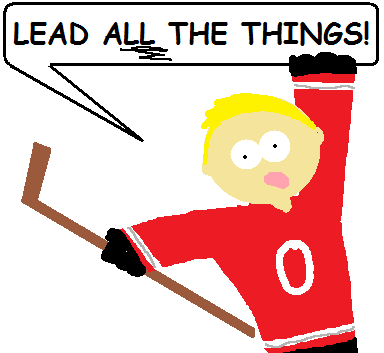 Dzingel wasn't the only Buckeye to enjoy an upswing in point production. Anthony Greco, Tyler Lundey, and Sam Jardine all bettered their freshman point totals. Chad Niddery, Max McCormick, and Justin DaSilva also posted career seasons. Nick Oddo destroyed his previous best (5 goals and 5 assists) with a campaign total 9 goals and 21 assists this season.
Goaltending was a story in 2013-14, though not in the way it was expected to be. Instead of which goalie from the squad would win the starting role, the story was whether the Buckeyes could dress enough goalies to qualify as a squad. Collin Olson departed seeking more playing time. Matt Tomkins suffered a freak injury. The last man standing, Logan Davis stepped into the Buckeye net and performed well. In fact he recorded Ohio State's only shutout of 2013-14.
Christian Frey arrived in relief and stole the show in the second half. He was, statistically speaking, the conference's third best goalie - third in GAA (2.24) second in SV% (.930) - after Adam Wilcox and Joel Rumpel. For all the upheaval and uncertainty surrounding the position, the Buckeye goalies finished the season with respectable numbers.
| 2013-14 goalie stats | gm | w | l | t | GAA | Sv% | Sho |
| --- | --- | --- | --- | --- | --- | --- | --- |
| Logan Davis | 5 | 3 | 2 | 0 | 2.21 | .909 | 1 |
| Christian Frey | 16 | 9 | 4 | 3 | 2.27 | .929 | 0 |
| Matt Tomkins | 17 | 6 | 7 | 2 | 2.78 | .911 | 0 |
First year head coach Steve Rohlik and assistant coaches Joe Exter and Brett Larson, as well as the rest of the Buckeye staff seemed to do a great job of bringing out the best in their players. To accomplish that while moving the program toward a new system and coaching philosophy was impressive.
Their high flying offense and gutsy never-say-die team was fun to watch and it showed in this season's attendance figures. A shade over 96,000 tickets were sold for Buckeye hockey games in 2013-14. That's an average of nearly 4,600 per game. Those are the highest totals in all the years for which Ohio State's website provides stats (2008-present).

The games' actual attendance varied. I can provide eyewitness testimony for all but three home games, though. Once the conference season arrived the crowds were good, right on through the end of the season. That attendance boost promised by joining the Big Ten? It looks like an actual thing.
| 2013-14 | Buckeye Leaders |
| --- | --- |
| Plus/Minus  | Nick Oddo (+23) |
| Faceoff Win % | Max McCormick (60.1) |
| Shots | Max McCormick (120) |
| Blocks | Justin DaSilva (85) |
| Penalty Minutes | Sam Jardine (41) |
The program has a way to go yet. Ideally the team will be challenging for the Big Ten's regular season title. They won't need to strive for the conference's auto bid in order to make the NCAA tournament. The arena will be packed every night.
Realistically, however, the program has made significant progress over the last few seasons. 2013-14 was better than 2012-13 which was better than 2011-12, etc. There's every reason to think things will continue to improve under the direction of Rohlik. This season may have ended disappointingly for Ohio State fans, but on the whole it should give them encouragement about the future of Buckeye hockey.
On a personal note, it has been my very great pleasure to take you through this season of Ohio State hockey. I hope you have enjoyed the journey as well. Most of all, I hope you look forward to following Ohio State hockey next season at the arena, on television, and of course right here at 11W. In the meantime, I'm heading back to Deadly Nuts where you're welcome to drop in if you need a hockey fix this summer.