Ohio State men's hockey treks to East Lansing to take on Michigan State where they'll try to put some distance between themselves and the Spartans in the conference standings. The women, meanwhile, host No. 2 Wisconsin at the OSU Ice Rink. Fun promotions and concession discounts abound! The lowdown on both series begins in 3..2..1..
Buckeye Men

This week brings a strength vs. strength matchup as the offensive juggernaut of Ohio State schleps up to Munn Arena to square off against Michigan State's powerhouse defense. Not many teams have been able to contain the Buckeyes' offensive firepower this season. They are the country's fifth ranked offense, scoring an average of 3.62 goals per game. OSU has been held to two or fewer goals in just five of their 24 games.
| OSU | vs | MSU |
| --- | --- | --- |
| Game Times | FRI at 6:30 p.m. | SAT at 4:00 p.m. |
| TV | BTN | STO |
| Radio | 1460 AM | 1460 AM |
| Online Stream | BTN2Go | BTN2Go |
Ryan Dzingel continues to light up the scoreboards. He's the Big Ten's leading scorer and sits in seventh spot on the nationwide scoring chart. (Not to mention two points shy of the century mark for his collegiate career, 98 and counting.) Tanner Fritz, Max McCormick, and Nick Oddo join Dzingel in the Big Ten's top ten point producers. The group suffered a brief cold spell but has heated back up these last couple series. All together those players have combined for 20 points (9g, 11a) in the Buckeyes' last four games.
The list of teams that have succeeded in bottling Ohio State up this season is a small one, but it does include this week's opponent. Michigan State is rock solid defensively. They have held their opponents to two or fewer goals in an impressive 12 out of their last 15 games. 
The biggest reason for the Spartans' stingy defensive numbers is the man between the pipes. Sophomore Jake Hildebrand has been a workhorse for the Green and White, appearing in 22 games this season. He has compiled a 7-11-4 record to go along with a 2.25 GAA and .929 SV%.
Another contributing factor to Michigan State's shutdown D is the team's commitment to blocking shots. Ohio State's Justin DaSilva tops the Big Ten's list, but it's almost all Spartans after him. MSU boasts five of the B1G's top eight shot blockers (including non-conference games).
"It's a part of the game that our team takes pride in. It's one of those blue-collar pieces of work that you've got to sacrifice yourself for your team. There are guys that are really committed to it. I think our team is really committed to it." Tom Anastos on shot blocking
Goal scoring has been Michigan State's Achilles' heel this season. It's a rare game that the Spartans' score more than three goals. In fact, it hasn't happened since the beginning of December. They rely heavily on Hildebrand and the defense to keep the score manageable. When they do earn a win, the margin of victory is usually small.
Seniors Greg Wolfe (8-9--17), Jake Chelios (2-14--16), and Lee Reimer (4-10--14) lead Michigan State in point production, along with sophomore Michael Ferrantino (7-7--14). Ferrantino is one of the Spartans' hottest players. He has goals in 4 of his last 5 games. Junior Matt Berry hasn't scored a goal since MSU's trip to Columbus but Buckeye fans know how dangerous he can be. When the two teams met at the Schott last month Berry was instrumental in every Spartan goal, scoring three and assisting on the other.
That series featured two hotly contested, back and forth games. Michigan State held the lead going into the final period both nights, but Ohio State responded on each occasion with a late game comeback. Oddo tied the first game up early in the third period. Then Dzingel popped in a pair of goals, completing a hat trick. The Spartans held the Buckeyes off the board for a long time in the second game of the series, but Darik Angeli's tally with about ten minutes remaining sent the game into overtime and then a shootout. Hildebrand prevailed in the skills comp, earning Michigan State the bonus point.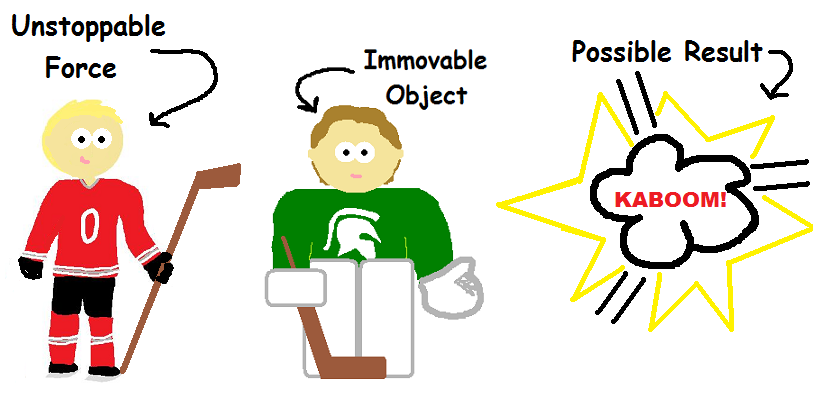 I expect we'll see two more close games this week. Michigan State is coming off a good outing at Minnesota in which they beat the Gophers in a shootout and lost a 1-0 contest. The Buckeyes' offense is rolling once again. The defense remains something of a question mark (possibly) without Curtis Gedig and Craig Dalrymple, though the D corps and the goaltending have been sufficient to get the job done these last few games.
Both teams will be looking to gain points in the standings before settling into tough stretches of their respective schedules. Beginning next week the Spartans play five straight road games. The Buckeyes, meanwhile, prepare to run a gauntlet of the Big Ten's top teams. They'll face Wisconsin, Michigan, and Minnesota in their next six games. Neither side wants to squander the opportunity presented by this week's series. We should see some good hockey.
Further Reading
Conference Outlook
Here's Steve Rohlik on the state of the Buckeyes and their position in Big Ten halfway through the conference schedule.
And here's how the conference standings look after Wisconsin's 2-1 upset of Minnesota last night.
| Big TEn | w | l | t | sow | pts | this week |
| --- | --- | --- | --- | --- | --- | --- |
| No. 1 Minnesota | 8 | 1 | 2 | 0 | 26 | at UW (9pm FRI on BTN) |
| No. 12 Wisconsin | 6 | 4 | 1 | 0 | 19 | vs MIN |
| No. 10 Michigan | 5 | 2 | 1 | 1 | 17 | vs MIN |
| Ohio State  | 4 | 5 | 1 | 0 | 13 | at MSU |
| Michigan State  | 2 | 5 | 3 | 3 | 12 | vs OSU |
| Penn State | 0 | 8 | 0 | 0 | 0 | vs UM |
Buckeye Women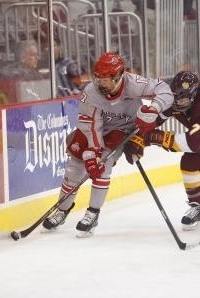 Ohio State hosts the No. 2 Badgers in their second-to-last home series of the season. Fans attending tonight's game (7pm) are asked to wear white and help the Buckeyes "White Out Wisconsin." Following tomorrow's matinee tilt (4pm) there will be a postgame skate, which includes free skate rental. Admission is free to all women's hockey games. Both games this week feature family-friendly concession deals. For more information check out OSU's series preview.
Few teams have been as hot as the Buckeyes in 2014. The ladies are 6-1-3-2 in the new year. They're one of just two teams to take points off of No. 1 Minnesota, earning a shootout victory back in January. Senior goalie Lisa Steffes has been a key part of the Buckeyes' success. She continues a stellar season in which she has not allowed more than two goals to any team she's faced other than Minnesota. 
Rookie sensation Claudia Kepler has been one of the team's hottest players at the other end of the ice. In the last five games she's racked up an impressing six goals and four assists. Senior Ally Tarr (3-5--8) and sophomore Julia McKinnon (3-4--7) haven't been too shabby over that stretch either. 
Milestone Watch! Ally Tarr has 96 career points. She is currently 11th on the Buckeyes' all-time point list behind 10th place Shana Frost (98) and 9th place Emma Laaksonen (99).
Ohio State's streak of success will be tested this week when the ladies host a strong Badger squad. Wisconsin is 21-3-2 this season. They had a bye last week after sweeping Duluth the week prior. The Badgers used a combination of effective special teams and shutdown defense to take out the Bulldogs. It's a familiar story for the club.
Wisconsin is anchored in net by senior standout Alex Rigsby. She missed a few games at the turn of the year due to injury, but she's back and seems not to have skipped a beat. Rigsby hasn't allowed more than two goals in a game since last January. (Yeah, 2013.) She's the nation's No. 1 goalie in GAA (0.96) and SV% (.959). Between her efforts in net and her teammates' defense, the Badgers are D-I's stingiest team. They give up an average of just 1.00 goal per game. 
UW doesn't need to score much but they have plenty of talented players to call on. Senior Brittany Ammerman leads the team in points (17-16--33). She's joined at the top of the Badger charts by junior Blayre Turnbull (12-15--27) and sophomore Courtney Blake (3-18--21). OSU fans should also keep an eye on senior Madison Packer (9-8--17) as well. She's often a thorn in the Buckeyes' side.
Factor in the Badgers' top-notch special teams (a 26.4% power play and 93.0% penalty kill) and Wisconsin is a formidable foe. They swept the Buckeyes in Madison last November, though Ohio State gave them a scare in the second half of that series. Kepler gave the Bucks and early lead. Two Turnbull goals put the Badgers back on top, Kari Schmitt drew OSU even in the third period before Ammerman potted the game winner with nine minutes left on the clock.
This will be a tough series for the lady Bucks, no doubt about it. Being swept by the No. 2 team in country wouldn't necessarily be terrible as long as the team plays well, but it also wouldn't be surprising to see a hot Ohio State squad squeeze some points out of the Badgers. If you're headed out to either or both of the women's games hit me up on Twitter. With the men's games running at the same time I won't be able to follow this series all that closely, but I'll gladly retweet any observations you all care to make.
Further Reading
Conference Outlook
The Buckeyes hold a slim lead on Bemidji State for fifth place in the standings. Both squads face tough competition this week. If neither team gains any points and either St. Cloud or Minnesota State manages a sweep the fight for fifth could turn into a three-way battle. That North Dakota-Minnesota-Duluth series should be an interesting one.
| WCHA | w | l | t | sow | pts | this week |
| --- | --- | --- | --- | --- | --- | --- |
| No. 1 Minnesota | 20 | 1 | 1 | 0 | 61 | vs BSU |
| No. 2 Wisconsin | 17 | 3 | 2 | 1 | 54 | at OSU |
| No. 4/5 North Dakota | 13 | 6 | 3 | 2 | 44 | at UMD |
| Minnesota Duluth | 11 | 8 | 5 | 3 | 41 | vs UND |
| Ohio State | 6 | 11 | 5 | 1 | 24 | vs UW |
| Bemidji State | 6 | 14 | 2 | 1 | 21 | at MIN |
| Minnesota State | 4 | 18 | 0 | 0 | 12 | vs STC |
| St. Cloud | 3 | 19 | 2 | 1 | 12 | at MSU |