When Urban Meyer said he wants to see what he considers the four "elite" defensive ends Ohio State currently has on its roster all on the field at the same time with tackle Dre'Mont Jones, the wheels of possibilities started spinning. The Buckeyes haven't used five defensive linemen all at the same time during Meyer's tenure (other than in goal line situations) but with so much talent seeping through the cracks of Larry Johnson's meeting room, it is on the coaching staff to find a way to get it all on the field as much as humanly possible.
"Coaches like to say you hold checkers. You have five really good checkers right there so play them all at once," Meyer said on Tuesday. "Those are little things that we're talking about and trying and that's what you get to do in spring."
Along with Jones, the other four checkers are Nick Bosa, Sam Hubbard, Jalyn Holmes and 2016 Big Ten Defensive Lineman of the Year Tyquan Lewis. There are many more names that will see time on the defensive line this fall for Ohio State. But in Bosa's eyes, it would be a major, major failure if Johnson couldn't come up with a way to use more of it during different parts of the game.
"I mean, we have so many good players. It's criminal not to have them on the field," Bosa said on Thursday. "Dre'Mont, he's gotta be one of the best three-tech rushers. He didn't have any sacks last year because I was running in for him on nickel but that's just how it is with all this competition, recruiting that we do."
Johnson pumped the brakes on a potential five-man defensive front Thursday after practice, saying that he is more focused on honing fundamentals and technique with his guys instead of implementing a brand new scheme. Even though he said "it's too early for that," Johnson couldn't deny that it has at least been discussed among his players and boss.
"We have so many good players. It's criminal not to have them on the field."– Nick Bosa
"Wink, wink, we're not talking about the five-man package yet. It's too early for that," Johnson said. "We haven't even thought about it. We've got a plan for it, but it's just too early in the spring for it."
What is interesting that in addition to Bosa, the other three ends all said there are bits and pieces of what they are drilling this spring that could translate to putting five linemen on the field at once this fall. It all starts with what they call the "Jack" linebacker, a guy with the athleticism, flexibility and wherewithal to rush the passer and drop into coverage if need be in place of the linebacker they replaced among Ohio State's 11 defenders.
Hubbard and Holmes are the candidates working most at Jack linebacker, they said. Holmes is an athletic freak with long arms, while Hubbard played safety and lacrosse in high school. Possessing the potential talent and skill set needed to be a stand-up linebacker has never been a problem for either.
"We've done a lot of things with me dropping, playing a little stand up and working around and playing around with that, different packages. It's been fun," Hubbard said. "We've all been working on different skill sets to all find a way on the field together so we'll see how it plays out. Coach Johnson has got something up his sleeve I bet."
Johnson wouldn't bite when asked multiple times Thursday if a five-man front was a focus with nine days left until the spring game. But it is certainly on the table.
"It's still on the drawing board right now. We've got a plan. It's just something we're not doing right now," Johnson said. "We're just trying to get fundamentally better. That's something that, when we go down the road and we see fit, we'll do it."
Still, Meyer gets what Meyer wants. With four elite defensive ends and a budding young star in Jones at tackle that used to play on the outside, the capacity is there. And it doesn't include the bevy of other linemen Johnson has his hands all over developing like Robert Landers, for example.
"Sam and Jalyn give us some versatility to do some little things. You bring another guy in and then you take Sam and Jalyn, they drop," Johnson said. "There's a lot of things we can do because we have guys that are athletic enough to do it."
"Right now it's just one rotation. We're just still figuring it out and we rotate in and out," Lewis added. "It's fun, that's one thing I can tell you. It's scary. It's fun. It's hard to block."
Ohio State only recorded 28 sacks in 2016, tied for seventh-most in the Big Ten. Johnson said a focus of the spring is evolving and enhancing that part of the game for each one of his players, even those in the Rushmen package they threw at defenses last year. The four defensive ends pinned their ears back and wreaked havoc on quarterbacks on passing downs.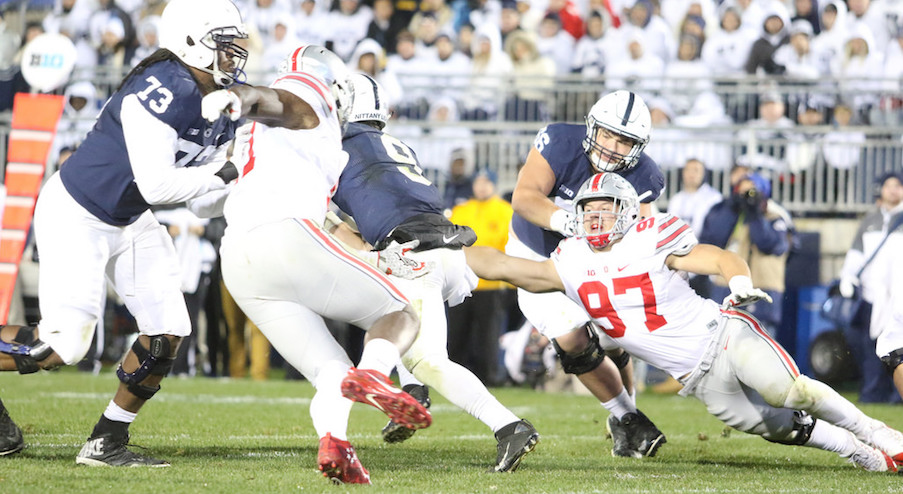 The focus might also be Johnson and defensive coordinator Greg Schiano sitting down with Meyer and toying with the idea of playing four star defensive ends and Jones all at once. If what is on the table becomes reality, the ceiling for such an arrangement certainly does sound scary.
"We'll see," Hubbard said. "Coach Johnson and Coach Schiano have been doing this awhile so they've got something up their sleeve."
"I can't give you all my secrets," Johnson said. "We'll just see how it works out and how it fits in our defensive scheme."