When the sound waves from the first question about Chris Worley slipped into Luke Fickell's eardrums, Ohio State's defensive coordinator and linebackers coach used an entirely different sport to place the redshirt junior's significance in the program.
"The great thing about it, just like you're going to look at this basketball tournament that's going to start up, not just the Big Ten one but the NCAA one, those teams that got upperclassmen are the teams you better worry about. You better watch," Fickell said Thursday. "I think that's the same thing we can say about this group. You're going to have a guy like Chris Worley that you're going to depend a lot on."
Worley has one career start to his name — at Navy in the 2014 season opener. In a way, however, that day belonged to Darron Lee. The redshirt freshman was everywhere, recording seven tackles (two for loss) and also did this:
It was at that moment Ohio state fans and media members alike collectively leaned back in our chairs and said, "Oh. So that's the kid Urban Meyer wouldn't stop talking about all spring."
Lee's explosion, speed and size became the perfect blend for Fickell's defensive overhaul that culminated in 26 wins over his two years as starter, including a Big Ten and National Championship.
Worley was relegated to a smaller, more special teams-driven role as Lee stole headlines with other big names like All-American defensive end Joey Bosa. Lee and Bosa are set to be first-round NFL Draft selections next month, while Worley is now the oldest scholarship linebacker on roster. (Seniors Craig Fada and Joe Burger will not be on scholarship this fall, Meyer said.)
"He's projected first-round pick," Worley said of Lee Thursday. "If you go to any big university like this, you get a chance to play and if you're not shooting to be a first-round draft pick you're probably in the wrong place, honestly. That's the goal."
Lee's rise from a three-star athlete from New Albany that Fickell and the Buckeyes took a flier on to probable high draft selection is well chronicled. Worley redshirted in 2013 as he made the switch from safety to linebacker, then had to sit and watch as Lee took the starting job and ran with it.
"It's definitely a bigger opportunity because Darron is gone," junior middle linebacker Raekwon McMillan said. "I'm not saying that he couldn't have been on the field when (Lee) was here, but there's definitely a lot more opportunity now that he's gone. I feel like he's taking advantage of it."
Lee is readying for the next level, so Worley is depended on in a room with young guys like Jerome Baker, Nick Conner and Tuf Borland, and even with true juniors like McMillan and Dante Booker with the edge to start alongside him.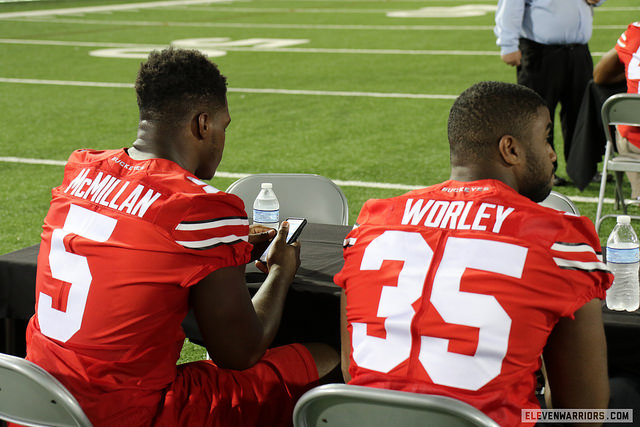 "All I can do is go out there and try to control my part of the game. Just went out and competed, helped the team in some ways on special teams, but the reason why I came here was to play on defense," Worley said of the last two years. "Everyone has different paths. We all can't go on the same path."
Lee's path is about to land him in the NFL. Worley wants to get there. He also wants Baker to end up there, too. It's Worley's turn to perform, however, because if he slips up Baker won't think twice about grabbing the job and running with it.
Just like Worley said he would have last year if called upon in the event Lee couldn't go.
"That's what happens when you go to a great university like this," Worley said. "You've got a lot of good players, great players, that come in at the same time and play the same position. I never batted an eye about it. I was proud of him like I was playing.
"This year, it's me and Jerome at it. We have the same kind of relationship that me and Darron had. We're just going to go out there and try to make plays and help the team."
Fickell could throw Baker — or others — into the mix once the season gets rolling in September, but for now the Buckeyes are working through spring drills with Worley, Booker and McMillan as the lead guys at linebacker. Fickell is leaning on Worley and Booker's age and McMillan's experience to help the Buckeyes recover from losing not only Lee but program stalwart Joshua Perry.
"Well, he hasn't played a lot, everybody doesn't know him," Fickell said. "No, but those guys that are truly four years of investment in this program and what they've done and what they've seen, that experience is invaluable."
That description fits Worley's journey wholly.
"I pushed Darron every day to try to get on the field. Coach Fick can vouch for that," Worley said. "My biggest thing was I was never competing against Darron. I was competing against myself. I was just trying to get myself better every day. If I take care of myself, then I'll put myself in a good position to play."
He has a chance now with Lee gone, a fourth-year member of the program truly getting an opportunity to see his name reside on the top line of the depth chart. The Buckeyes are a young team across the board in terms of both age and on-field experience, but Worley must find the consistency to keep his place among the ranks.
"About time," Worley said. "Long wait."
Added Fickell: "Obviously Darron is unique in his own right. Chris will have his strengths that aren't the same and every guy has a little bit different. The reality for Chris is he's gotta focus on being the best version of himself when focused on his strengths ... Sometimes you lose one of those great players and it really gives other guys an opportunity to shine and make them realize that they've got a lot of gifts too."