With the possibility of a fall college football season fading fast, let's revisit the time there were talks of canceling the 1918 college football season.
Plagued by both an influenza pandemic and World War I, the fate of the Ohio State football season was uncertain. It all feels eerily similar to what we've seen in recent months from adding in a clause that allowed for flexible scheduling, to teams continuing to practice, and ultimately to meetings with representatives from the Big Ten to determine a path forward.
From the January 9, 1918 issue of The Lantern:

Though schools were abandoning their football teams during wartime, things stayed business as usual with John Wilce. Team practice continued through the decisions about the season with the assumption that the season would happen.
From the September 17, 1918 issue of The Lantern: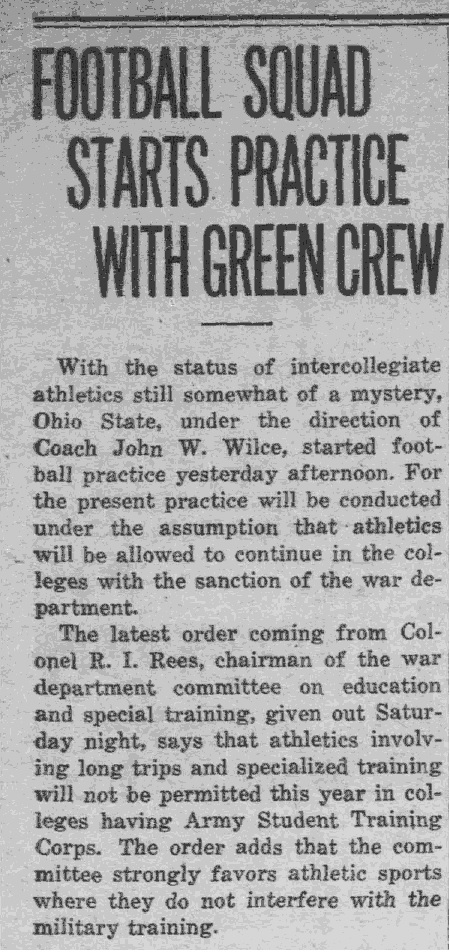 But ultimately, the decision whether to allow a college football season went to the war department to determine if collegiate sports would take away from the war effort.
From the September 19, 1918 issue of The Lantern:

Then to a group of leaders from the Big Ten to discuss changes that need to be made to the season to make it happen during wartime. Options on the table included: allowing freshmen to play, a schedule with limited travel, and the cancellation of all sports except for football.
From the September 26, 1918 issue of The Lantern:

After a successful argument that athletics and military training could coexist, Ohio State got its happy ending and held a shortened 1918 season while other schools canceled their seasons entirely.
Over 100 years later and decisions about the college football season are looming. Maybe it's the pessimist in me who doesn't want to raise any false hopes, but I'm not feeling so confident that the same will hold true in 2020.