Urban Meyer knows better than anyone the importance of recruiting the fruitful ground of the state of Ohio into his college football program. Due to this perception, Eleven Warriors will look at the 10 Ohio high school programs who produced Buckeyes in 2016.

MAPLE HEIGHTS, Ohio — Kierre Hawkins knew Ohio State and Urban Meyer had their eyes focused on another prospect, but as a relatively unknown recruit, needed to capitalize on the golden opportunity in front of him.
"I had never really been to an Ohio State camp before. Then when we did the 1-on-1s, I caught everything," Hawkins told Eleven Warriors May 25. "But every time I could see Coach Meyer, he was looking in my direction but there was another guy that was a top recruit, Alabama (offer) and stuff like that. In the same group as me. I'm behind him every time."
The Buckeyes didn't zero in on Hawkins that day in June 2014, but the tight end/athlete still spoke with then-running backs coach Stan Drayton about the areas in his game that needed improvement. When Hawkins left the Woody Hayes Athletic Center, reporters flocked his way because they too saw how well he did in drill work.
KIERRE HAWKINS
Size: 6'4/225
Pos: TE
School:

 Maple Heights, (Maple Heights, Ohio)

Composite Rating: ★★★★
Composite Rank: 11 (TE)
"That's when I really got exposed and really got out there," said Hawkins, who at the time only held offers from Bowling Green, Toledo and Illinois. "Reporters kept coming to the practices and things like that."
Ohio State didn't extend a scholarship offer to Hawkins until Week 3 of his junior season at Maple Heights High School but the burly tight end/H-back/do everything player for the Mustangs didn't wait long to commit. He pledged to the Buckeyes during an unofficial visit for the Rutgers game Oct. 18, 2014.
Hawkins always wanted to be a Buckeye, so he completely shut down his recruitment once he committed to Ohio State. But Hawkins couldn't have done it without some tough love and criticism from his high school head coach and the rest of the staff at Maple Heights.
"I had to watch out for his future," Mustangs' head coach Devlin Culliver said. "If I said, 'put him at quarterback, I'm sure someone would give him a scholarship.' But maybe it's not the one he possibly could get or the one that he wants."
---
Dedicated in August 2014, Maple Heights' new stadium, known as the "Mustang Corral," housed seven wins, three losses and a bunch of touchdowns scored by Kierre Hawkins in its first two seasons. An integral part of his team's offense, the athletically gifted player with an even bigger personality and smile lined up everywhere from tight end to wide receiver, running back and even quarterback for Maple Heights. And that was just on offense.
"I learned a long time ago, any coach will tell you this, you've gotta get your best players the ball," Devlin Culliver said. "So I've always tried to map out a game-by-game plan that Kierre has to touch the ball at least this many times. If we don't hit those marks, we usually lose."
The Mustangs went 7-3 each of the last two seasons, making the Ohio state playoffs in 2014. That is an improvement from Culliver's first two seasons in Maple Heights, where they went 4-6 both times.
Culliver first worked with Hawkins in 2013, then a hotshot sophomore that played quarterback as a freshman and during middle school. Shaq Washington — who later played wide receiver at the University of Cincinnati — had the quarterback spot locked down. But Culliver still had to use one of his more athletic kids somehow.
Hawkins played in the season opener, but his coach yanked him off the field because of a poor attitude.
"Everybody started thinking I was better than (Washington) and I started to believe them and I got shook up," Hawkins said. "We played John Adams, I should have scored 50 touchdowns against them, but my mental was all messed up."
So Culliver, who helps Maple Heights students get a jump start on their careers if they choose not to pursue further education, kept on Hawkins in practice and held him out of the next game until late in the fourth quarter. It worked.
The person that has really helped my dream come true will never forget this man pic.twitter.com/0dy8V6gvIC

— Kierre HAWKINS (@HumbleKing16) December 27, 2015​​
"When he pulled me, I felt like my mindset instantly changed. I'm like, 'All right, this is real.' This team is not built around me," Hawkins said. "As soon as he put me in (again), it's a wrap. I'm getting in and I'm about to ball out. I caught three passes and ran the last 20 seconds of the game. I never ran the ball at running back ever in my life. And they put me back there I just ran, got like a 20-yard gain toward the end of the game.
"From then on, my mindset was 'I gotta continue to work.'"
Hawkins did that both on the field and in the classroom and his production exploded. Culliver lined him up everywhere and used his size and speed as an advantage for the Maple Heights offense. Hawkins even played some defensive end and linebacker, just because Culliver had to find more ways to get his best athlete on the field.
And, he had to put him in a position to get the exposure he needed in order to get to Ohio State.
"Even though he played quarterback in middle school and probably when he was younger, I know enough to project that he's not going to be that four years from now," Culliver said. "So to do myself a favor and do him a favor, I moved him. And for the team. I knew he was not going to be a quarterback in college, so I wanted to put him a position where he would project nine times out of 10 for that position two or three years down the line."
Culliver and the rest of his staff put their heads together to find more ways to use Hawkins' versatility to score points and win games. Hawkins got bigger too, but his speed and quickness didn't wane. Neither did his love for the game of football or working out.
"Not too many coaches are blessed enough to have a kid 6-3, 6-4 that can run the ball, that can play defensive end, that can play receiver, that can play linebacker, whatever," Culliver said. "But tailback? You don't get that too often, not in high school."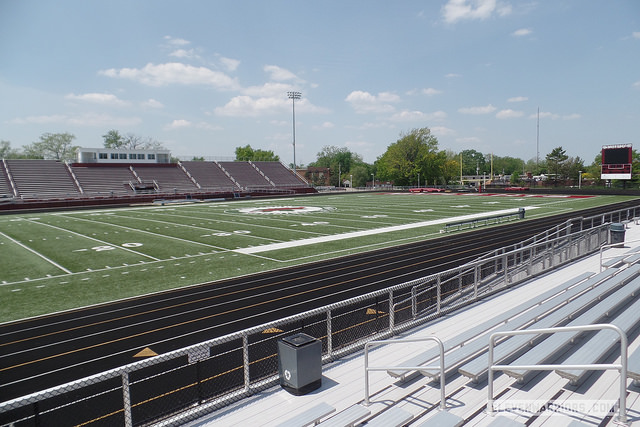 Culliver also used a personal connection to Ohio State to share tape of Hawkins with Stan Drayton and the Buckeyes. Culliver coached former Ohio State wide receiver Chris Fields at Harvey High School in Painesville, Ohio, from 2006-08. He reached out to Drayton, Urban Meyer spoke to Hawkins on the phone and invited him to Ohio State's camp and the two sides established a relationship.
Then Culliver pushed the envelope both with the Buckeyes and Hawkins, wanting more from each either with a position switch or earning an offer.
"I kept grinding at practice, getting yelled at, being second-string, being screamed at and not knowing what was going on," Hawkins said. "But I just kept coming back every day with a positive mindset."
"That's me not looking at him helping us win or what is best for the team," Culliver said. "This was me saying, 'here is a kid that wants to go to college, he has good grades, he's a good kid. I need to make sure that he's marketable enough to get the other end of this deal.'"
---
When Devlin Culliver first met Kierre Hawkins, the coach asked the player what he wanted from his football future.
"When Coach Culliver first got here, he asked me out of the blue at our first lifting, 'What college do you want to go to?' I was like, 'Ohio State,'" Hawkins said. "I don't think he got I was serious, I was for real. Some kids say, 'I want to go to LSU or Oregon,' but they just be talking. I was so serious."
From then on, Culliver made it his responsibility to put Hawkins is a position to succeed not only at Maple Heights but to get a look from Ohio State.
More Kierre Hawkins at 11W
Culliver made it so Hawkins touched the ball an average of 20 times a game, plenty of opportunities to show what he could do. Hawkins put good things on film, Culliver sent it to Ohio State and the ball eventually got rolling on his recruitment following a trip to the program's one-day camp the summer before his junior year.
Then-tight ends coach Tim Hinton spearheaded things and even though he yielded to Ed Warinner and is now a special assistant to Urban Meyer, Hawkins sees it as a benefit to work with Ohio State's offensive coordinator individually. He hopes his skill set and ability to create mismatches leads to more passes to the tight end position.
"When I talked to (Warinner), he was saying we were going to get more passes and stuff like that to the tight ends and that fits you. 'You're like a receiver/tight end so that's going to fit you in the offense' and stuff like that," Hawkins said. "I got really excited and then me and him started to talk more."
Whether or not Hawkins beats out the two other tight ends in Ohio State's 2016 recruiting class — Luke Farrell and Jake Hausmann — remains to be seen when the Buckeyes open fall camp Aug. 7. But what matters is he is in Columbus ready to live out his dream and couldn't have done it without his coach, even though he took his starting position away from him as a sophomore.
"I lost it, but they drove me to be good. I didn't give up," Hawkins said. "I still had my dreams at a high standard."