Addressing a wide receiver room with four future NFL draft picks and three eventual all-time Ohio State record-holders, Brian Hartline opted to highlight the performance of a first-year walk-on during a preseason meeting in 2018.
Brecksville, Ohio, native Sam Wiglusz wasn't far removed from pondering whether or not he would play college football at all, let alone at Ohio State. A disappointing high school recruitment left Wiglusz with only some partial scholarship offers at FCS schools, and admittedly, his own expectations for what he might achieve as a preferred walk-on for the Buckeyes weren't all that high. 
But Wigulsz found his footing faster than he might have anticipated amid his first fall camp, and in front of a star-studded cast of playmakers, the interim wide receivers coach confirmed as much with a message that's stuck with Wiglusz ever since.
"I remember vividly my freshman year, Coach Hart looked at me at a point and he was like, 'No matter what anybody ever tells you, you can play here.' And then from that point forward it was like, alright, let's just try and improve as much I can, get as big and strong as fast as I can and see what I can do," Wiglusz told Eleven Warriors.
Wiglusz never got much of a chance to play at Ohio State after all, at least not in official games. Wiglusz recorded just three catches for 25 yards in his four seasons with the Buckeyes. But while you might not have seen him on the field much in Columbus, Wiglusz has been hard to overlook since transferring to Ohio ahead of his fifth year of college football.
"Wiggy's killing it. I wouldn't say we're too shocked here. … And unfortunately it didn't work out here, but we always knew what he was and what he was capable of."– Brian Hartline on Sam Wiglusz
Just check this season's FBS receiving leaders, where Wiglusz ranks fourth in the nation in touchdowns (nine), 11th in receptions (56) and 22nd in yards (716). If you tuned into ESPN on Tuesday night, you might have seen a Wiglusz catch on SportsCenter's top 10 plays following a standout showing in which he put up 131 yards and two scores.
SAM WIGLUSZ IS GOOD AT FOOTBALL!!!!!
pic.twitter.com/Zv42ZNwONH

— Ohio Football (@OhioFootball) November 2, 2022
After landing in Athens, Wiglusz has become one of the most productive receivers in the country. He credits his time at Ohio State for helping mold him into the player he's become, and the Buckeye program continues to support Wiglusz every step of the way.
"Wiggy's killing it. … I wouldn't say we're too shocked here," Hartline said Tuesday. "I mean, we gave him raving reviews when he was trying to figure out his next steps and what we can get done here. And unfortunately it didn't work out here, but we always knew what he was and what he was capable of. And I'm just glad he's having a blast. Obviously we talk probably every couple weeks or so, but social media gives you that platform where you feel like you talk like every day. 
"But no, he's killing it. We all love Sammy, we all follow each other. His family's great, so can't be more happy for him."
They're hardly hollow words from Hartline. In fact, five Ohio State players made the hour-plus drive from Columbus to Athens after Ohio State practice Tuesday to see Wisglusz's Bobcats become bowl-eligible with their sixth win of the season – a 45-24 victory over Buffalo.
Needless to say, Wiglusz was thrilled to see his former teammates in the stands at Peden Stadium.
"A couple of guys actually made it to the game last night, which was really cool. They came from practice. So Marvin (Harrison Jr.) and Emeka (Egbuka) and Xavier Johnson and Mitch Rossi and Reis Stocksdale, they all made the trip," Wiglusz said. "Those are my guys. So I definitely keep in touch with all those guys. When you spend as much time as you do with your teammates, it's like, you have no choice but to become close. So for those guys to make the trip and come see me play was awesome." 
That contingent of Buckeyes picked a good night to watch Wiglusz play. The 5-foot-11, 185-pound pass catcher hauled in at least five catches for the sixth straight game, turned in his third 100-yard performance in the past five contests and caught multiple touchdown passes for the third time this season.
This is a @samwiglusz fan account pic.twitter.com/Mjh9FyHg5x

— Ohio Football (@OhioFootball) November 2, 2022
If the attendance of his one-time stablemates didn't already speak volumes about their feelings for the longtime Buckeye, Egbuka lauded Wiglusz even further when asked about their relationship Wednesday.
"That's my guy. If you talk to anyone around the Woody, they have super-high regards for Sam. We love him to death," Egbuka said. "So this was probably one of my only opportunities to go get to see him play. Obviously he balled out, so super happy for him and everything he's doing over there in Athens."
Neither Hartline nor Egbuka was the first Buckeye to shower Wiglusz in praise during interview appearances in recent years. Several Ohio State players, including C.J. Stroud and Garrett Wilson, previously cited Wiglusz as an unsung hero in the perennially loaded Buckeye wide receiver room, even when unprompted to do so.
If Wiglusz didn't hear those comments at the time, his family members made sure he did soon thereafter. Wiglusz glowed with appreciation about the compliments his teammates paid him, and made sure to express his gratitude in subsequent conversations with them.
"I remember my family would always get all excited about that. They'd be sending me stuff that guys were saying, and that's always really cool. And I think that's a testament to those guys and their character, because those guys are the superstars and they don't have to be over complimentary to other guys," Wiglusz said. "It's about them for the most part, so the fact that they would go out of their way and say things about me is awesome, and I appreciate that always. 
"And I told that to Garrett. I was like, 'Those type of things are what are gonna keep you on an NFL roster.' Because people are gonna be like, this is a genuine dude. And obviously he's a superstar and he has all the talent in the world. But I'm like, 'Dude, never change. Be that genuine dude.' And C.J.'s the same way. I appreciate those guys a ton."
Wilson and Chris Olave, who both went on to become first-round NFL draft picks, still reach out to send Wiglusz words of encouragement even while dealing with the rigors of their rookie seasons at the highest level. But the more you ask about Wiglusz around the Ohio State progam, it's easy to see why.
Wiglusz said Keenan Bailey, senior advisor to the head coach at Ohio State, actually watches his game tape at Ohio and sends him pointers after the fact. Wiglusz said the pair talk "all the time" despite his exit from the program.
"If I would've stayed, it still would have been a blast. … But I knew if I wanted to take that next step at playing receiver, I would have had to go. So it was definitely bittersweet."– Sam Wiglusz on his decision to transfer
Wiglusz nearly stayed at Ohio State for a fifth year, and even went through winter workouts and spring camp with the Buckeyes before ultimately deciding to head elsewhere. Wiglusz picked Ohio over FAU this past May, but only after seeking a scholarship opportunity to stay on with the Buckeyes. That didn't materialize, but Wiglusz holds no ill will with the program. 
Besides, Wiglusz's best chance to see more action on the field was always more likely to come at a school that doesn't have a litany of sure-fire NFL talent at his position. Even during tough times with the Buckeyes, Wiglusz said "it was hard to disagree with who was on the field."
"I still appreciate all they did with (trying to get me a scholarship). But I knew I wanted to play more. If I would've stayed, it still would have been a blast," Wiglusz said. "Obviously we would have been making a run at a national championship like they are now, I would have hopefully been playing special teams. But I knew if I wanted to take that next step at playing receiver, I would have had to go. So it was definitely bittersweet. It was hard, it would have been easy to stay, because it's all I ever knew and all the people that I met there. But I think it's working out so far. I'm glad I did it."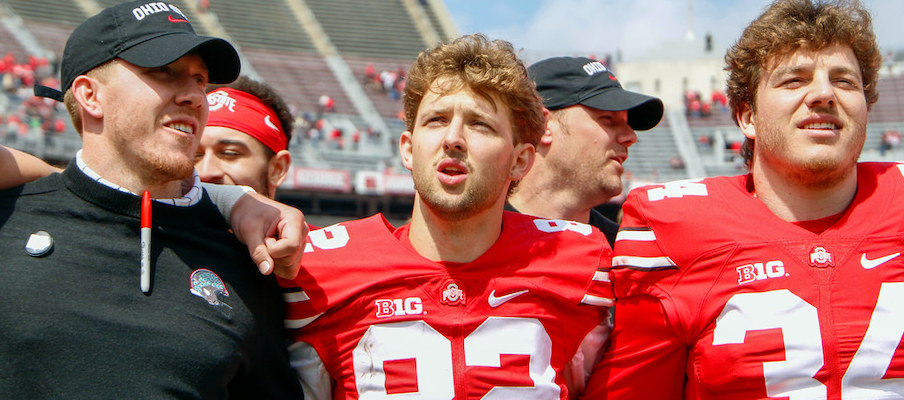 Hartline and the Buckeye coaching staff gave the Bobcats glowing reviews about Wiglusz, but he said he still had to "earn the trust of everyone here" upon arrival, which took some time. He gained momentum quickly, though, as Wiglusz caught two touchdown passes in Ohio's season opener and hasn't looked back since.
Wiglusz said "all I ever really wanted going into college football" was the opportunity to showcase his abilities on a regular basis, and to say he's done that in Athens would be an understatement. While Wiglusz humbly said he's been "lucky enough" to make some plays for Ohio this season, his consistent numbers prove luck has nothing to do with it.
Even Harrison and Egbuka, who are both enjoying sensational sophomore seasons at Ohio State, have work to do to catch up with Wiglusz in some statistical categories.
"It's crazy. It's almost unbelievable," Wiglusz said. "Because really for years, I was seeing my teammates on those lists and I was pulling for those guys and I was arguing with people like, 'So and so needs be the first receiver taken this year.' Which was fun in itself. And now that my name is up there next to some of the guys like Marvin and Emeka, it's really cool. It's almost surreal."
SAM. WIGLUSZ.https://t.co/AZbu1NaAJR pic.twitter.com/s7Cqf0LE8z

— Ohio Football (@OhioFootball) October 22, 2022
Wiglusz still has another year of eligibility beyond this season, but when asked about his goals going forward, he listed only team-oriented benchmarks. With six wins through nine games, Wiglusz could help Ohio win its first bowl game in three years this season. Wiglusz also targets a MAC championship, which would be the program's first since 1968.
But make no mistake, Wiglusz is still paying plenty of attention to his former school, and he's rooting for the Buckeyes to take home a national title in 2022.
"Oh, I'm locked in. I mean, unfortunately a lot of my games have been at the same time or an hour off from them, so I'm running into the locker room to check the score," Wiglusz said. "And now that we're playing on Tuesdays, I was able to watch the Penn State game, every snap. So I enjoyed that. Those are my guys, so I love watching them and I love keeping track of them and hopefully watching them win a national championship would be awesome."
When reflecting on his Buckeye career, Wiglusz said he "wouldn't trade those four years for the world." At Ohio, though, he's gotten the opportunities he always dreamed of, and is achieving individual success that he may not have thought possible.
As for the coach that saw something in Wiglusz before his true freshman season even began, Hartline's not surprised. It wasn't freakish physical gifts or explosive athleticism that made Hartline believe in the former Buckeye walk-on four years ago, but his innate instincts for the game and his commitment to the craft.
Wiglusz has used those traits to become arguably the top wideout in the MAC and one of the most prolific receivers in the nation. And even in a different uniform, he won't soon be forgotten by the Buckeye program.
"That's the thing what's amazing about football is it's a team sport and when you say that, you don't always need extraordinary ability to be a huge part of an offense. And I think those that are most consistent and those that can just do their job consistently over time with great efficiency end up being great players," Hartline said. "And I think Sam embodied that.
"And when he left, we definitely felt his loss. But we root for him from afar, for sure."