After a rare regular-season loss, Ohio State fans may be under the impression that the sky has fallen in Columbus.
But over the next couple weeks, the Buckeyes will have a pair of much-needed opportunities to lick their wounds and gain confidence with Tulsa and Akron on the schedule before Ohio State takes the full plunge into conference competition.
While Ohio State's ongoing defensive struggles might lead to the conclusion that most competent teams in the country could put up some points on the Buckeyes, it shouldn't come as much surprise that the Scarlet and Gray opened as a 31-point favorite for Saturday's afternoon affair at Ohio Stadium.
If you're looking to get acclimated with Ohio State's upcoming opponent, look no further, as we've got you covered with a handful of things to know about the Golden Hurricane while the Buckeyes seek a bounceback performance in Week 3.
This isn't 2020 Tulsa
Even after seeing the betting lines for Saturday's game, a quick glance at Tulsa's 2020 resume might convince some that the Golden Hurricane could be a legitimately formidable foil for Ohio State. However, the 2021 team is not its predecessor.
Tulsa went 6-3 last season, with all three losses coming by single digits against then-No. 11 Oklahoma State, then-No. 6 Cincinnati in the conference title game and Mississippi State in the Armed Forces Bowl. Tulsa claimed wins over then-No. 11 UCF and then-No. 19 SMU, and peaked at No. 18 in the AP poll.
The Golden Hurricane also had one of the nation's best defensive players on its roster last year as 2021 No. 16 overall draft pick Zaven Collins racked up 54 tackles, 7.5 tackles for loss, four sacks and four interceptions with two returned for touchdowns from the linebacker position in just eight games.
#Cardinals select @TulsaFootball LB Zaven Collins with the 16th overall pick! #NFLDrafthttps://t.co/SHMCbrTaWl

— NFL Draft (@NFLDraft) April 30, 2021
Tulsa doesn't have Collins this season. It doesn't have starting cornerbacks Allie Green and Akayleb Evans either after both transferred to Missouri, and the Golden Hurricane also had to replace their starting quarterback from 2020.
The team's 0-2 start hasn't inspired much hope for a season that can mirror last year's success, and especially given its particularly puzzling season opener.
Upset by an FCS team
Not all upsets are created equal, and Tulsa's Week 1 loss to FCS opponent UC Davis to start the 2021 slate is not one the Golden Hurricane will wear proudly moving forward.
UC Davis beats Tulsa 19-17.

Our first FCS over FBS upset of the season.

— Chris Vannini (@ChrisVannini) September 3, 2021
Tulsa was favored to win by more than three touchdowns at home, but after turning the ball over three times and failing to turn 448 total yards of offense into more than 17 points, Philip Montgomery's group dropped the first game of the season by a score of 19-17.
Three defensive starters were suspended for the game due to their role in the brawl that took place in the Armed Forces Bowl against Mississippi State, but even without them, Tulsa should've had more than enough to get past a UC Davis team that went 3-2 in the Big Sky in 2020.
Tulsa's follow-up five-point loss to Oklahoma State on the road this past Saturday was far more respectable, but the Golden Hurricane still lost to an unranked opponent that mustered just 322 total yards of offense in a 28-23 win.
Even with the Buckeyes' struggles through two games, they should give Montgomery and company a whole lot more to handle than either of their past two opponents when it comes to raw talent and offensive firepower. Through two games, Ohio State has the No. 4 passing offense and No. 8 total offense in the country, and its first two opponents weren't exactly FCS-caliber.
No TDs from passing game
Firepower has not been abundant for the Tulsa passing attack this season, as new starting quarterback Davis Brin has failed to throw a touchdown pass in either of Tulsa's first two games of the year.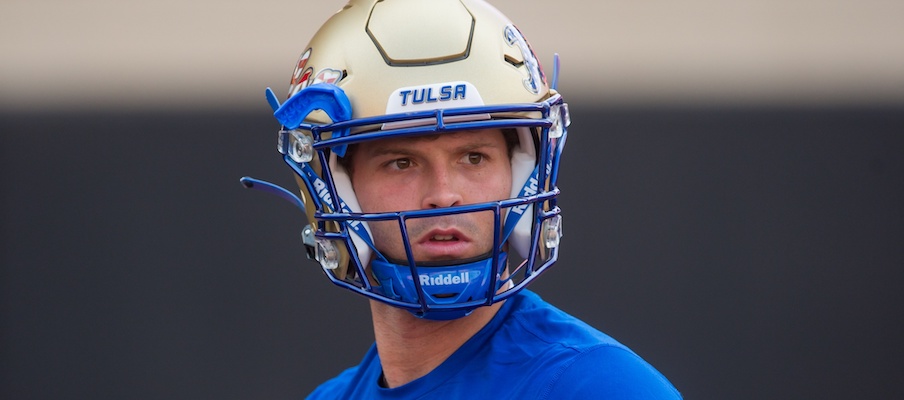 Tulsa is one of just 11 teams in FBS football to have not found the end zone on a pass play this season, and unlike teams like Navy and Air Force, it's not for a lack of trying. Brin attempted 28 passes in the season opener and 27 against Oklahoma State.
Brin hit the 200-yard mark in each of the first two games for Tulsa, and even completed north of 70 percent of his passes against the Cowboys. However, his touchdown to interception ratio sits at an unsightly mark of 0-to-2 after the opening two weeks.
Even without any scoring plays to account for in the passing game, Tulsa is not devoid of weapons at receiver. Fifth-year senior Keylon Stokes had a 62-catch, 1,040-yard season in 2019, and hauled in 644 yards on 46 grabs in just nine games a season ago. Stokes caught just two balls against Oklahoma State, but the veteran had 95 yards in the season opener, including a 61-yard reception.
Keylon Stokes joined Damaris Johnson & Trey Watts last week as just the third Golden Hurricane in school history to rack up over 4,000 all-purpose yards in his TU career!#ReignCane #HuntForTheCrown pic.twitter.com/ID2RwjBy4C

— Tulsa Football (@TulsaFootball) September 7, 2021
Stokes returns kicks and punts for the Golden Hurricane as well, and if a big play does come in the pass game against the Buckeyes, he may very well be the one making it happen.
Prince presents legit run threat
Ohio State's lack of resistance in the run game over the past two weeks will surely get its future opponents thinking about ways to exploit that potential weakness, and Tulsa possesses a bona fide playmaker at running back in Deneric Prince.
The seas parted & Deneric Prince took the ball 59 yards to the promised land! pic.twitter.com/hgfipvPK1I

— Tulsa Football (@TulsaFootball) September 6, 2021
The Texas A&M transfer averaged 5.4 yards per carry in his first season at Tulsa in 2020, racking up 475 yards and four touchdowns in eight games as he split attempts with other backs. This season, Prince has more of a feature role in the offense, having already seen 36 touches in the first two games of the year.
Listed at 6-foot, 215 pounds, Prince ran for 179 yards on just 16 carries against UC Davis, including a 59-yard touchdown run that proved to be Tulsa's most electric play of the game on offense.
This past weekend at Oklahoma State, Prince struggled to get it going on the ground, gaining just 34 yards on 16 carries, though he added 45 yards on five receptions.
Tulsa's averaging 186 rushing yards per game, 22 more than the Buckeyes themselves through two contests, and every offensive touchdown the Golden Hurricane has scored has come on the ground.
AAC opponents 0-4 against OSU
The American Athletic Conference will soon no longer resemble its current form, with several of its key members set to join the Big 12, but since being founded in 2013, no AAC team has defeated the Buckeyes, or even come particularly close.
Ohio State's history vs. AAC opponents since the conference formed in 2013:

2019: Cincinnati 42-0
2018: Tulane 49-6
2016: Tulsa 48-3
2014: Cincinnati 50-28

— Griffin Strom (@GriffinStrom3) September 12, 2021
A win for Tulsa would be the American's first against the Buckeyes in five attempts, with the four previous meetings seeing AAC competition drop to Ohio State by an average score of 47.3 to 9.3.
Cincinnati gave Ohio State its toughest game against the American Athletic Conference in 2014, but still came away with a 50-28 loss. In fact, that was the only time in which an AAC team actually scored seven points or more against the Buckeyes.
Ohio State turned Tulsa away 48-3 in the teams' most recent matchup in 2016, and two years later, Dwayne Haskins and the Buckeyes blew out Tulane by a similar score of 49-6.
The last time the Buckeyes took on AAC competition was two seasons ago, when Justin Fields led Ohio State to a thoroughly dominant 42-0 win against Luke Fickell's Bearcats in the second game of the 2019 season – Ryan Day's first at the helm full-time in Columbus.