It's a good day when your quarterback who is making his first career start throws for five touchdowns.
To be frank, the Buckeyes dominated for the large part. When you score 77 points in a football game, you're generally going to come out on top, and the Buckeyes did just that.
It wasn't a big time opponent, but it was an Ohio State win, the Buckeyes are 1-0, and we'll take it.
Let's debrief.
The Short Story
This went about as expected. Ohio State dispatched Oregon State fairly quickly. The Buckeyes went up 42-14 through two quarters and then largely coasted in the second half. The Beavers outscored Ohio State 17-14 in the third, but it hardly mattered, as Ohio State put up 21 unanswered in the final frame to win 77-31.
Quick Breakdowns
Offense
Ohio State opened up the air attack on Saturday, throwing the ball to – well, everybody. 10 different players caught a pass, racking up a combined 346 yards.
The Buckeyes did a great job of getting the ball to their most explosive athletes in space and letting them make plays after the catch. The rushing attack was also quite potent: Mike Weber had a career-high 190 yards on 20 carries with three scores, and J.K. Dobbins rushed 15 times for 74 yards.
Freshmen Master Teague and Brian Snead also made their Ohio State debuts, and each found the end zone to kick off their careers. 
Defense
Ohio State's defensive line ate the Oregon State offensive line. The Buckeyes had an five sacks and two fumble recoveries by Nick Bosa (who is good), including one for a touchdown – but we already knew that unit was good.
The weak spot for the Buckeye defense was the secondary. Oregon State only threw for 196 yards (and two touchdowns), but that was only because Oregon State had two big runs that went for scores and eliminated the potential for more passing yardage. 
Also, the young guys showed they were young and it was pretty evident on back-to-back plays when Chase Young jumped offsides, then Jeff Okudah interfered with the receiver. Again, this was on back-to-back plays. As Yogi Berra once said, "it's deja vu all over again."
Who Earned a Buckeye Leaf?
Offense: Dwayne Haskins
It was a pretty sexy starting debut for the sophomore. Haskins threw for five touchdowns and 313 yards, leading the Buckeyes to scoring drive after scoring drive. Haskins looked calm, cool, and collected for Ohio State and had an all-time quote after the game:
Dwayne Haskins, when asked what he would have said if someone would have told him before the game that he'd be the first Ohio State quarterback to throw for more than 300 yards and five touchdowns in his first start: "Id probably have told them theyd be right."

— Dan Hope (@Dan_Hope) September 1, 2018
As expected, Haskins' arm was on display and helped Ohio State roll to a victory.
Defense: Nick Bosa
Bosa is good, and today was no different. A constant force in the Oregon State backfield, Bosa racked up two sacks, as well as a few other hurries and pressures, and had two fumble recoveries, including one for a touchdown. 
Pete Werner with the forced fumble and Nick Bosa with the recovery for a TD. 42-7 Buckeyes. pic.twitter.com/kfCdSrV6XW

— Lettermen Row (@LettermenRow) September 1, 2018
This man was nasty all afternoon and will be a problem once again for opposing offensive lines this fall. 
Plays of the Game
Offense:
Terry McLaurin got the season started with a bang. After scoring a touchdown on the Buckeyes' first drive of the game, he took the first play from scrimmage in the second half 75 yards to paydirt.
Ohio State's wide receivers looked awfully good today. 
Defense:
You saw this play earlier, but it's so nice let's use it twice.
Pete Werner with the forced fumble and Nick Bosa with the recovery for a TD. 42-7 Buckeyes. pic.twitter.com/kfCdSrV6XW

— Lettermen Row (@LettermenRow) September 1, 2018
Biggest Surprise
Ohio State's defense was... not that good. 
"I think it's a huge learning experience for a lot of guys," co-defensive coordinator Alex Grinch said. "There's several guys that made their first starts as college football players today. It's different. You're playing a power five opponent and all eyes are on you. There's certain plays all those guys would like to have back but overall, a real positive experience."
Isaiah Pryor had a bit of a rough go in his first career start at safety, and a couple defensive linemen missed their chance to stop two long runs by Oregon State that went for touchdowns.
Nevertheless, Ohio State has an opportunity to improve on that throughout this season, although they will need to do it quickly, as they will play a ranked team (TCU) in just two weeks.
If Jordan Fuller comes back soon, it could be much smoother sailing for the secondary, however. Fuller was a surprise inactive today due to a hamstring injury. He is the most experienced member of the Ohio State secondary in any capacity.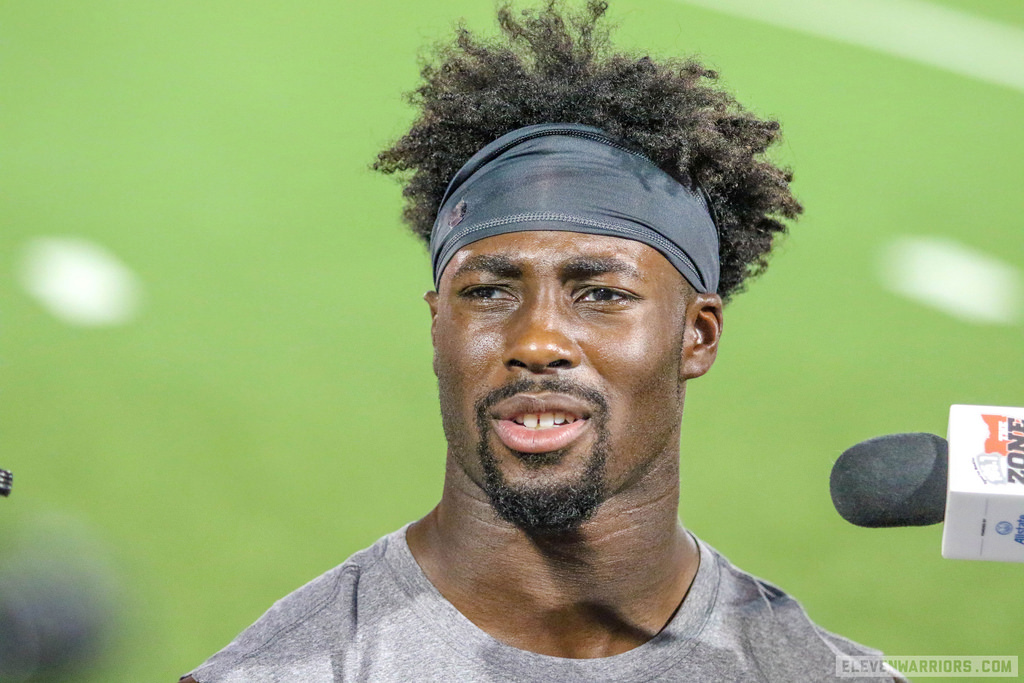 Underrated Things
Drue Chrisman... wow
Punter Drue Chrisman only had to boot it once, but it was an absolute beauty that traveled 65 yards and was downed at the three yard line by special teams god Terry McLaurin.
Drue is good. Jim Tressel is proud.
Mike Weber's Career Day
The redshirt junior out of Detroit was excellent. Weber looked superior to J.K Dobbins and the numbers would back that up, as Weber rushed for 190 yards and two touchdowns, including this one.
It was Over When
After the Buckeyes and Beavers traded touchdown to open the game, Dwayne Haskins quickly led the Ohio State offense down the field and the drive was capped off by Weber's first touchdown of the day, a 16-yard scamper. The Buckeyes scored just five minutes later on a short pass from Haskins to tight end Rashod Berry to go up 21-7, and never looked back.
Biggest Question Going Forward
Ohio State's defense clearly needs some work. While the Buckeyes did win by 46 points, they gave up 31 to a team led by their backup quarterback. Isaiah Pryor looked lost at times, the defensive line failed to hold their ground which led to a few rushing touchdowns, and the linebackers, although they didn't look dreadful, weren't exactly "up-to-par." It will be interesting to see how the Buckeye defense performs going forward, especially if they get Jordan Fuller back healthy soon.