When Bill Davis first saw Jerome Baker work out, he, like most people came away impressed.
"Jerome is a very talented young man," Davis said early in spring practice.
You remember the plays Baker has made so far in his brief two-year Ohio State career. There was the one-handed interception during the spring game two years ago, the time he made Wilton Speight pay for an errant pass over the middle to keep the Buckeyes in The Game and the ball he snatched out of the air at Oklahoma and raced 68 yards untouched to the house.
The kid just makes plays. But it is his mentality that has Davis particularly intrigued about what he calls Baker's "huge upside."
"I think he's got a big upside but again, he's got a lot of work in front of him too. The potential is there but potential is a very dangerous word," Davis said. "It's got to be backed up by work and he's working very hard right now so we're excited about him."
Baker's rapid rise from backup to household name last season came at the expense of Dante Booker, who hurt his knee in the opener against Bowling Green. Booker is in line to start opposite Baker at outside linebacker this fall with Chris Worley's move to the middle in place of Raekwon McMillan.
And while his name is already popping up on way-too-early 2018 NFL Draft boards as a true junior, along with fitting comparisons to Ryan Shazier, Baker said he still wakes up daily acting like his name isn't penciled in atop the depth chart.
"I still play, I'm not a starter or anything like that," Baker said. "It's the same mindset to go hard, make everyone better and help our team win.
"I'm not [a starter]. I take it as a guy getting the job done. That's it."
Davis spent 24 seasons as an NFL assistant coach before coming to Ohio State and working in quality control last season. He steps in for Luke Fickell to coach the linebackers, with a professional pedigree of working under names like Bill Cowher, Dick LeBeau, Wade Phillips and Dom Capers. He also has coached his fair share of Pro Bowlers at linebacker, like Darnell Dockett, Keith Brooking and D'Qwell Jackson.
Baker is an intriguing NFL prospect at linebacker, being that he is listed at 6-foot-1 and 225 pounds. Not exactly the ideal size for a professional at the position, but his speed, ability to change direction and adoration for hitting combines to make him a rare blend of player.
"He's a very knowledgeable football player. He's got a high football IQ. You tell him once and he gets it, and he asks real deep questions about it," Davis said. "I'm very encouraged with where Jerome can go and his athleticism. He's got a lot of position versatility. I really think I can play him at any of the positions and he'd be fine."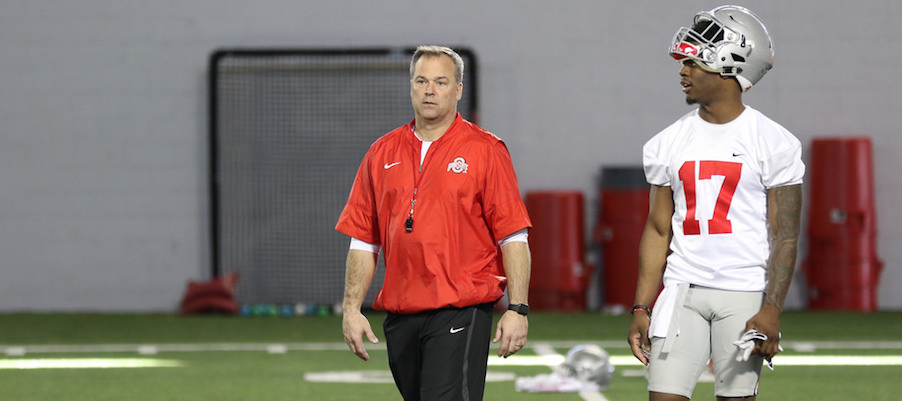 Ohio State likes to stay the SAM and WILL linebackers are interchangeable within its defense and Davis wants every player in his room to know all three spots. But some players are better fitted for certain spots and others make plays in space, like say a Darron Lee, Shazier or Baker. Booker might be able to do that too but we haven't seen enough of him yet to know for sure.
Baker's tape is impressive. There is a reason he was one of four members in the 2015 recruiting class to not redshirt on a loaded roster, even if he trolled all of us and originally committed to Florida as a Cleveland kid.
Now, that Cleveland kid's potential is through the roof and at an NFL level. Baker is taking it even a step further with Davis since he has himself convinced that he does not own a starting spot despite tallying 83 tackles, 9.5 tackles for loss, 3.5 sacks, those two interceptions and a forced fumble in 2016.
"It's preparing us for the future," Baker said of Davis's influence. "That's my goal — to play in the NFL. It's definitely preparing me and it's fun just to be a part of it."