Ohio State won't hit the turf at Memorial Stadium in Bloomington, Indiana, for three more months (plus another day) but before you allow that to seep into your pores and incite depression, think about how the five #takes below are bound to be incorrect upon completion of another college football season.
If all (or any, really) of them are correct, I'll try my darnedest to not be overly abrasive on Twitter as I tell you how right I was. The #wellactuallys when I'm wrong will be both superfluous and irritating but that is why the social media channel was created. Right?
Don't be shy to drop your own predictions on the personnel Urban Meyer and Ohio State are set to work with for the 2017 season below. Kickoff is 93 days away. Let's get through this together.
Johnnie Dixon Leads Ohio State in Receiving Yards, Catches 10 Touchdown Passes
Might as well come out blazing, right?
Johnnie Dixon hasn't played a full season of college football since he enrolled at Ohio State in January 2014. You know the issues with his knees and the surgeries that resulted. He caught one pass for 29 yards in the 2015 season opener at Virginia Tech, then had six more receptions for another 26 yards in six total games last year.
Meyer and wide receivers coach Zach Smith said Dixon would work out for two days, then have to sit and watch for two days because his knees wouldn't cooperate. He participated in everything this spring, however, and caught a pair of touchdowns in the Spring Game as the only player to eclipse 100 receiving yards in Scarlet's 38-31 victory.
That means nothing. But here we are making wild predictions about him blossoming into one of J.T. Barrett's go-to targets on the outside, or at least I am. Dixon's speed is his best asset, so if he can get behind some defenders and Barrett is able to have enough time and accuracy downfield to find him, anything is possible. He also must stay healthy, of course.
For perspective on how wild it would be to see Dixon — or someone else — catch 10 touchdown passes, that has only happened twice in Meyer's five-year tenure. Philly Brown did it in 2013 and Devin Smith scored 12 times the following year. But I'm buying Kevin Wilson and Ryan Day getting Ohio State's passing game back on track. Dixon will benefit.
A Member of the 2017 Recruiting Class Will Lead the Team in Interceptions
Ohio State intercepted 21 passes in 2016. Those players who picked off 16 of them are no longer with the program. Malik Hooker, Marshon Lattimore and Gareon Conley left as first-round NFL Draft picks and Rodjay Burns transferred to Louisville.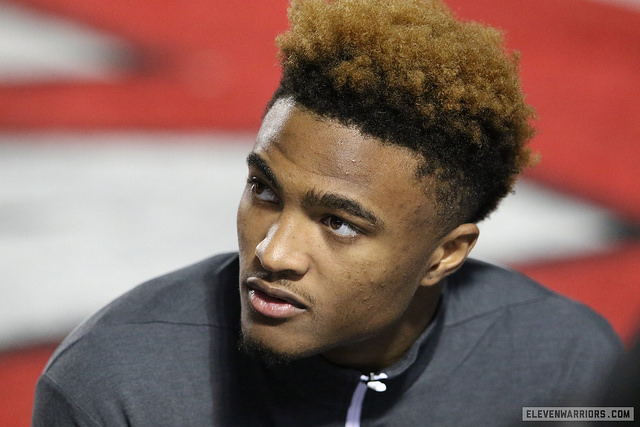 Damon Webb and Denzel Ward are the lone returning starters in the secondary, and the former is someone Greg Schiano and Meyer said established himself as the clear leader in the entire unit. Ward is clearly the best player and most experienced player at his position of cornerback but neither player has displayed remarkable ball skills in their first few years with the program.
Yes, Webb picked off Tommy Armstrong Jr. and returned it 36 yards for a touchdown in Ohio State's 62-3 shellacking of Nebraska last November. But the influx of high-level secondary talent from the 2017 recruiting class should not be ignored. Jeffrey Okudah, Shaun Wade, Marcus Williamson, Isaiah Pryor and junior college transfer Kendall Sheffield participated in spring practice and each of them showed the ability either in high school or elsewhere to make plays on the ball in a similar fashion as those players who just left.
No, this isn't me putting Okudah, Wade, Williamson, Pryor or Sheffield in the same category as Lattimore, Conley or Hooker. They could end their careers as first-round picks but that is a long way off considering they haven't played a down that matters at Ohio State yet.
I just think one of them — or Amir Riep, another corner who arrives this weekend — will intercept more passes than everyone else. Teams might avoid Ward because they know he is the top player at his position Ohio State has to offer. Webb doesn't have the range of Hooker (no one does). And Damon Arnette struggled some last season. I expect a jump from Arnette, but the potential of the freshmen and Sheffield is spectacular.
Wyatt Davis Supplants Demetrius Knox as Starting Right Guard
Greg Studrawa didn't speak to reporters throughout the duration of spring practice, so it is difficult to gauge the exact order of the names at right guard. Meyer said a combination of Demetrius Knox, Malcolm Pridgeon and Matthew Burrell rotated in with the first team at the spot. Knox took first snaps during the bits of practice the media got to see.
Davis is set to arrive from California this coming weekend, a 5-star prospect and No. 1 offensive guard in the country as determined by 247Sports. The Buckeyes started Michael Jordan, a 2016 signee, at left guard for 13 games last season. So while it isn't too wild to think Ohio State would pull the trigger if Davis is clearly the guy and can pick up on the playbook quickly enough, it would be pretty crazy if Meyer tapped a freshman for the second straight year.
Davis's film is excellent, he moves well for someone who is 6-foot-5 and more than 300 pounds and has the nickname "Wavy Dub." Sign me up.
Dante Booker Leads the Team in Tackles With More Than 100
In each of Meyer's first five seasons in Columbus, the Buckeyes have had at least one player push his tackle numbers into three digits. Raekwon McMillan and Joshua Perry both did it in 2015.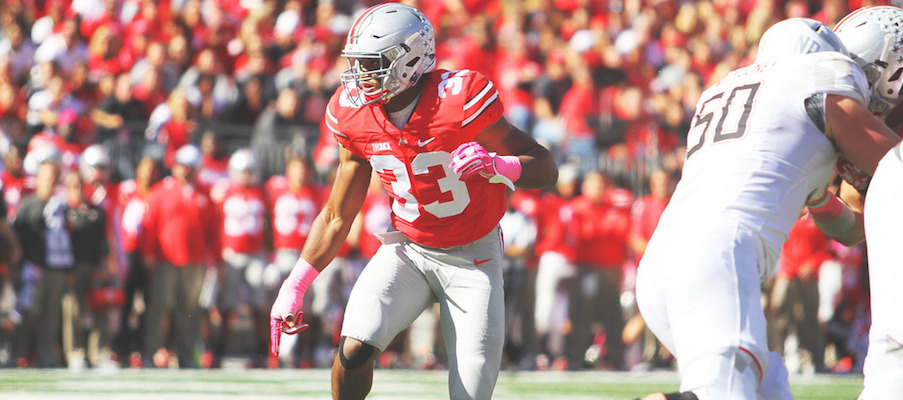 So while the second part of this prediction isn't that far-fetched, the player it involves is. Booker hasn't been able to play much so far in his career, first buried on the depth chart then because of a knee injury last season against Bowling Green that knocked him out the rest of the year. Jerome Baker's rapid rise in his place also caused Booker to stay on the sideline but with McMillan gone, that isn't the case anymore. Chris Worley moved to middle linebacker and Booker stepped back in on the outside this spring.
A tremendous looking athlete, Booker is long, fast, athletic, tenacious and just about everything else you want in a linebacker. I expect him to run all over the field this fall and eke out Worley and Baker for the tackling crown.
Blake Haubeil Wins the Starting Kicker Job
Sean Nuernberger is healthy and took all the starters reps at kicker this spring. But it is pretty clear that Meyer is looking for someone to really take charge at that position.
If we're being honest, placekicking has been kind of iffy since Meyer arrived ahead of the 2012 season. Walk-on Tyler Durbin looked solid in 2016 but faded fast in the end. I think Haubeil is the guy to change that tune for Ohio State, a consistent leg who can nail field goals from 40 yards and in. That is all Meyer wants.
Meyer all but said that if Haubeil (or someone else) is better than Das Boot in training camp, it is their job in 2017. As the No. 2 kicker in the country who apparently got even better this winter, Haubeil gets my vote even as a true freshman.