When he sits down at his desk on the 10th floor of the Fawcett Center, Martin Jarmond barely has to turn his head to see a massive white board with names, numbers and lines assisting him in his efforts to plan Ohio State's future football schedules. It is the baby of the right-hand man of Ohio State Vice President and Director of Athletics Gene Smith.
"I usually have all this in my head one way or another," Jarmond said on Thursday, the day Ohio State announced an adjustment to its series with TCU. Instead of home-and-home matchups, the Buckeyes and Horned Frogs face off at AT&T Stadium on Sept. 15, 2018.
Jarmond's mornings are a little different these days than the ones that previously filled up the past seven-plus years. The 37-year-old was announced as Boston College's next athletic director on April 19, so he wakes up around 3:30 a.m. to send text messages, emails and return phone calls he missed the previous night from his new colleagues on the East Coast, including Boston College boosters and alumni.
Jarmond's last day at Ohio State is June 2. Before he heads to Chesnut Hills, Massachusetts, though, Smith wants him to get as much done as he can with regards to the Ohio State football team's future scheduling. With that comes an overarching knowledge of the Big Ten as a whole, which coaches lead what programs, the strongest locations of Ohio State's alumni base and an intricate knowledge of the College Football Playoff — even though that remains in its infancy.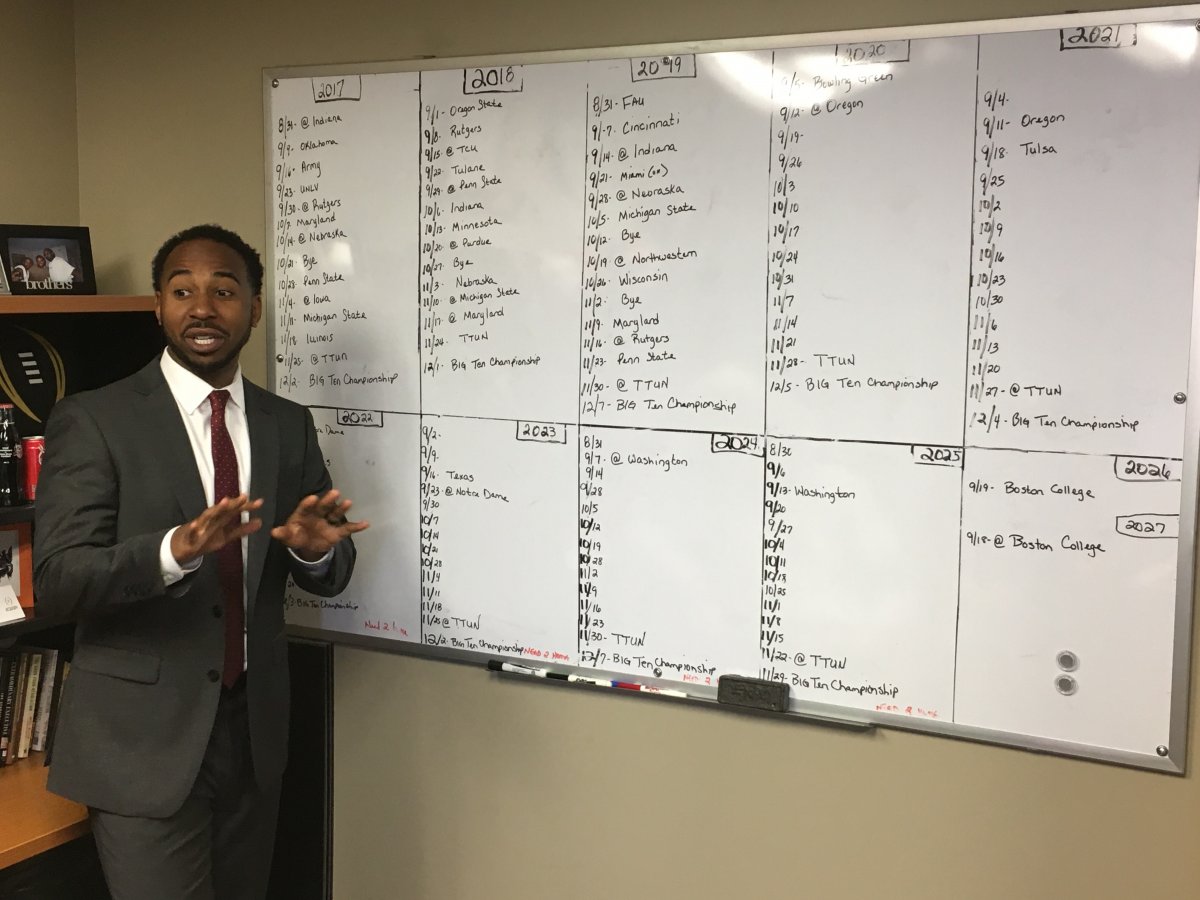 "For us, you always have to project out, are they going to be where they are?" Jarmond said, referencing Ohio State's scheduled home-and-home series with Washington for 2024-25, also announced on Thursday.
"I knew Chris Peterson was there, knew he was probably going to keep it rolling," Jarmond said. "But you look at it and you say, 'Gene, this makes sense to me.' We always look at if we have kids or alumni, is it something we can get people there.
"We played Cal, we had so many Buckeyes in the stadium. That's one of the reasons we did TCU in the first place because we had so many Buckeyes there because we want to have a crowd that can help us win the game."
Ohio State roasted California in 2013, 52-34, in Berkeley, in front of a stadium made up of 75 percent Buckeye fans. Jarmond didn't schedule that game; his predecessor did, almost 10 years in advance of kickoff between the Golden Bears and Buckeyes. Cal went 10-2 in 2004 and sent Aaron Rodgers to the NFL following the season, around the time the game was put on the schedule. Things were good out west.
Fast forward to 2013 when the Golden Bears finished 1-11. Ohio State fell to Michigan State in the Big Ten Championship that season and missed out on a chance to play in the final BCS Championship Game. But the game against California wouldn't have helped their cause had they remained unbeaten.
"I try to not go that far out for that reason," Jarmond said, citing that his sweet spot is seven or eight years in advance. "So if you look at Washington, we did this in '17, and this is '24 and '25. So seven years. You can't go too far out because of that reason."
Urban Meyer and Ohio State pulled three of the top six prospects from Texas in their 2017 recruiting class. He has shifted the program's recruiting strategy and brand even more across the continental United States than ever before. Jarmond realizes that and takes it into account by knowing who is on the roster. He also makes note of past nonconference bouts.
The Buckeyes went to Oklahoma in 2016. They go west to Seattle in 2019 and way down the line are scheduled to play at Boston College in 2027. Notre Dame is back on the schedule for a home-and-home series in 2022-23, while another trip to Texas is on the docket in 2022. The scarlet and gray is going all across the country.
"When it worked out that we could do it in Texas, [Smith] was good with that," Jarmond said. "I knew that would probably be the hardest schedule in the country, projection-wise. Because it rarely comes together like that."
Especially when teams try to play the Fighting Irish, who face teams like USC and Stanford every year yet remain independent. Jarmond said actually being able to schedule a game with them is a bit like seeing a unicorn.
"At the end of the day, we want a schedule that gives us a chance to win the Big Ten Championship and gives us a chance for us to get to the [CFP]."– Martin Jarmond
"You just don't know with Notre Dame because of their availability," Jarmond said. "You think it's hard to schedule some of these schools? Notre Dame is really hard. Because they don't want to play at Southern Cal and at Columbus."
Jarmond has three out of conference games to play with on future schedules after the Big Ten went to nine conference affairs. He claims it isn't an exact science, but there is a balance between searching for a top Power 5 matchup and getting together with a Group of 5 school. Smith calls teams like Oklahoma and TCU "major-majors," or teams that are annual contenders or trending toward being a top 15 program. Fans want to see their team play against the best but also have a great chance of winning, which comes back to watching who is coaching what program. That is why the Buckeyes are paying Oregon State $1.7 million to visit Columbus in 2018 and dishing out another $1.3 million to UNLV — a team they have never played — next season.
Above all, Jarmond's goal is to put Ohio State in a position to win the Big Ten Championship and make the College Football Playoff — which he did last season. Ohio State didn't earn a trip to Indianapolis but made the Playoff because it won at Oklahoma. The Playoff committee cited that as a huge reason the Buckeyes got in without a conference title.
"We easily play, you name the school, and chances are good you win," Jarmond said. "But what I try to do is make it someone like this last year who actually has a chance to be pretty good."
The Big Ten improving helps too. That's why the Buckeyes play Florida Atlantic, Cincinnati and Miami (Ohio) in 2019 in the nonconference. Ohio State's conference crossover games that season: at Nebraska, at Northwestern and Wisconsin. The Buckeyes also travel to Michigan at the end of the season, a week after hosting Penn State. Not exactly easy sledding.
"Look at that. Think about that. This was the only year we would have done that," Jarmond said. "That's the only reason we did that. Even if we switched that, if four of those teams are in the top 20..."
Jarmond has done this job for a while, so he knows his whiteboard is his best friend. He also pays attention to the annual coaching carousel and who Meyer signs every February. Any tidbit of information he can get will help him complete his job to Smith's expectation. At least until early June.
"At the end of the day, we want a schedule that gives us a chance to win the Big Ten Championship and gives us a chance for us to get to the four," he said. "That's what I think about when I do the schedule."