You might have heard Ohio State's banner 2017 recruiting class got even stronger over the weekend. Five-star defensive back Jeffrey Okudah announced his intentions to play for the Buckeyes during the U.S. Army All-American Bowl.
The seventh (!) 5-star player in the class, Okudah is a terrific talent and will help Ohio State's smooth over the holes left behind in its secondary following Malik Hooker and Gareon Conley's decisions to leave school and enter the 2017 NFL Draft. Cornerback Marshon Lattimore will almost assuredly join them, though his Twitter last week brilliantly kept all of us on edge.
For reference, wide receiver Noah Brown and linebacker Raekwon McMillan have also declared themselves eligible for the NFL Draft.
Regardless what Lattimore decides to do, there is significant opportunity on the back end of Ohio State's defense for young players to make some noise. Half of the guys in the team's 2017 class (nine total) moved into their dormitories on Sunday and get their first taste of college classes on Monday. Those nine: Okudah, Josh Myers, Marcus Williamson, Shaun Wade, Tate Martell, J.K. Dobbins, Baron Browning, Brendon White and Isaiah Pryor.
Enrolling early has its perks, like getting in shape with Mickey Marotti a few months ahead of their classmates and starting to nail down the playbook.
With those talented players getting their feet wet academically, let's take a look at who among them has the best chance at playing considerable snaps in 2017. The list is ranked from best to worst chances and is predicated on the depth at each of their respective positions.
---
1. Jeffrey Okudah, Cornerback
The most recent commitment doubles as the highest-rated one in the class. And for good measure, he also plays a position of need for the Buckeyes.
With Conley off to the NFL and Lattimore probably going to join him, the odds Ohio State starts two new faces at corner in 2017 are extremely high. Damon Arnette and Denzel Ward are next up based on the depth chart Ohio State released for its Fiesta Bowl matchup with Clemson (and the latter was listed as a co-starter all season with Lattimore) but each had his fair share of struggles this season. Arnette served as the team's nickel corner for the first half of the year, before Conley moved into that spot on third downs while Ward lined up opposite of Lattimore.
Okudah is a special talent and the seventh-ranked player in the country. At 6-foot-1 and 1/2 inches with long arms and great speed, look for him to make noise in spring practice. Kerry Coombs and Greg Schiano are going to play the best players in the secondary in an effort to replace the departed players. All signs point to Okudah heavily being in the conversation. He is that kind of talent.
2. Shaun Wade, Cornerback
Wade is the only other 5-star caliber defensive back in the 2017 class and a great corner in his own right, so it makes sense to include him near the top here. As written above, chances are good that Lattimore joins Conley at the next level. So there will be plenty of space for Wade to join Okudah in the conversation with the current cornerbacks in the class for playing time.
Wade is long and fast like all of the guys Ohio State likes to recruit at this position. His only problem is a little lack of size being that he is listed at only 177 pounds. Getting in early and working with Ohio State's strength program will help combat that, however.
Bottom line: Ohio State needs secondary help. Wade and Okudah are the best of the incoming freshmen to help give it.
3. Isaiah Pryor, Safety
For similar reasons Okudah and Wade are ranked 1-2, Pryor steps in at No. 3 because of where he plays. The lone true safety in the class, Pryor is a 4-star player with terrific size at 6-foot-1 and 1/2 inches and a sturdy 195 pounds.
With Hooker's departure and the fact Pryor enrolled early, he wanted a jump start on his development. Expect him to compete with Jordan Fuller, Eric Glover-Williams, Erick Smith, Jahsen Wint and even Damon Webb this spring. Webb had a decent year but obviously was overshadowed by Hooker. Offenses also liked to pick on him and experienced great success doing so.
Webb will play in 2017 due to his experience. But who plays next to him is up in the air. Pryor enrolling early helps his chances.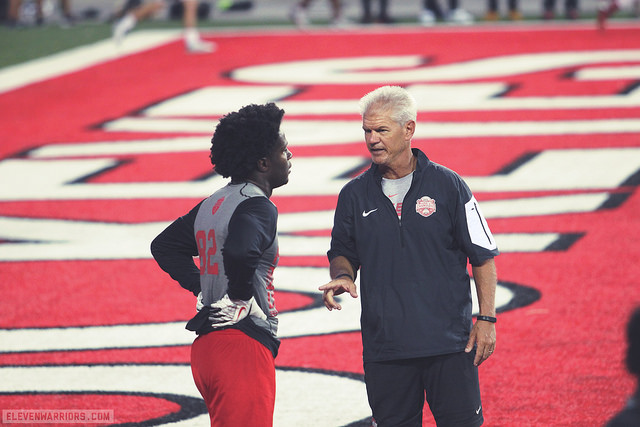 4. Marcus Williamson, Cornerback
Another corner in the class who has been committed to Ohio State since April 2015, Williamson is listed in the top-4 because he plays in the secondary. Not to continue to belabor the point but the Buckeyes need help there with the names leaving. There is a reason Coombs and Schiano went out and got players to fill the void and three enrolled early.
Williamson is a Columbus kid despite finishing his college career at IMG Academy with Pryor. The added development at a program like that will help him challenge early in his college career.
Will it be in 2017? Probably not, but if injuries come to pass at the cornerback position, Williamson will be asked to produce.
5. Josh Myers, Offensive Line
Did you watch the Fiesta Bowl? Dumb question. Of course you did. And because you did, you witnessed the woeful performance by Ohio State's offensive line against a ferocious Clemson front. After Michael Jordan went down with an ankle injury, Demetrius Knox looked overwhelmed when he initially stepped in the lineup.
Pat Elflein graduated. Billy Price plans to move to center to take his place. Jamarco Jones could head to the NFL a year early. If that happens, that is three slots that need to be filled on the offensive line.
Myers is a 5-star prospect but never really had to pass block in high school because Miamisburg runs the Wing T and lets him maul opponents as part of a powerful rushing attack. That is really the only reason Myers isn't higher on this list — because he will go through an adjustment period that will force him to get better at that part of his game. He worked at center and guard in San Antonio last week at the Army Bowl so Greg Studrawa could move him there to help.
The fact Myers enrolled on Monday is extremely important for Ohio State's offensive line moving forward. Why? Studrawa tapped Knox — a guy who broke his foot earlier in the season — to replace an injured Jordan with Matthew Burrell, Evan Lisle, Kyle Trout and a host of others standing on the sideline. That should tell you how dire things are up front right now for the Buckeyes. Myers is a massive kid and terrific run blocker. The Buckeyes need that.
6. Baron Browning, Linebacker
Browning's impact in 2017 and even 2018 depends on if he is willing to move inside. He played outside linebacker in high school and is a massive piece to the class, the No. 9-ranked player in the country according to 247Sports. The guy who just created a vacancy at middle linebacker also was a 5-star commit. Browning is too.
Chris Worley and Jerome Baker were studs this season at outside linebacker following a knee injury to Dante Booker in the opener. A move to the middle in 2017 would make sense for Booker so Billy Davis can get him on the field but this whole group will be interesting to watch because Luke Fickell is now the head coach at Cincinnati. How Davis meshes with players he didn't help recruit to Columbus and who he taps to replace McMillan is going to be a key storyline this spring.
Browning is plenty talented enough to insert himself into the conversation. Tuf Borland, Keandre Jones, Justin Hilliard, Malik Harrison, Nick Conner — all players who have seen slim to zero snaps so far due to depth. Can they help fill in for McMillan? Or will the Buckeyes turn to Browning?
7. Brendon White, Athlete
White is going to play linebacker, but we are listing him as an athlete because we can. Like Browning, White is a terrific athlete. But he did everything for his high school team while Browning focused on playing linebacker. Which is why he is ranked higher than White on this list.
Browning is just better than White at the position right now but that isn't to say White can't play. If he couldn't, Ohio State wouldn't have recruited him so hard from Olentangy Liberty High School and nearby Powell, Ohio.
But with a logjam at linebacker due to sheer numbers, some major attrition or numbers will have to occur for either White or Browning to play considerable minutes in 2017. And Browning is ranked higher because he is a higher caliber recruit.
8. J.K. Dobbins, Running Back
Dobbins hurt his ankle in the first game of his senior season and never suited up again. However, he said he could have played in the Army Bowl on Saturday but chose not to as a precaution. It makes sense considering he started classes at Ohio State on Monday.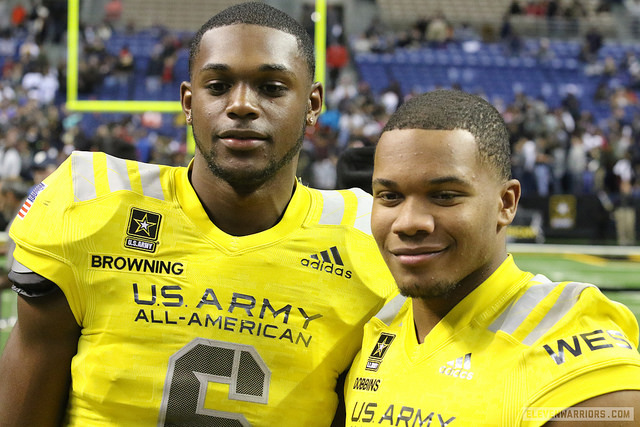 Dobbins is very good, a 4-star commit with great size at 5-foot-10 and nearly 200 pounds. But there just isn't any room at his position. Mike Weber is set to be a redshirt sophomore and start in 2017 barring anything unforeseen. Other scholarship players in Tony Alford's running back room: sophomores Antonio Williams and Demario McCall. Let's not forget Curtis Samuel, either. Should he return for his senior season in 2017, he'll be a focal point of the offense and that includes running the ball.
Dobbins is likely to redshirt this fall. But he did the right thing to get a head start and enroll early to get his head wrapped around the playbook and college life should that happen.
9. Tate Martell, Quarterback
To be clear: Martell being at the bottom of the list is not a slight on his abilities as a quarterback, leader or human being. Martell is extremely quick, has a lightning fast release and never lost a game in high school as a starter. That's uh, pretty good.
But Martell is not going to play in 2017 unless, like Dobbins at running back, a boat load of guys are hurt in front of him. J.T. Barrett already said he will return for his senior season, so it is a pretty safe bet he starts even if Urban Meyer and new quarterbacks coach Ryan Day hold an open competition to start spring practice.
Even so, Joe Burrow and Dwayne Haskins remain in the fold. The addition of Martell brings more depth. But true freshmen quarterbacks don't typically play unless there is a regime change, guys transfer out or injuries force a coach's hand. None of that is a reality at Ohio State right now.