Ohio State's 2017 season ended with a comfortable 24-7 win over the Pac-12 champion USC Trojans. However comfortable the win appeared on the final score, there were some disconcerting details from the box score that don't suggest the kind of 17-point win we saw. In this final Inside the Box feature, we take a look at some of the key statistics from the Cotton Bowl win and how at least some of them conform to season-long trends.
Ohio State Struggled on Offense...
Previous features in the buildup to the Cotton Bowl talked about how appetizing USC's defense was. There was little the Trojans had shown on defense that suggested it could contain the Buckeyes' offense. Its most likely means to a win as underdogs would have been a shootout over the favored Buckeyes.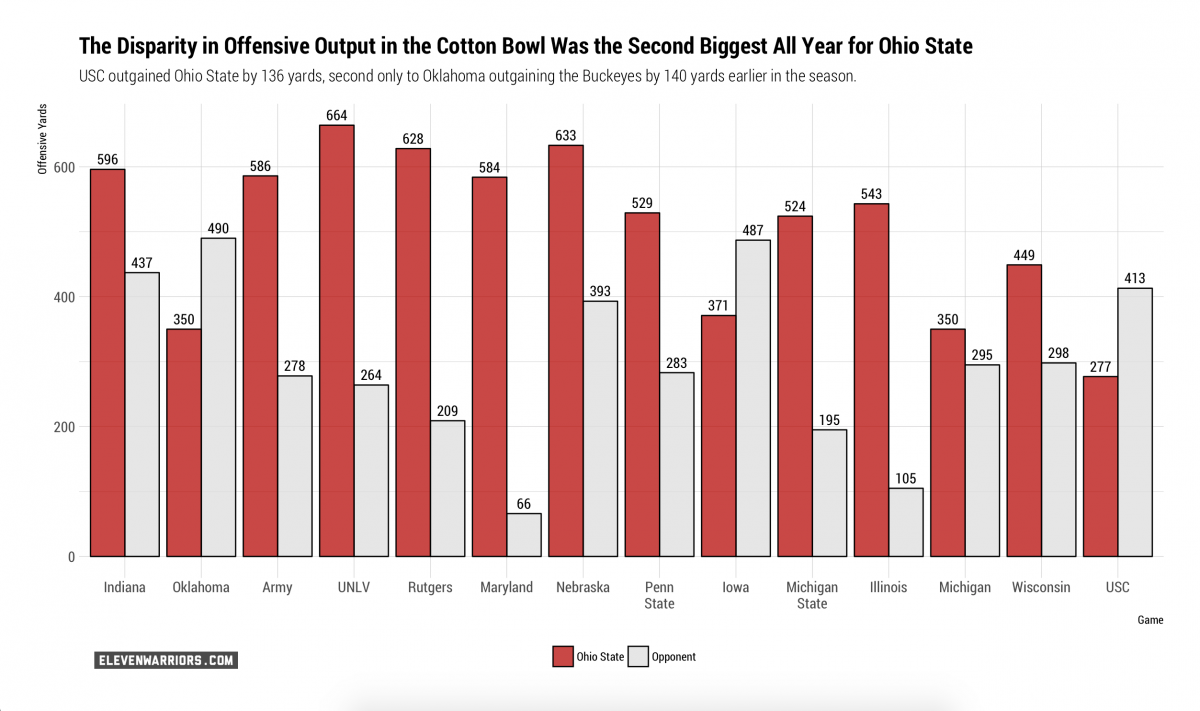 However, USC's defense held its end of the bargain. Ohio State's 277 yards against USC was a season-best for a maligned Trojans' unit. It bested the previous mark (319) against Oregon State. Put in other words, the worst team on USC's schedule, and almost assuredly the worst Power Five team in the country, outgained Ohio State against the Trojans by 42 yards.
The sad fact is Ohio State's opponent outgained the Buckeyes for just the third time this season. Those two other times were double-digit losses against Oklahoma and at Iowa. The Buckeyes narrowly avoided the worst disparity in offensive output this entire season as well. USC outgained Ohio State by 136 yards, which is second only to Oklahoma outgaining Ohio State by 140 yards in Week 2.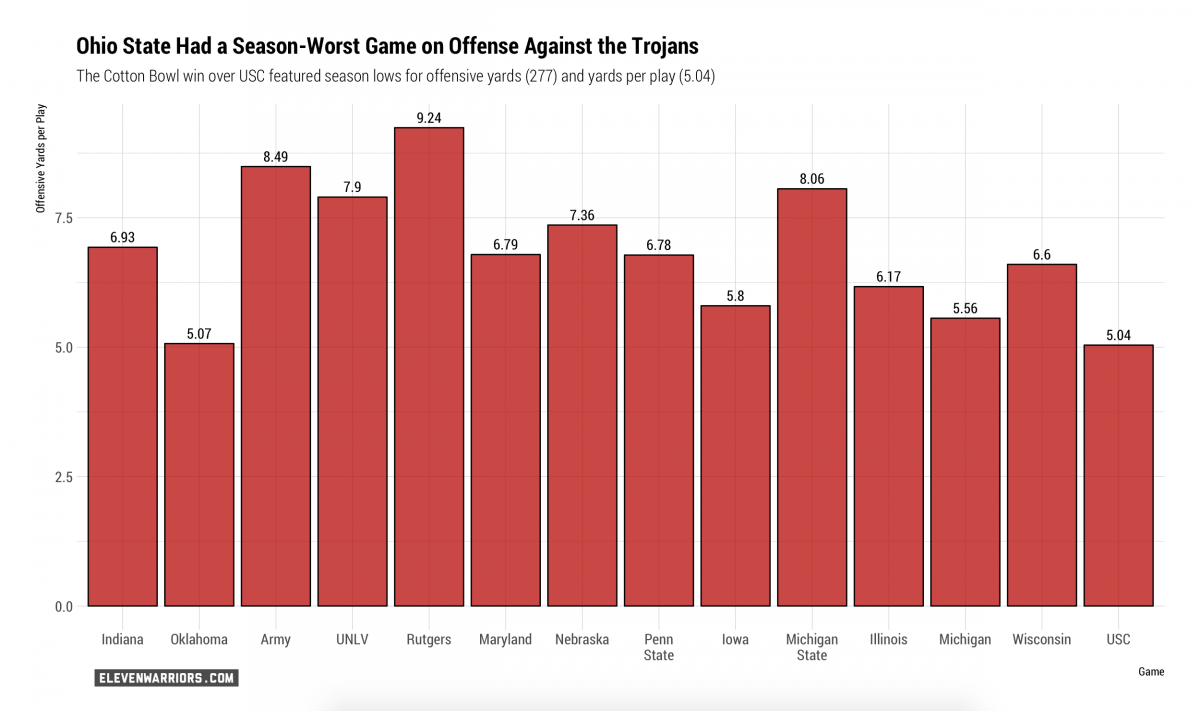 Elsewhere, the 277 yards for Ohio State was a clear season-low. Ohio State managed 350 yards of offense against Oklahoma and at Michigan, which were the previous lows. The 5.04 yards per play is also a season-low, ranking lower than the 5.07 yards per play against Oklahoma.
...and Ohio State Was Particularly Bad on Third Down
These things clearly coincide. Teams that struggle to put up yards and yards per play are generally going to struggle on third down as well. However, the extent of Ohio State's third-down struggles against USC were still jarring.
The Buckeyes were a paltry 2/12 on third down against the Trojans, an opponent whose third-down defense ranks closer to Purdue than Michigan or Clemson. That Ohio State couldn't reliably move the chains against the Trojans was one of the more frustrating elements of the game.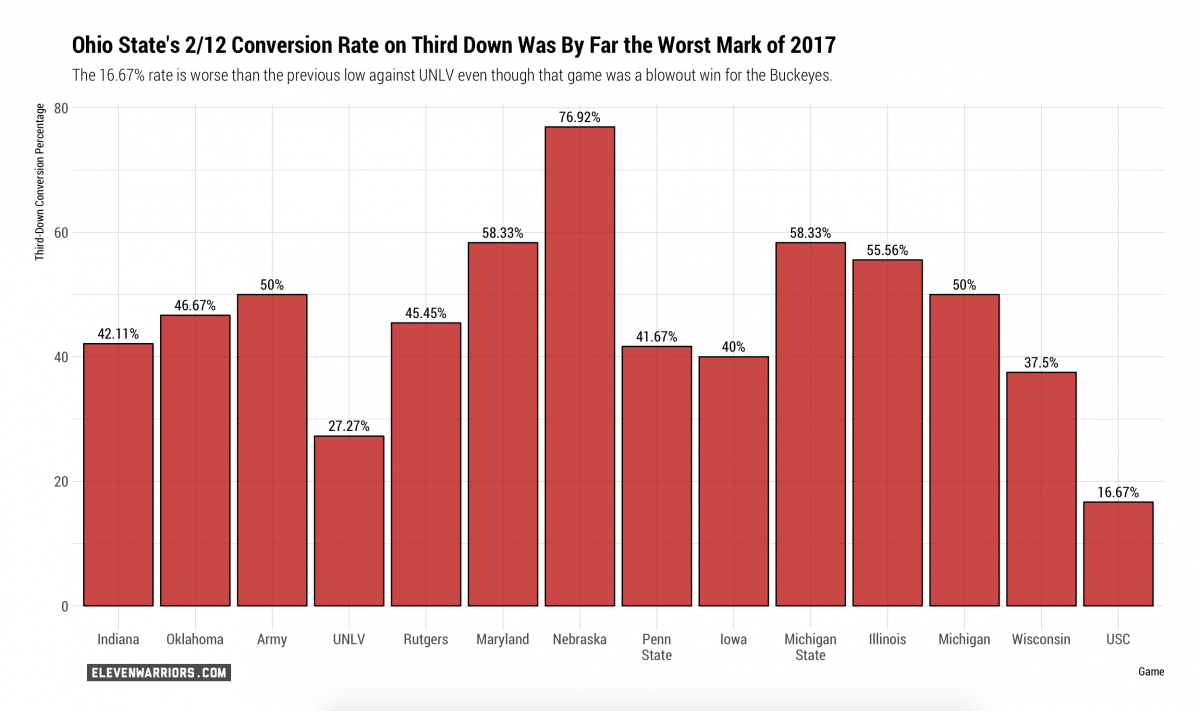 The 2/12 mark on third down will also stand out as by far the worst mark of the 2017 season. The nearest neighbor for comparison was, curiously, the win over UNLV. The Buckeyes completed just three of 11 third-down opportunities against the Rebels though Ohio State's 664 total yards in the 54-21 win made that point moot.
However, 2/12 on third down would've still suggested a double-digit loss for the Buckeyes if that was the only statistic you saw. That Ohio State instead won by 17 belies the caliber of offense we saw on Friday night.
However, Ohio State's Special Teams Was Outstanding
Here's a superlative for the Buckeyes of which I took note while the game was ongoing. Special teams was outstanding. Special teams had their struggles through various points of the season but I thought they were the second best "unit" for either side on the field (after Ohio State's defensive line, of course).
You won't see this in some statistics. For example, almost no one returned a punt on Ohio State in 2017. In one of my favorite stats to watch all season, Ohio State punted and covered so well that no one could return a punt on the Buckeyes until Illinois. Therein, Illinois returned one punt for one yard.
Michigan did a bit better, returning three punts for 54 yards (including that one near touchdown at the end of the first quarter). Wisconsin only returned one punt for a three-yard loss.
USC, meanwhile, returned two punts for two yards. Overall, outstanding work for the punting team from Liam McCullough to Drue Chrisman and also the gunners.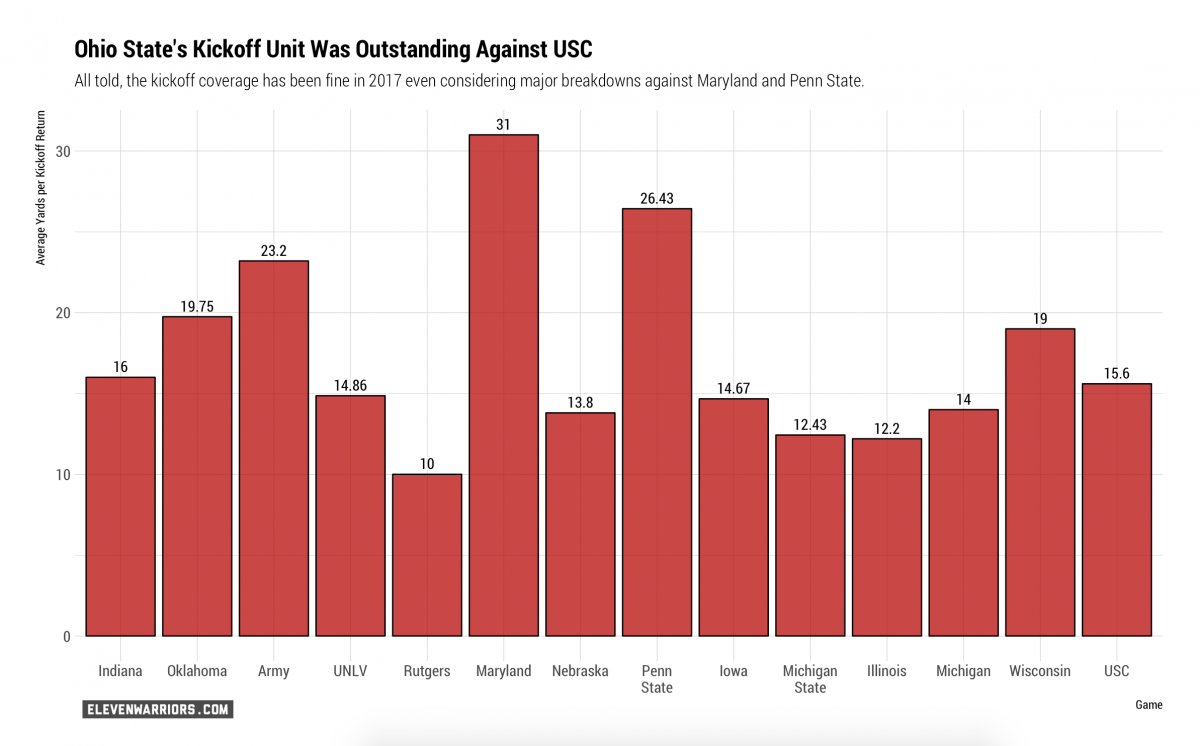 You will see this in kickoff returns. Ohio State held USC to 15.6 yards per return on kickoffs, which is almost two yards below its season average.
Ohio State Kickoffs Against USC in the Cotton Bowl

| Time | Received | Returned To | Yards |
| --- | --- | --- | --- |
| 15:00 (1Q) | 2 | 14 | 12 |
| 12:25 (1Q) | 3 | 16 | 13 |
| 14:55 (2Q) | 0 | 18 | 18 |
| 14:42 (2Q) | 0 | 28 | 28 |
| 5:27 (2Q) | 6 | 13 | 7 |
Knowing how Ohio State coaches kickoffs, this becomes a remarkable stat. Ohio State instructs its kickers to kick high and short to the corner to force a return that the coaches believe they can stop before it reaches the 25-yard line. This approach has a steep learning curve, replete with busts (e.g. Penn State) and kicks out of bounds. However, the reward is great for forcing bad field position on the opposing offense.
We saw this against USC. Ohio State's five kickoffs were to the USC 2-yard, 3-yard, 6-yard or on the shadow of its own goal line. The returns these forced put USC behind its own 20-yard line on four of five occasions.
The one that stands out is the 28-yard kickoff return after the Damon Webb pick-six. Remembering that play well, that should've been a touchback for USC that USC was fortunate didn't end on its own five-yard line. A missed tackle was the difference there.